In my previous blog post, I discussed my vision for the future of marketing technology stacks. I highlighted the growing importance of central content and data stores in delivering relevant customer experiences. Today, I'll delve a bit deeper into how Acquia's strategy aligns with these ideas.
Acquia, the company I co-founded, provides a Digital Experience Platform (DXP) to its customers. A DXP is a collection of products that helps you create relevant digital experiences. Acquia's DXP includes a Content Management System (CMS), Digital Asset Management (DAM) solution, Customer Data Platform (CDP), a Marketing Automation solution, and more.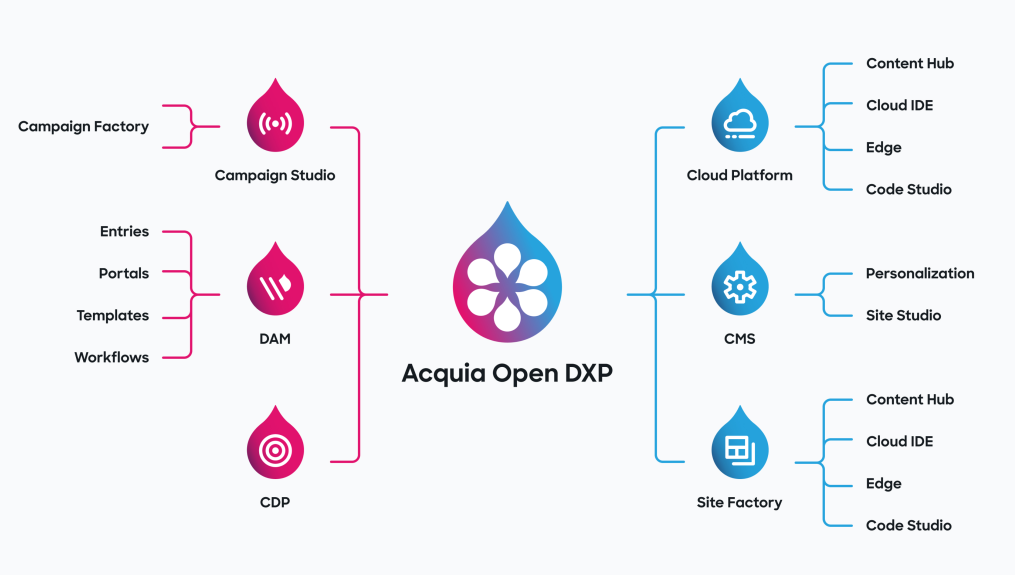 In the world of DXPs, organizations usually don't purchase all the products in a DXP at once. Instead, it's more common to acquire one product at a time, and to acquire them as needed.
If you're not very familiar with DXPs, think about how most people buy Apple products. Most individuals don't get an iPhone, iPad, Macbook, and Apple Watch all at once. Instead, they buy one device at a time and gradually add more over time. Likewise, Acquia's DXP customers expand gradually over time.
The advantages of adopting an integrated ecosystem can also be understood by looking at Apple's ecosystem, where automatic synchronization of data, contacts, and files across devices saves time and offers convenience.
Similarly, a DXP usually allows for automatic data and content synchronization between its products, along with advantages like single sign-on. This integration encourages organizations to gradually adopt multiple products from the same vendor.
When you purchase an Acquia product, you're not just buying a tool; you're also buying into a technology platform that offers integration between its different products.
Organizations don't necessarily buy an entire DXP platform all at once, but they will buy into an integrated ecosystem of products, one product at a time.
I'm sure that at this point, many readers may quickly label Acquia as a "suite". I personally dislike that term as it doesn't truly represent Acquia's vision and strategy. We are a "platform", not a "suite". We firmly believe that no marketer can rely solely on one vendor because no vendor can provide everything required. Because of that, our focus is on integrations – both within our own products and with other vendor's products.
So when having to make product trade-offs, the following are our guiding principles:
First and foremost, we strive for each of our core products to be a category leader. Each individual product needs to excel on its own, and offer the best solution possible. For instance, we aim to provide the best CMS, the best DAM, the best CDP, and so on.
Second, we aim for Acquia's own products to be deeply integrated. By achieving deep integration and unifying data and content across our products, we create a seamless experience for customers and we enable them to build better, content- and data-driven digital experiences.
Our third priority is for our products to be open. As an open platform, we want our core products to integrate seamlessly with other vendors. We understand that our products are part of a larger martech stack, and that they need to be open; either Open Source or offer open APIs.
In summary, Acquia's vision revolves around an integrated ecosystem of products, presented as a Digital Experience Platform (DXP). Customers can expand gradually, acquiring products as needed. As a result, Acquia aims for each product to excel independently in its category. It's why we don't think of ourselves as a traditional suite. Furthermore, Acquia acknowledges that no single vendor can meet all marketing needs. As a result, we not only prioritize integrations within our products, but also with other vendors' solutions. As an Open DXP, we fully embrace being part of a larger ecosystem of tools.
— Dries Buytaert