Some thoughts on Inrupt, an Open Source and Open Web startup founded by Sir Tim Berners-Lee.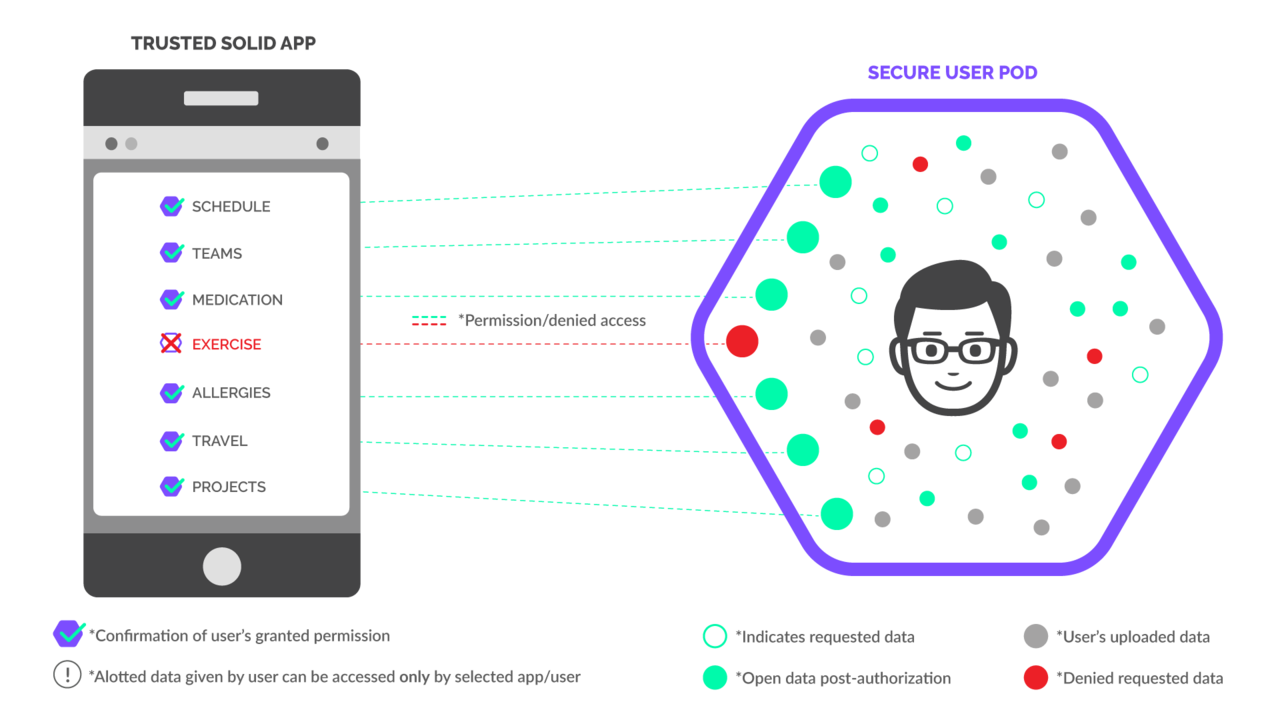 Last week, I had a chance to meet with Inrupt, a startup founded by Sir Tim Berners-Lee, who is best known as the inventor of the World Wide Web. Inrupt is based in Boston, so their team stopped by the Acquia office to talk about the new company.
To learn more about Inrupt's founding, I recommend reading Tim Berners-Lee's blog or Inrupt's CEO John Bruce's announcement.
Inrupt is on an important mission
Inrupt's mission is to give individuals control over their own data. Today, a handful of large platform companies (such as Facebook) control the media and flow of information for a majority of internet users. These companies have profited from centralizing the Open Web and lack transparent data privacy policies on top of that. Inrupt's goal is not only to improve privacy and data ownership, but to take back power from these large platform companies.
Inrupt will leverage Solid, an open source, decentralized web platform that Tim and others have been developing at MIT. Solid gives users a choice of where their personal data is stored, how specific people and groups can access select elements, and which applications can use it. Inrupt is building a commercial ecosystem around Solid to fuel its success. If Solid and/or Inrupt are widely adopted, it could radically change the way web sites and web applications work today.
As an advocate for the Open Web, I'm excited to see how Inrupt's mission continues to evolve. I've been writing about the importance of the Open Web for many years and even proposed a solution that mirrors Solid, which I called a Personal Information Broker. For me, this is an especially exciting and important mission, and I'll be rooting for Inrupt's success.
My unsolicited advice: disrupt the digital marketing world
It was really interesting to have the Inrupt team visit the Acquia office, because we had the opportunity to discuss how their technology could be applied. I shared a suggestion to develop a killer application that surround "user-controlled personalization".
Understanding visitors' interests and preferences to deliver personalized experiences is a big business. Companies spend a lot of time and effort trying to scrape together information about its website's visitors. However, behavior-based personalization can be slow and inaccurate. Marketers have to guess a visitor's intentions by observing their behavior; it can take a long time to build an accurate profile.
By integrating with a "Personal Information Broker" (PIB), marketers could get instant user profiles that would be accurate. When a user visits a site, they could chose to programmatically share some personal information (using a standard protocol and standard data schema). After a simple confirmation screen, the PIB could programmatically share that information and the site would instantly be optimized for the user. Instead of getting "cold leads" and trying to learn what each visitor is after, marketers could effectively get more "qualified leads".
It's a win not only for marketers, but a win for the site visitor too. To understand how this could benefit site visitors, let's explore an example. I'm 6'5" tall, and using a commerce site to find a pair of pants that fit can be a cumbersome process. I wouldn't mind sharing some of my personal data (e.g. inseam, waist size, etc) with a commerce site if that meant I would instantly be recommended pants that fit based on my preferences. Or if the store has no pants that would fit, it could just tell me; Sorry, we currently have no pants long enough for you!. It would provide me a much better shopping experience, making it much more likely for me to come back and become a long-time customer.
It's a simple idea that provides a compelling win-win for both the consumer and retailer, and has the opportunity to disrupt the digital sales and marketing world. I've been thinking a lot about user-controlled personalization over the past few years. It's where I'd like to take Acquia Lift, Acquia's own personalization product.
Inrupt's success will depend on good execution
I love what Solid and Inrupt are building because I see a lot of potential in it. Disrupting the digital marketing world is just one way the technology could be applied. Whatever they decide to focus on, I believe they are onto something important that could be a foundational component of the future web.
However, it takes a lot more than a good idea to build a successful company. For startups, it's all about good execution, and Inrupt has a lot of work to do. Right now, Inrupt has prototype technology that needs to be turned into real solutions. The main challenge is not building the technology, but to have it widely adopted.
For an idea this big, Inrupt will have to develop a protocol (something Tim Berners-Lee obviously has a lot of experience with), build out a leading Open Source reference implementation, and foster a thriving community of developers that can help build integrations with Drupal, WordPress and hundreds of other web applications. Last but not least, Inrupt needs to look for a sustainable business model by means of value-added services.
The good news is that by launching their company now, Inrupt has put themselves on the map. With Tim Berners-Lee's involvement, Inrupt should be able to attract top talent and funding for years to come.
Long story short, I like what Inrupt is doing and believe it has a lot of potential. I'm not sure what specific problem and market they'll go after, but I think they should consider going after "user-controlled personalization" and disrupt the digital marketing world. Regardless, I'll be paying close attention, will be cheering for their success and hopefully find a way to integrate it in Acquia Lift!
— Dries Buytaert