It's a big day for us at Acquia. We finally took the beta-wraps off of Acquia Search, and made it available commercially as part of the Acquia Network. Thanks to the 250+ beta testers who helped make our hosted search service fit for use in production environments, including Brightcove, JackBe Developer Community, P-O-P Design, Wide Divots and others.
We used the beta period to look at the usage statistics, costs, and to talk to a lot of beta users to figure out the best pricing model for this service. We decided on the following:
Acquia Search is included for no additional cost in every Acquia Network subscription. Basic and Professional subscribers have one "search slice" and Enterprise subscribers have five "search slices". A slice includes the processing power to index your site, to do index updates, to store your index, and to process your site visitors' search queries. Each slice includes 10MB of indexing space - enough for a site with between 1,000 and 2,000 nodes. Customers who exceed the level included with their subscription may purchase additional slices. A ten-slice extension package costs an additional $1,000/year, and will cover an additional 10,000 - 20,000 nodes in an index of 100MB.
For my personal blog, which has about 900 nodes at the time of this writing, a Basic Acquia Network subscription ($349 USD/year) would give me all the benefits of Acquia Search, plus all the other Acquia Network services.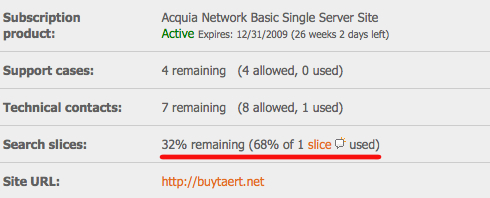 For some of you, this might sound like a lot of money, but we believe you get a lot of value in return. In my next couple of blog posts, I plan to outline the benefits of Acquia Search to your site visitors and to Drupal site administrators. Stay tuned!
— Dries Buytaert