I'm excited to announce that Acquia has signed a definitive agreement to acquire Widen, a digital asset management (DAM) and product information management (PIM) company.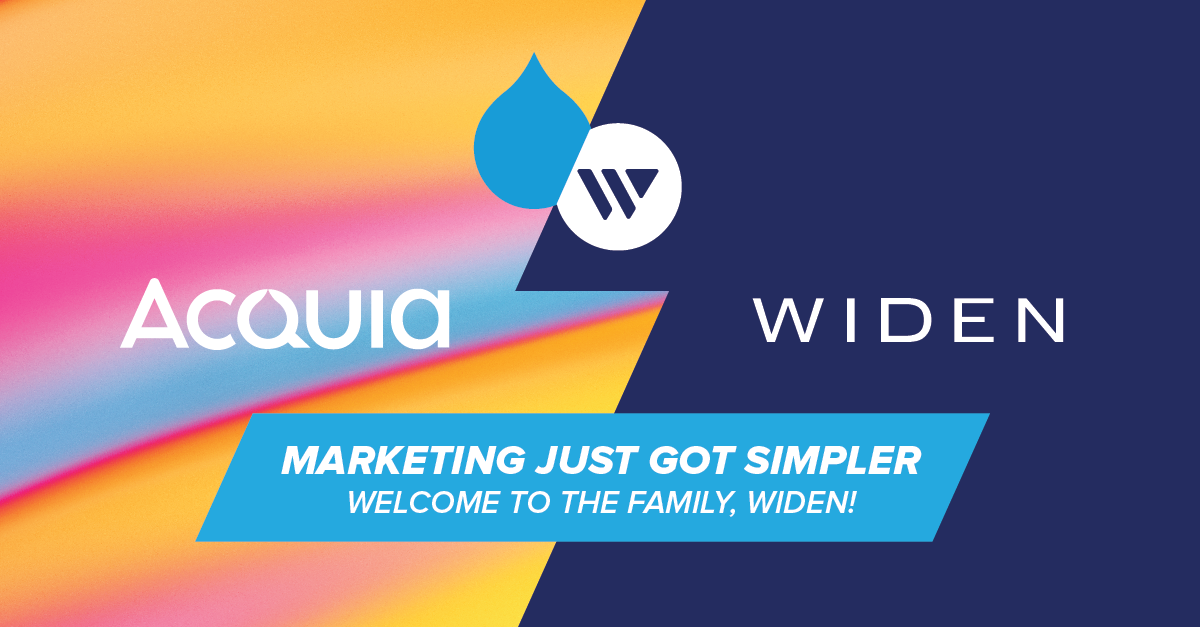 It's not hard to understand how Widen fits Acquia's strategy. Our goal is to build the best Digital Experience Platform (DXP). Content is at the heart of any digital experience. By adding a DAM and PIM to our platform, our customers will be able to create better content, more easily. That will result in better customer experiences. Plain and simple.
Widen is for organizations with larger marketing teams managing one or more brands. These teams create thousands of "digital assets": images, videos, PDFs and much more. Those digital assets are used on websites, mobile applications, in-store displays, presentations, etc. Managing thousands of files, plus all the workflows to support them, is difficult without the help of a DAM.
For commerce purposes, marketers need to correlate product images with product information like pricing, sizing, or product specifications. To do so, Widen offers a PIM. Widen built their PIM on top of their DAM — an approach that is both clever and unique. Widen's PIM can ingest product content from proprietary systems, master data management (MDM) platforms, data lakes, and more. From there, marketers can aggregate, synthesize, and syndicate product content across digital channels.
In short, organizations need a lot of content to do business. And online commerce can't exist without product information. It's why we are so excited about Widen, and the ability to add a DAM and PIM to our product portfolio.
Because content is at the heart of any digital experience, we will build deep integrations between Widen and Acquia's DXP. So in addition to acquiring Widen, we are making a large investment in growing Widen's engineering team. That investment will go towards extending the existing Widen module for Drupal, and creating integrations with Acquia's products: Acquia Site Studio, Acquia Campaign Studio (Mautic), Acquia Personalization, and more. Digital asset management will be a core building block of our DXP.
Needless to say, we will continue to support and invest in Widen working with other Content Management Systems and Digital Experience Platforms. We are building an open DXP; one of our key principles is that customers should be able to integrate with their preferred technologies, and that might not always be ours. By growing the engineering team, we can focus on building Drupal and Acquia integrations without disrupting the existing roadmap and customer commitments.
A few other facts that might be of interest:
The worldwide market for DAM is projected to grow to $8.5B by 2025, a 15% CAGR. And PIM is set to increase from $8.8B last year to $18B in 2027, a 11% CAGR. Both are mature but growing markets.
Widen has long been recognized for their current technology as well as their vision; they are a Strong Performer in the Forrester Wave for Digital Asset Management for Customer Experience and a Leader in the G2 Grid for Digital Asset Management. Because Widen is a market leader, they have been taking market share.
Widen has more than 700 customers today, including big brands like Boston Ballet, Carnival Cruise Line, Crayola, Energizer, Kohler, LG, McCormick, New Balance, Progressive, San Francisco International Airport, and more.
Widen has 135 employees, almost all based in Madison, Wisconsin. I love Widen's culture and their relentless focus on customer success.
We're excited about making Madison one of our larger talent hubs. All our product teams are encouraged to hire in Madison. If you live in Madison and want to apply for a job at Acquia, let us know!
So last but not least, I'd like to welcome all of Widen's customers and employees to the Acquia family. I'm excited to see what we will accomplish together.
— Dries Buytaert