Since we launched the Drupal Association in January 2007, roughly one year ago, we (i) improved the drupal.org infrastructure, (ii) we helped organize two international Drupal conferences, (iii) we established a relation with an accounting firm, (iv) we funded Drupal's presence at a number of events, (v) we started setting up fundraising campaigns, (vi) we entered into a relation with the Software Freedom Law Center, (vii) we are close to launching a Drupal Association membership model, etc.
In January 2008 we have to elect our second Board of Directors. We are looking for people that want to become either a Permanent Member or a member of the Board of Directors, and that can provide leadership and experience to expand the reach of the Drupal Association and its activities. If you are interested in helping to drive Drupal's explosive growth or if you want to help make a change in this world, you can submit your candidacy by following the instructions on drupal.org.
A few months ago, I asked more than 1,000 Drupal users what they think the Drupal Association should focus on. The results are provided below and might be a good source of inspiration when considering to submit your candidacy.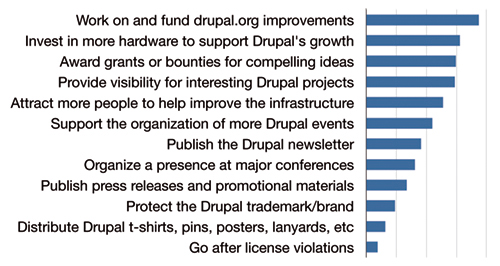 — Dries Buytaert