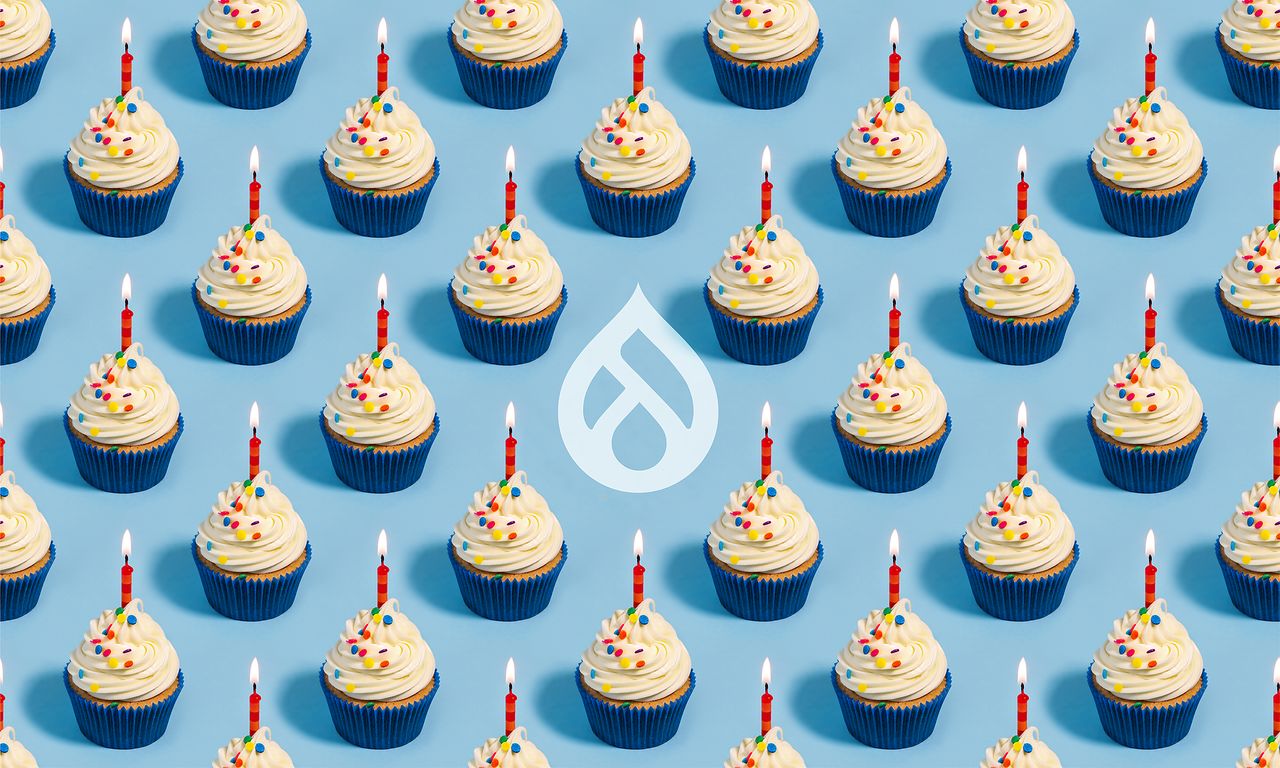 On January 15, 2001, exactly 20 years ago, I released Drupal 1.0.0 into the world. I was 22 years old, and just finished college. At the time, I had no idea that Drupal would someday power 1 in 35 websites, and impact so many people globally.
As with anything, there are things Drupal did right, and things we could have done differently. I recently spoke about this in my DrupalCon Europe 2020 keynote, but I'll summarize some thoughts here.
Why I'm still working on Drupal after 20 years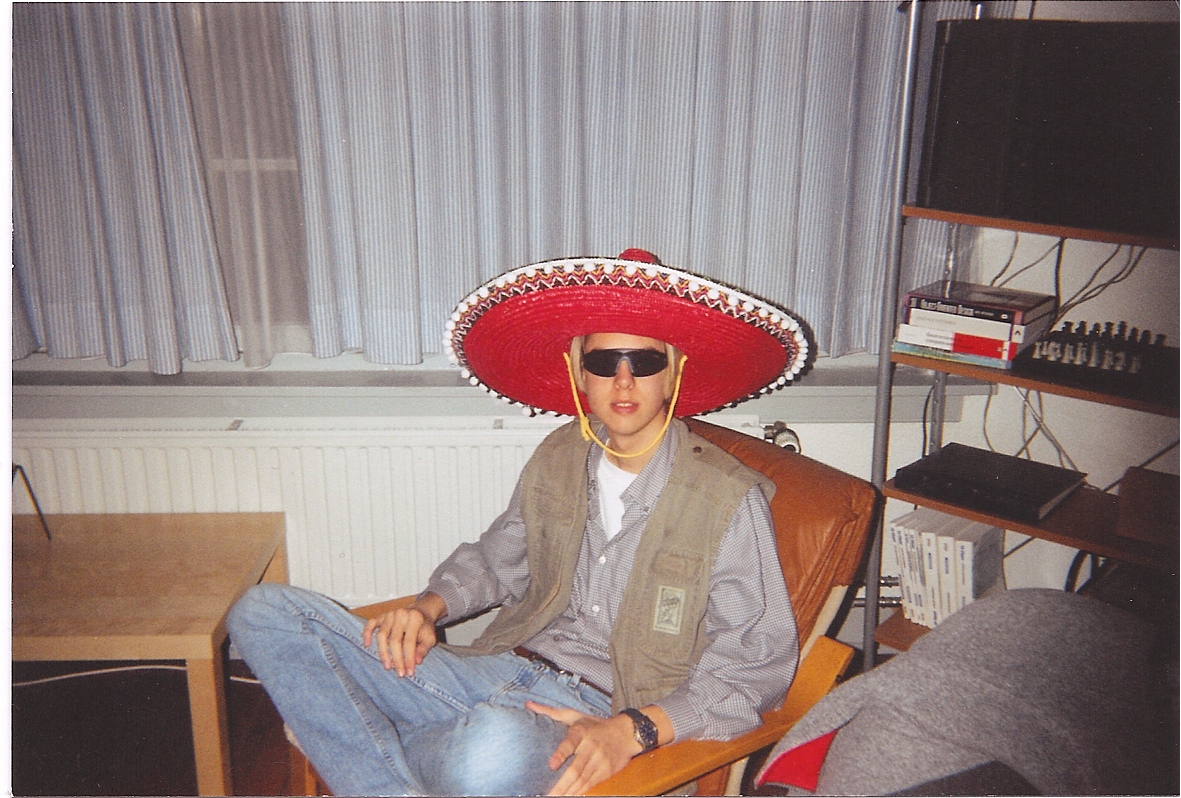 I started Drupal to build something for myself. As Drupal grew, my "why", or reasons for working on Drupal, evolved. I began to care more about its impact on end users and even non-users of Drupal. Today, I care about everyone on the Open Web.
Optimizing for impact means creating software that works for everyone. In recent years, our community has prioritized accessibility for users with disabilities, and features like lazy loading of images that help users with slower internet connections. Drupal's priority is to continue to foster diversity and inclusion within our community so all voices are represented in building an Open Web.
Three birthday wishes for Drupal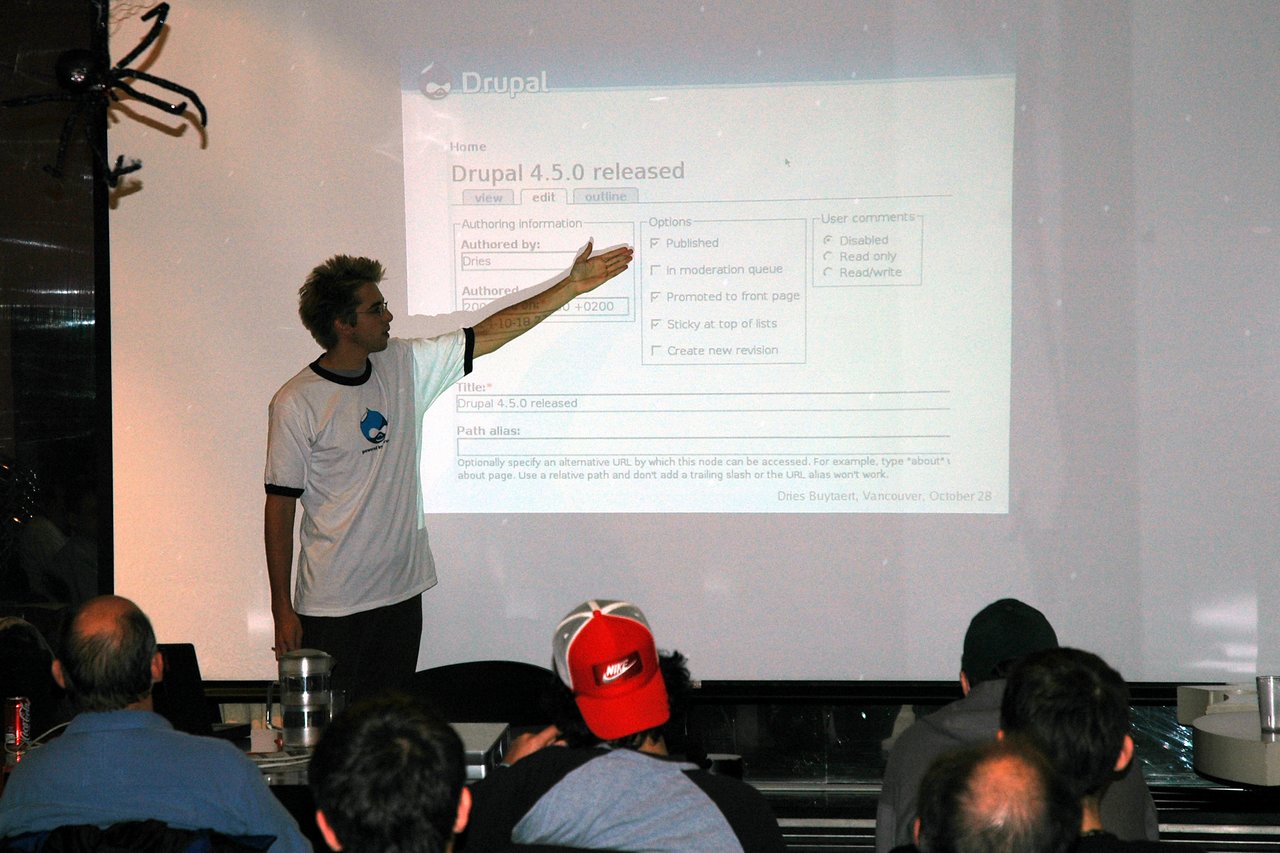 Drupal's 20th birthday got me thinking about things I'm hoping for in the future. Here are a few of those birthday wishes.
Birthday wish 1: Never stop evolving
Only 7% of the world's population had internet access when I released Drupal 1 in 2001. Smartphones or the mobile web didn't exist. Many of the largest and most prominent internet companies were either startups (e.g. Google) or had not launched yet (e.g. Facebook, Twitter).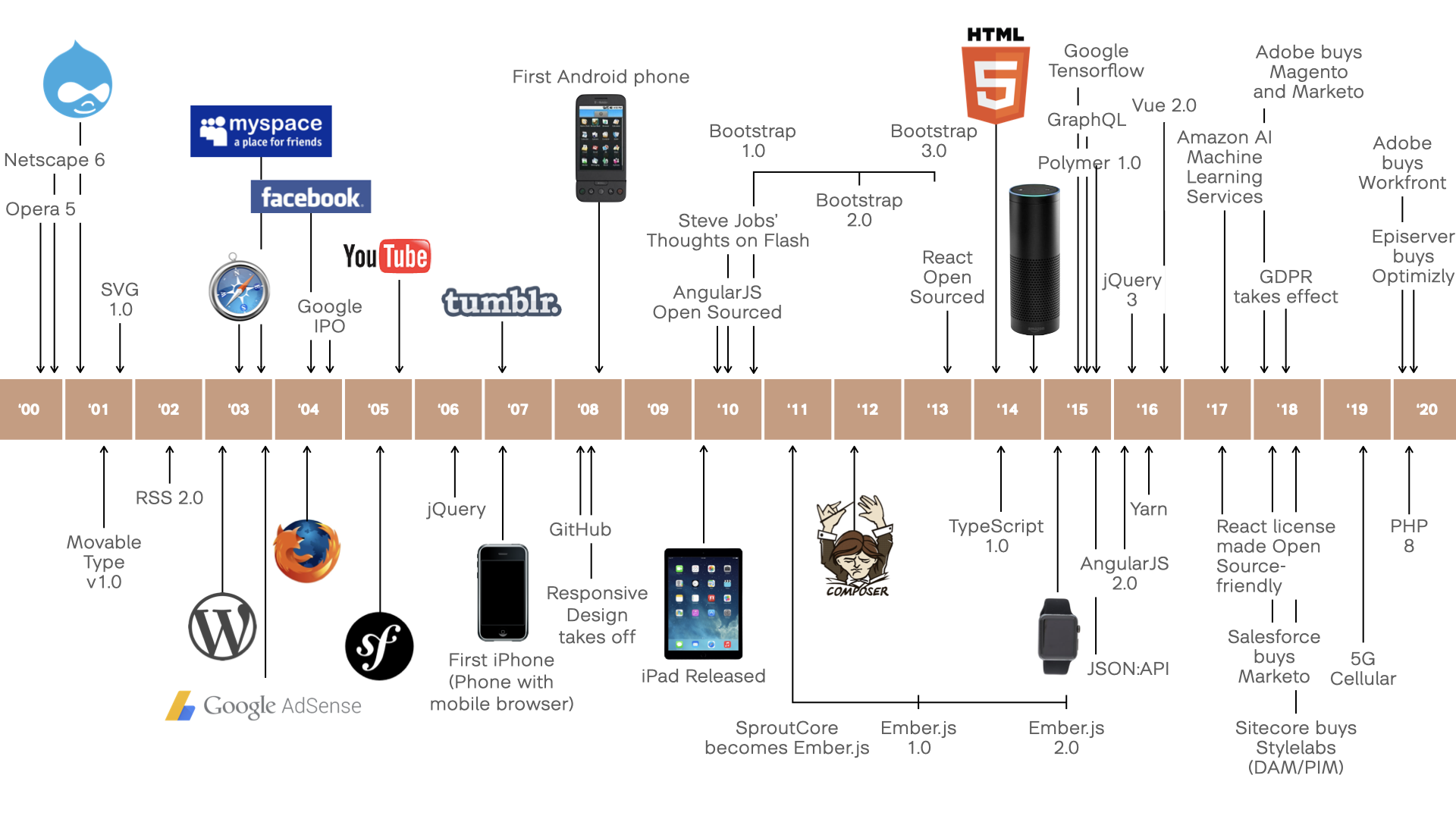 Why has Drupal stayed relevant and thrived all these years?
First and foremost, we've been focused on a problem that existed 20 years ago, exists today, and will exist 20 years from now: people and organizations need to manage content and participate on the web. Working on a long-lasting problem certainly helps you stay relevant.
Second, we made Drupal easy to adopt (which is inherent to Open Source), and kept up with the ebbs and flows of technology trends (e.g. the mobile web, being API-first, supporting multiple channels of interaction, etc).
The great thing about Drupal is that we will never stop evolving and innovating.
Birthday wish 2: Continue our growing focus on ease-of-use
For the longest time I was focused on the technical purity of Drupal and neglected its user experience. My focus attracted more like-minded people. This resulted in Drupal's developer-heavy user experience, and poor usability for less technical people, such as content authors.
I wish I had spent more time thinking about the less technical end user from the start. Today, we've made the transition, and are much more focused on Drupal's ease-of-use, out-of-the-box experience, and more. We will continue to focus on this.
Birthday wish 3: Economic systems to sustain and scale Open Source
In the early years of the Open Source movement, commercial involvement was often frowned upon, or even banned. Today it's easy to see the positive impacts of sponsored contributions on Drupal's growth: two-thirds of all contributions come from Drupal's roughly 1,200 commercial contributors.
I believe we need to do more than just accept commercial involvement. We need to embrace it, encourage it, and promote it. As I've discussed before, we need to reward Makers to maximize contributions to Drupal. No Open Source community, Drupal included, does this really well today.
Why is that important?
In many ways, Open Source has won. Open Source provides better quality software, at a lower cost, without vendor lock-in. Drupal has helped Open Source win.
That said, scaling and sustaining Open Source projects remains hard. If we want to create Open Source projects that thrive for decades to come, we need to create economic systems that support the creation, growth and sustainability of Open Source projects.
The alternative is that we are stuck in the world we live in today, where proprietary software dominates most facets of our lives.
In another decade, I predict Drupal's incentive models for Makers will be a world-class example of Open Source sustainability. We will help figure out how to make Open Source more sustainable, more fair, more egalitarian, and more cooperative. And in doing so, Drupal will help remove the last hurdle that prevents Open Source from taking over the world.
Thank you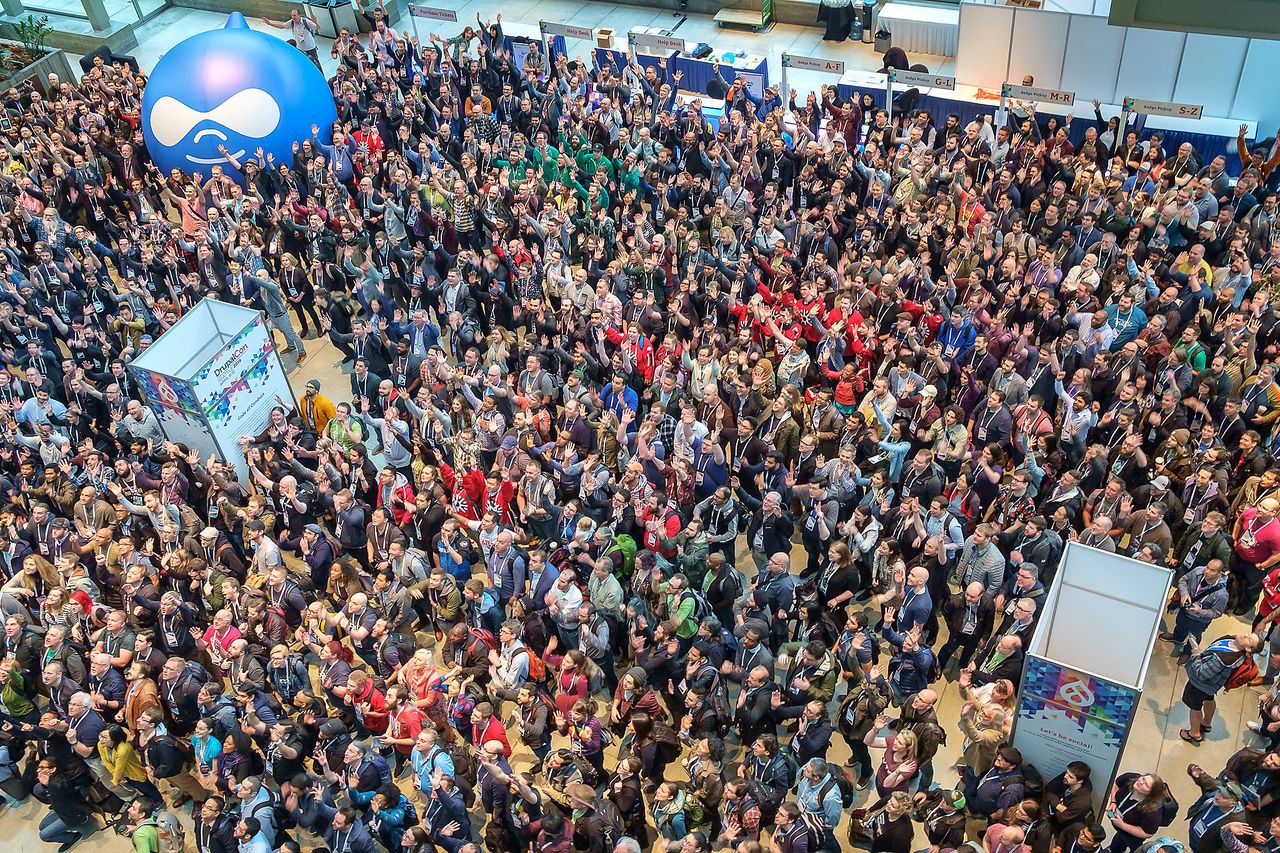 Drupal wouldn't be where it is today without the Drupal community. The community and its growth continues to energize and inspire me. I'd like to thank everyone who helped improve and build Drupal over the past two decades. I continue to learn from you all. Happy 20th birthday Drupal!
— Dries Buytaert