Acquia had two big product announcements at DrupalCon Paris. The first was the general availability of Acquia Hosting, which I'll blog about tomorrow. The second is a status update on "Acquia Gardens" which we first announced in the beginning of 2009.
For those who have not heard about Acquia Gardens, this product will provide an easy on-ramp for people to experience the awesome power of Drupal without having to worry about installation, hosting and upgrading. Think of it as Wordpress.com or Ning for Drupal. Think of it as 'Drupal as a service'.
We announced that the final name for the product is Drupal Gardens. This service is Drupal, so including Drupal in the name emphasizes that point. Plus, this is all about promoting Drupal so we don't want to hide that. Our goal is to make the base service free of charge, and to introduce Drupal to hundreds of thousands of users. Many individuals and organizations want a killer web site, but have no idea that Drupal is a great way to build one or to connect with other websites. Even if they did hear about Drupal, few non-technical people succeed in installing and hosting a Drupal site. I believe Drupal Gardens could play a key role in promoting the viral adoption of Drupal, and the name Drupal Gardens is key to that.
For the same reason, I'd really like Drupal Gardens to stay close to what Drupal does, to work with module maintainers, and give back where we can. For example, it would be awesome if Gardens users could contribute to Gardens, simply by contributing to Drupal — either by contributing to existing modules that we use to build Gardens, or to new modules that Acquia might contribute. Along the same lines, we want people to be able to export their Gardens site — the code, the theme and data — and move of the platform to a any Drupal hosting environment. By doing so, we provide people an easy on-ramp but we allow them to grow beyond the capabilities of Gardens without locking them in. These are the kind of win-win situations that I hope we can create.
We also showed a demo of the current state of Drupal Gardens. The product is in pre-alpha, but we wanted to give you an update and show what we've been working on. The main feature that I demonstrated in my Acquia presentation is a tool we developed called the "theme builder". The theme builder makes it really easy to build a beautiful design for your Drupal site from within your browser without having to write any HTML, CSS or JavaScript. The theme builder is enabling technology, and certainly part of my vision of what content management systems should enable users to do: empowering them to quickly and easily assemble powerful websites without having to do any programming.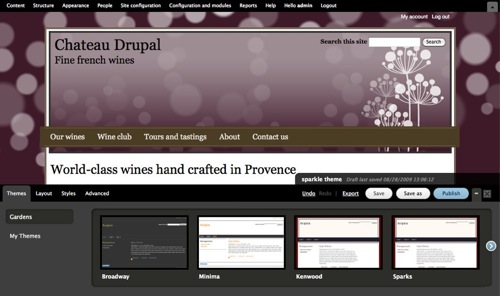 The current plan is to be in the market the beginning of 2010. Gardens is built on, and depends on, the release of Drupal 7. While we don't yet have the exact timing for this (Drupal 7 is ready when it is ready), we do plan to start inviting people to start alpha testing in the next couple of months. If you are interested in taking part in the alpha program, or if you'd like to get notified about the progress of the product, sign up at drupalgardens.com.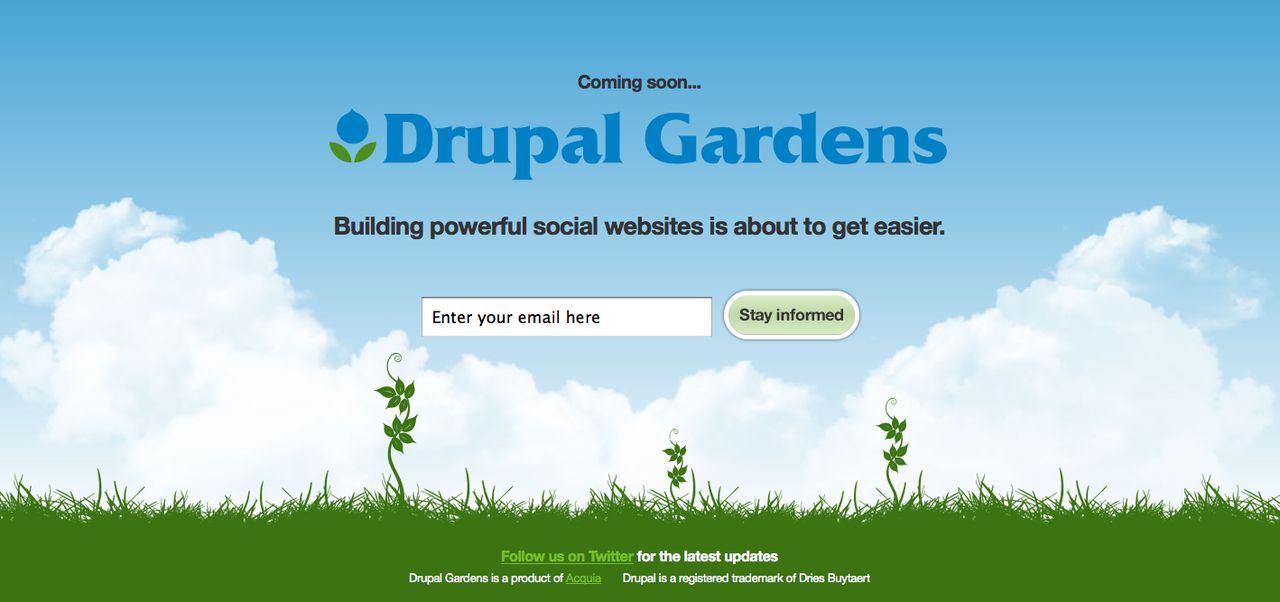 — Dries Buytaert