DrupalCon San Francisco ended a few days ago, so once again I'm sitting here with post-DrupalCon blues, trying to wrap my head around what just happened, digging out my backlog of work, and rediscovering my usual rhythm. It happens to me every time, and it is a sign of having had a great time. In short, DrupalCon San Francisco was 'fantastic', a word I use sparingly. It is best expressed in numbers, like Matt Cheney of Chapter Three did in his closing session:
Roughly 3,000 registered attendees at an average ticket price of $205 USD.
357 days of preparatory planning, including 31 general meetings and 105 daily phone calls. Unlike in the old days, I only participated in one such phone call.
408 proposed sessions of which 131 sessions were accepted and presented.
Rented 37 conference rooms covering 750,000 square feet of the Moscone center.
Organized a core developer summit with 150 attendees, 16 lightning talks, 11 breakout sessions and 1 Franciscan monk.
Trained 495 people on Drupal using 20 Drupal training classes.
80 people sprinted on testing.
21 people sprinted on documentation.
120 people trained to be core contributors.
120 BoF gatherings across 11 rooms.
6,000 people watched my keynote live, one big stage, and assisted by a backstage A/V team of 6 people.
2 amazing keynotes; one from Tim O'Reilly and one from the Whitehouse, who is now an Open Source contributor.
Spent $25,000 USD on scholarship to sponsor 20 attendees.
Recorded 131 sessions on video with 24 hour turnaround.
Streamed 10 sessions live with up to 3,000 simultaneous viewers thanks to Brightcove.
Had up to 2,200 people use the internet simultaneous consuming a 92 megabit pipe. Whoever did the wifi at Moscone needs a raise.
1100 t-shirts sold along with 320 Drupal umbrellas.
Raised more than $400,000 USD from 50 sponsors. Thanks to Trellon, GravitekLabs, Chapter Three, Commerce Guys, Acquia, Phase2 Technology, Microsoft and Rackspace for being Platinum Sponsors.
50 volunteers helping with registrations on the opening day of the conference.
One volcano and no volcano insurance.
Had a 24/7 coding lounge named after Chx along with free ice cream.
Free parties with open bar every evening.
0 IE6 users on the DrupalCon website, 43% Apple users.
60,000 unique visits and 30,000 unique visitors on the conference website during the conference.
15,000 e-mails, 7,650 tweets, 35 press hits, 5 press releases and 1 television spot on ABC.
$691,677 USD estimated expenses, $1,004,470 USD estimated revenue, $312,793 estimated profit for the Drupal Association.
$72,000 spent on coffee.
A big thank you for Jennifer Lea Lampton, Stephanie Canon, Lauren Nicole Roth and Matt Cheney and hundreds of other people that helped.
Two new Drupal conferences announced; one in Copenhagen, one in Chicago.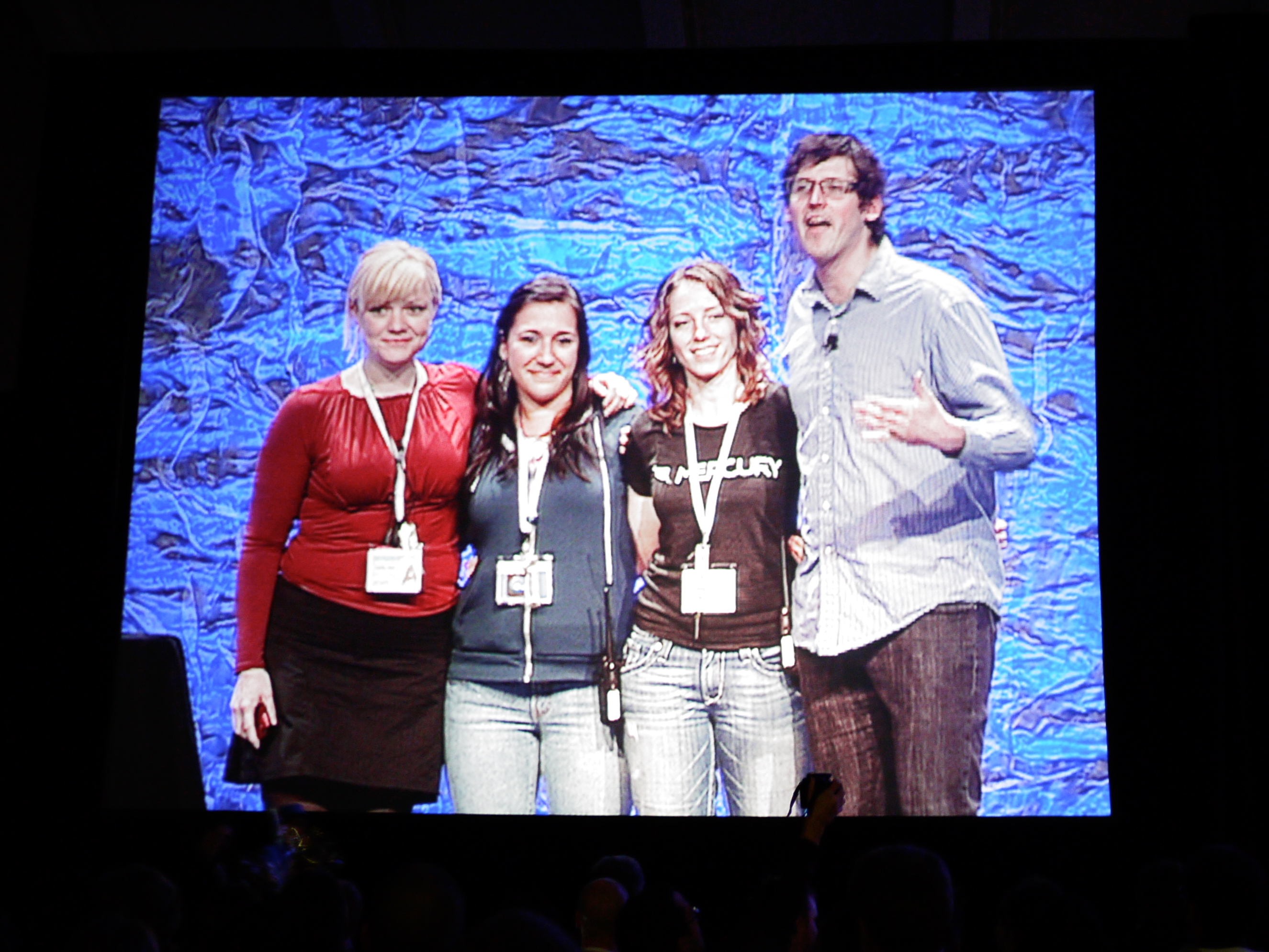 — Dries Buytaert