The Pemi Loop, also known as the Pemigewasset Loop, in the White Mountains of New Hampshire, was more than just a hike. It became both a test of endurance and a celebration of a deep friendship.
I went on this hike with Klaas, one of my closest friends. A few years ago, when we both turned 40, we decided to forgo the usual birthday gifts. Instead, we'd create a special memory together each year. The Pemi Loop was the latest chapter in our book of adventures.
Over the course of 4 days, we covered 32 miles (52 kilometers), scaled eight peaks over 4,000 feet (1,200 meter), and climbed about 9,000 feet (2,750 meter) in elevation. For seasoned hikers, it might be just another trail, but for me, it was one of the most challenging undertakings in my life.
We set a goal to complete the loop in 4 days, going counter-clockwise: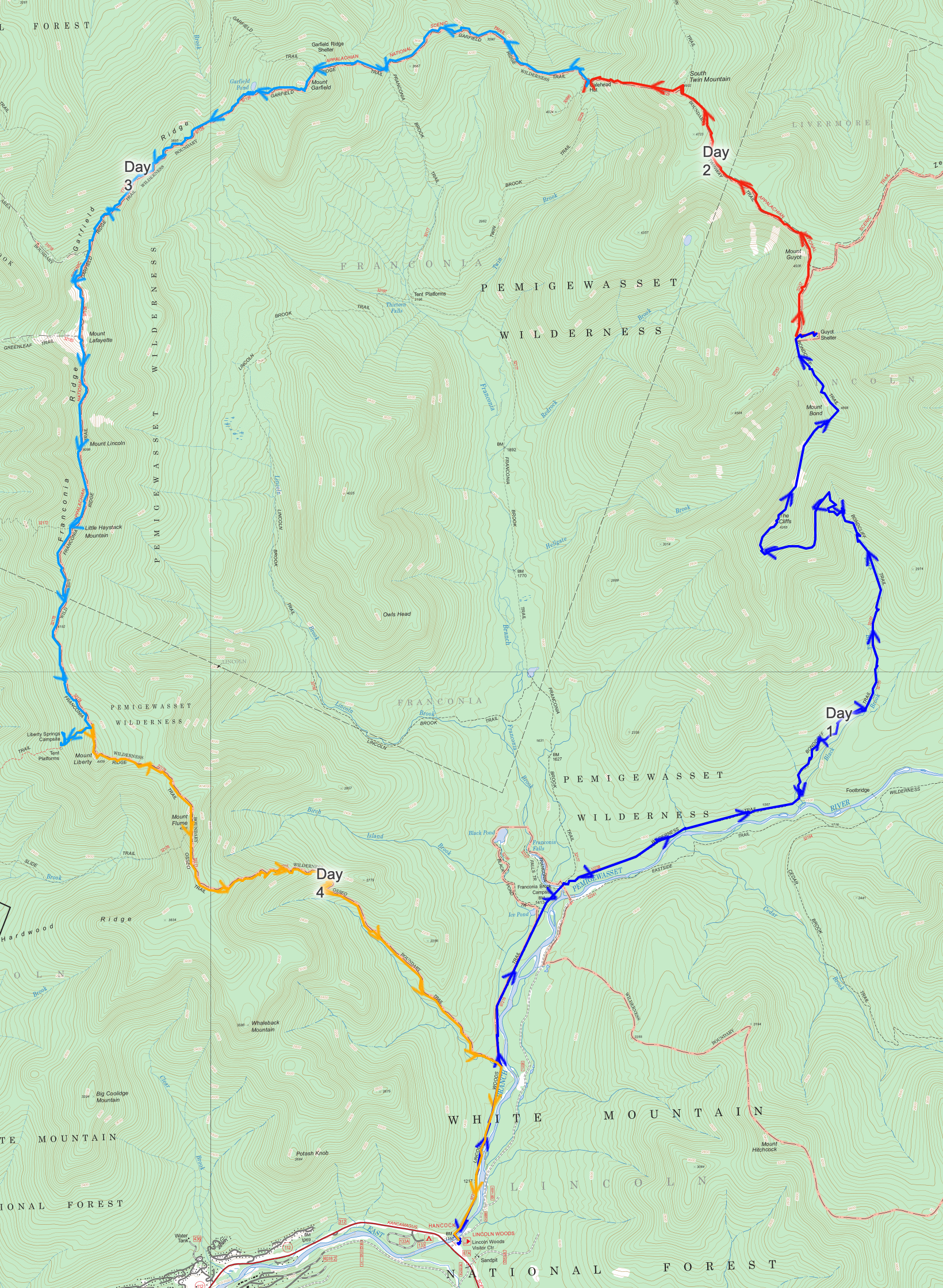 | Day | Itinerary |
| --- | --- |
| Day 1 | Hiked 11.6 miles (18.7 kilometer) from Lincoln Woods trailhead to Guyot tentsite |
| Day 2 | Hiked 3.4 miles (5.6 kilometer) to Galehead Hut |
| Day 3 | Hiked 10.1 miles (16.3 kilometer) to Liberty Springs Tentsite |
| Day 4 | Hiked 7.2 miles (11.6 kilometer) back to Lincoln Woods trailhead |
Day 0: Preparations and anticipation
The evening before our hike, we checked into the Kancamagus Lodge, an old motel along the historic Kancamagus Highway. As we opened the door to our room, we were met with a nostalgic scent (read: musty aroma) and a bed covered in rich blue velvet. Klaas chuckled: It's like something out of a movie!. The room was a stark contrast with our modern comforts in Boston (and Belgium), but it served the perfect transition to our wilderness adventure.
In preparation for our hike, we did pretty thorough planning. We meticulously selected our tent sites, identified possible water sources along the trail, calculated food supplies, researched ways to check the mountain weather, figured how to safeguard against bears, and more.
Even after our careful preparations, we found ourselves double-checking our food supplies just before bedtime. We were still wrestling with how much food to pack. We didn't want to carry too much weight, but also didn't want to run out of food. After some deliberation, we erred on the side of caution, packing almost all the food we had brought.
Day 1: From showers to summits
Come morning, the Kancamagus Highway's old shower surprised me with its powerful jet of water. This power wash felt like nature's way of preparing me for the rugged journey ahead; a reminder that warmth and showers would be a distant luxury over the next four days.
Next, we stopped at a local diner for a hearty breakfast. Our usual artsy lattes swapped for the simple charm of diner coffee, we fueled up for the day.
By 9:30am, we set out from the Lincoln Woods trailhead. Our goal for the day was to reach the end of Black Brook river, 7.5 miles in, and set up camp for the night. The journey along the Lincoln Woods Trail turned out to be relatively straightforward, following the flat terrain of an old railroad track. By 2pm, we had already reached our planned campsite. Oops!
With the sun still high and our spirits even higher, we weren't ready to sit next to our tent for the rest of the day. We revised our plans, setting our sights on the Guyot Tentsite, an additional 4.1 miles away. Those extra 4.1 miles to Guyot Tentsite proved much more challenging than the first 7.5 miles: we had to tackle two 4,000+ foot peaks.
Getting to the top of Bondcliff was our first real challenge, especially lugging our heavy backpacks. But as we ascended above the tree line, we were also greeted with our first majestic view of the White Mountains and some of the other peaks we'd conquer in the days ahead. Getting to the top of Bondcliff wasn't just a climb, it was a "welcome-to-the-big-leagues" moment – both a reality check and exhilarating.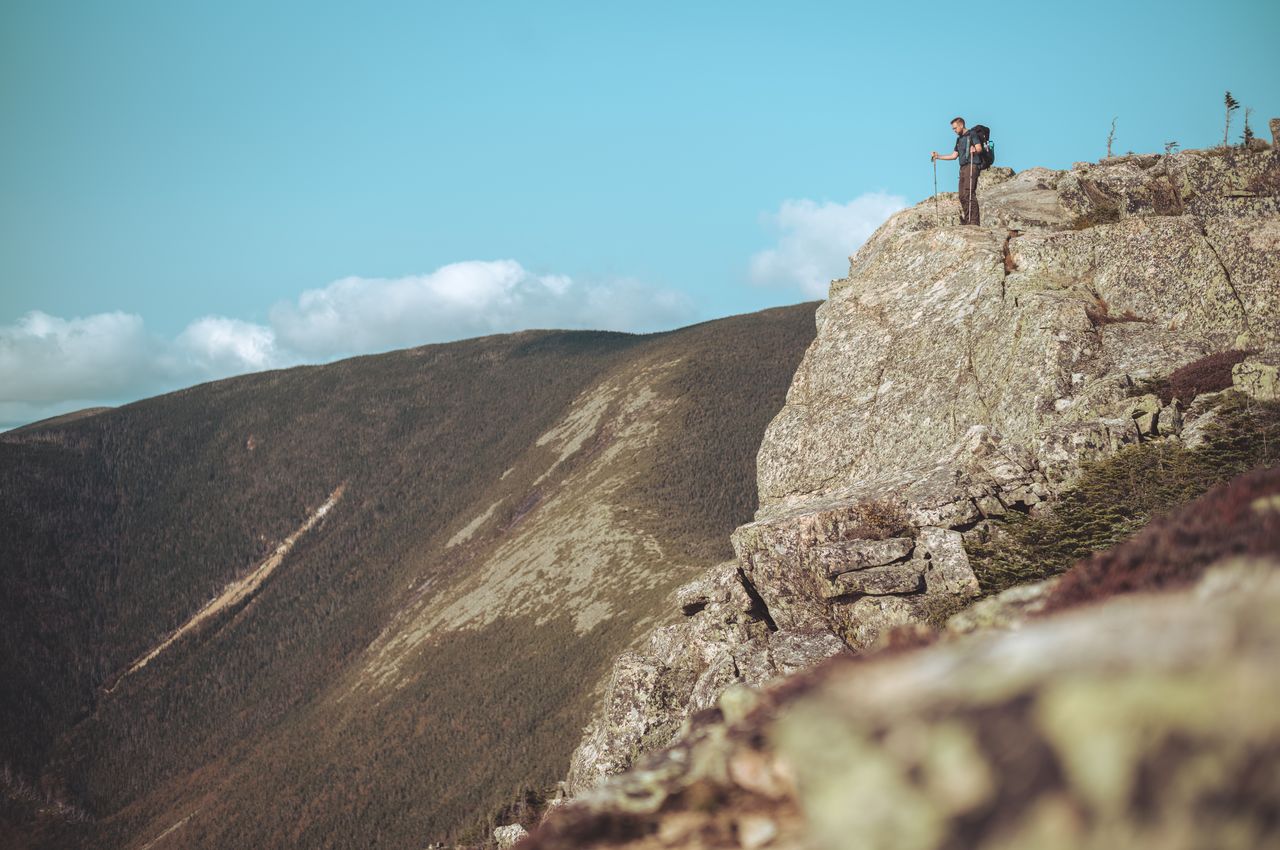 From Bondcliff, we trekked the 1.2 miles to Mount Bond. The ridgeline connecting them was like a postcard. Post-climb, we descended to Guyot Tentsite, where the alpine woods and afternoon glow cast a magical hue over moss and trees.
By 6pm, after hiking for almost 7 hours, we arrived at Guyot Tentsite. To our relief, one tent platform spot was still available. With the cold creeping in and darkness by 7pm, we cocooned into our sleeping bags by 8:30pm. An hour later, sporadic muscle cramps served as a reminder of our long trek – and the importance of stretching more.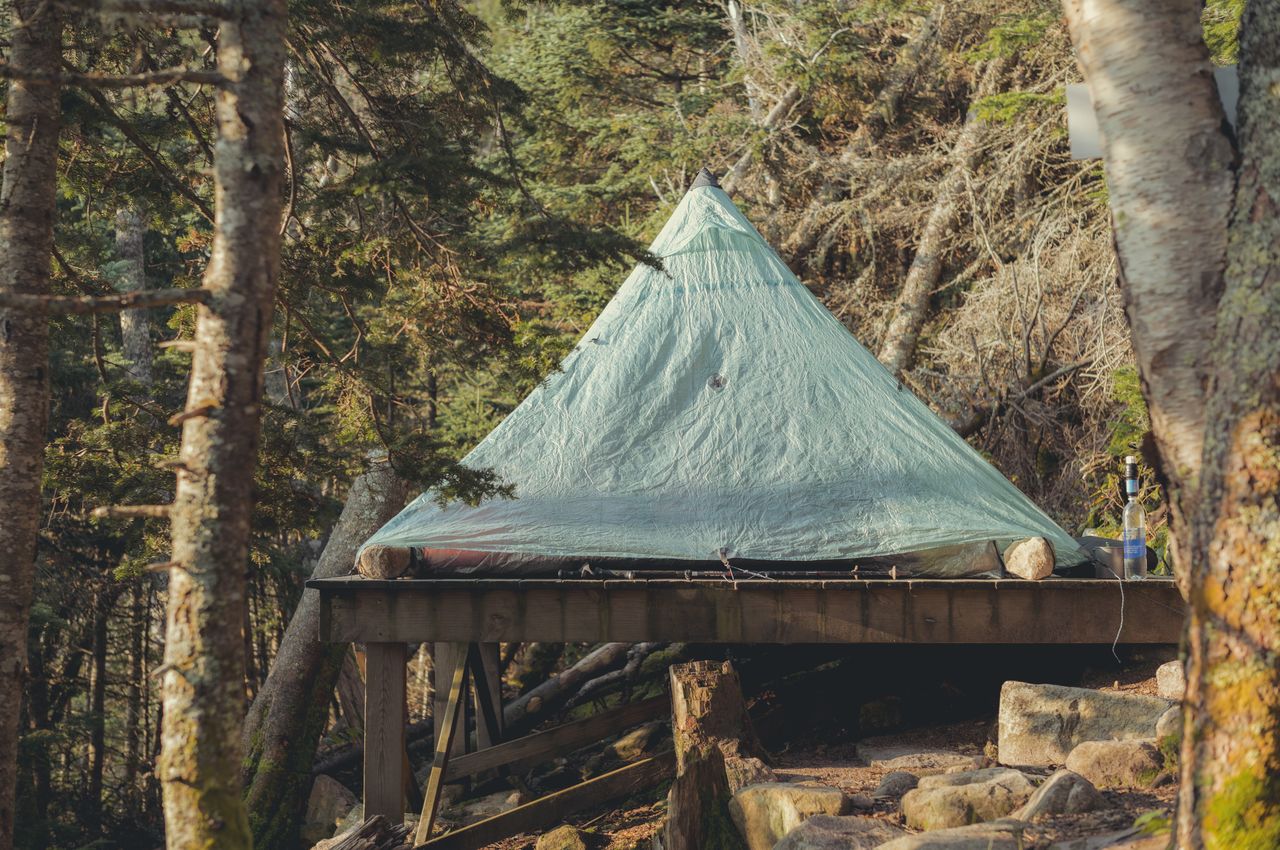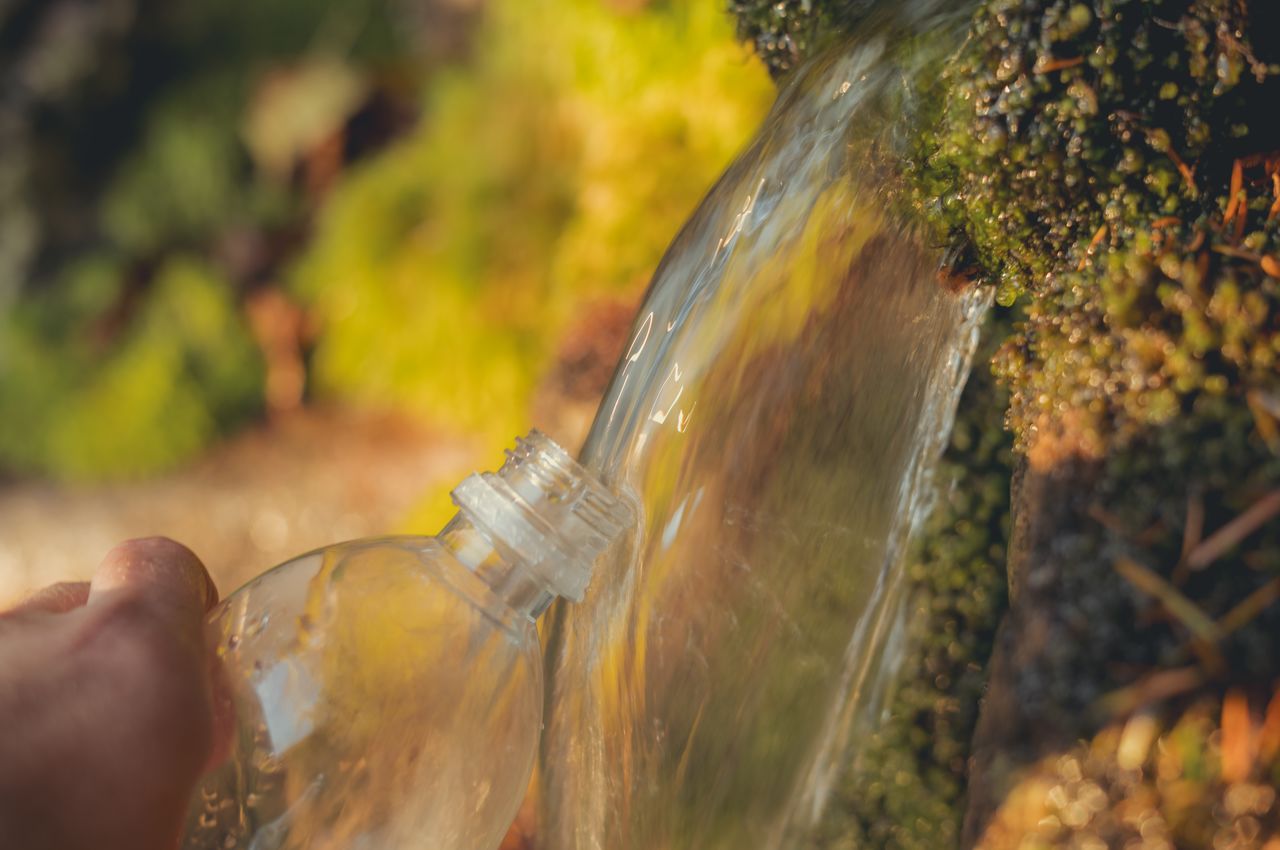 Day 2: From a cold tent to a cozy hut
I woke up shivering in my sleeping bag as temperatures had dropped to just above freezing. I reached for my phone to check the time, and it felt like an ice block.
As I put on the same clothes from the day before, I daydreamed about how much I'd love to put on a clean pair of underwear and a clean t-shirt. But on hikes like these, every ounce counts. Daily clean clothes aren't an option.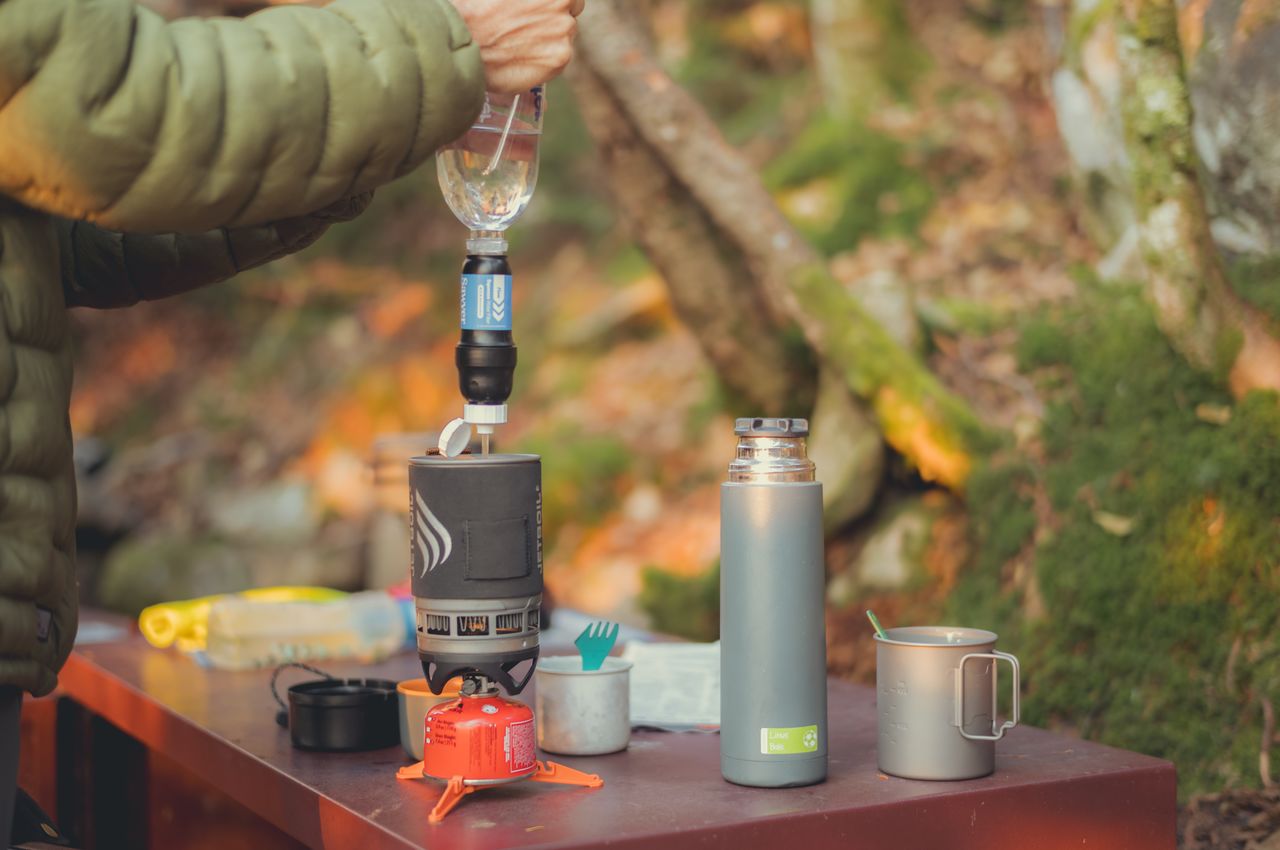 Thanks to our added push the day before, today's hike was pretty short. Our destination, Galehead Hut, was roughly 3.4 miles from Guyot Tentsite, and the trail would lead us over just one 4,000+ peak.
Starting from the tentsite, we took the Twinway Trail, guiding us to South Twin Mountain, at an elevation of 4,902 feet. Beyond South Twin, the trail dipped into a valley, then rose once more towards Galehead Hut.
Galehead Hut, managed by the Appalachian Mountain Club (AMC), offers hikers full-service accommodations. Here, "full-service" translates to bunk rooms and water, but no luxuries like electricity or heating. Nevertheless, the hut proved to be a fantastic half-way point, providing not only delicious food but also a lively atmosphere to refuel for the second half of our journey.
Day 3: On the edge of surrender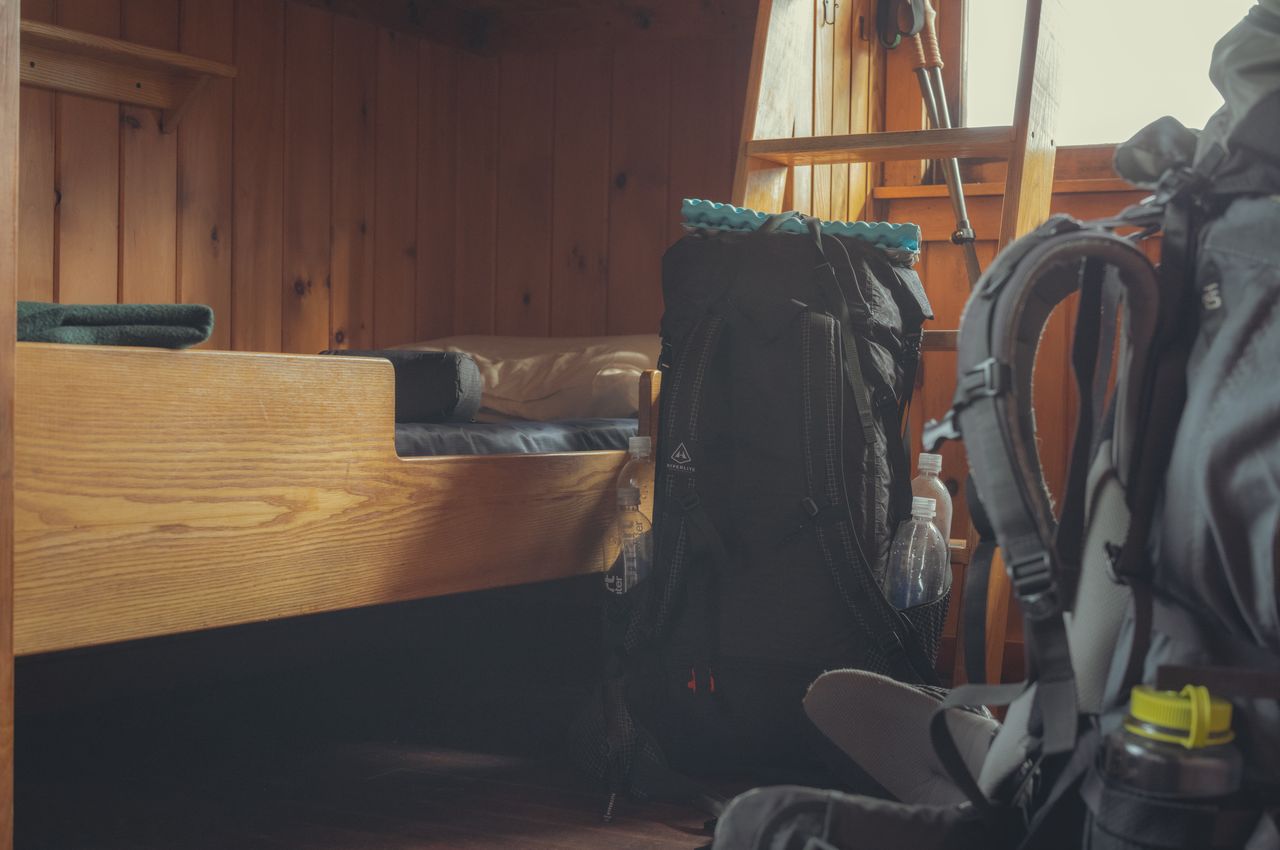 After a restful night in a bunk bed and a hearty breakfast, we felt refreshed. And let's be honest, slipping into the first and only clean pair of underwear for the trip added to that invigorating feeling.
Excitement and jitters bubbled within us. Today was the big day of our trek: 10 miles of rugged terrain, 3,300 feet up, 3,300 feet down, with four mighty 4,000-footers along the way.
Leaving the comfort of Galehead Hut, we set course to Mount Garfield. About two laborious hours later, the summit greeted us with a panoramic view that seemed to stretch endlessly.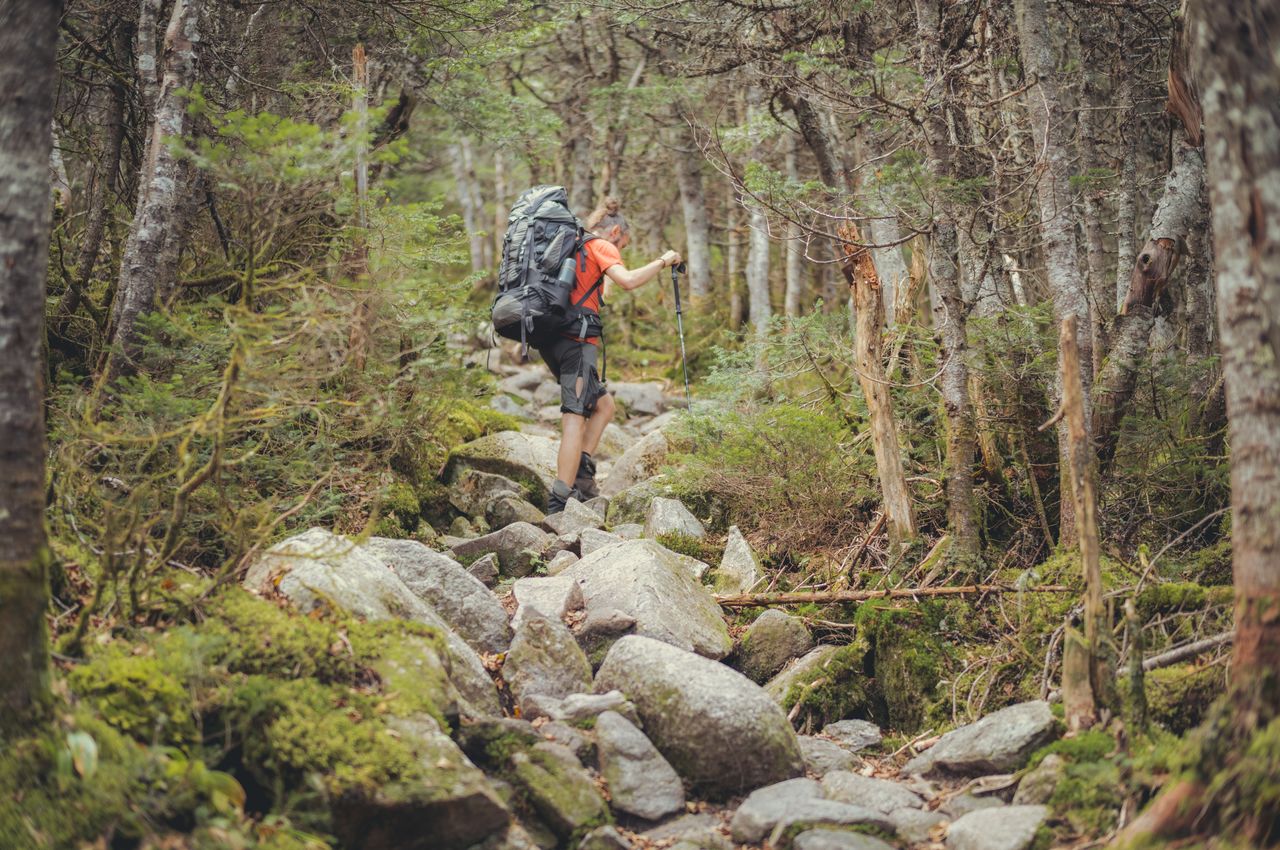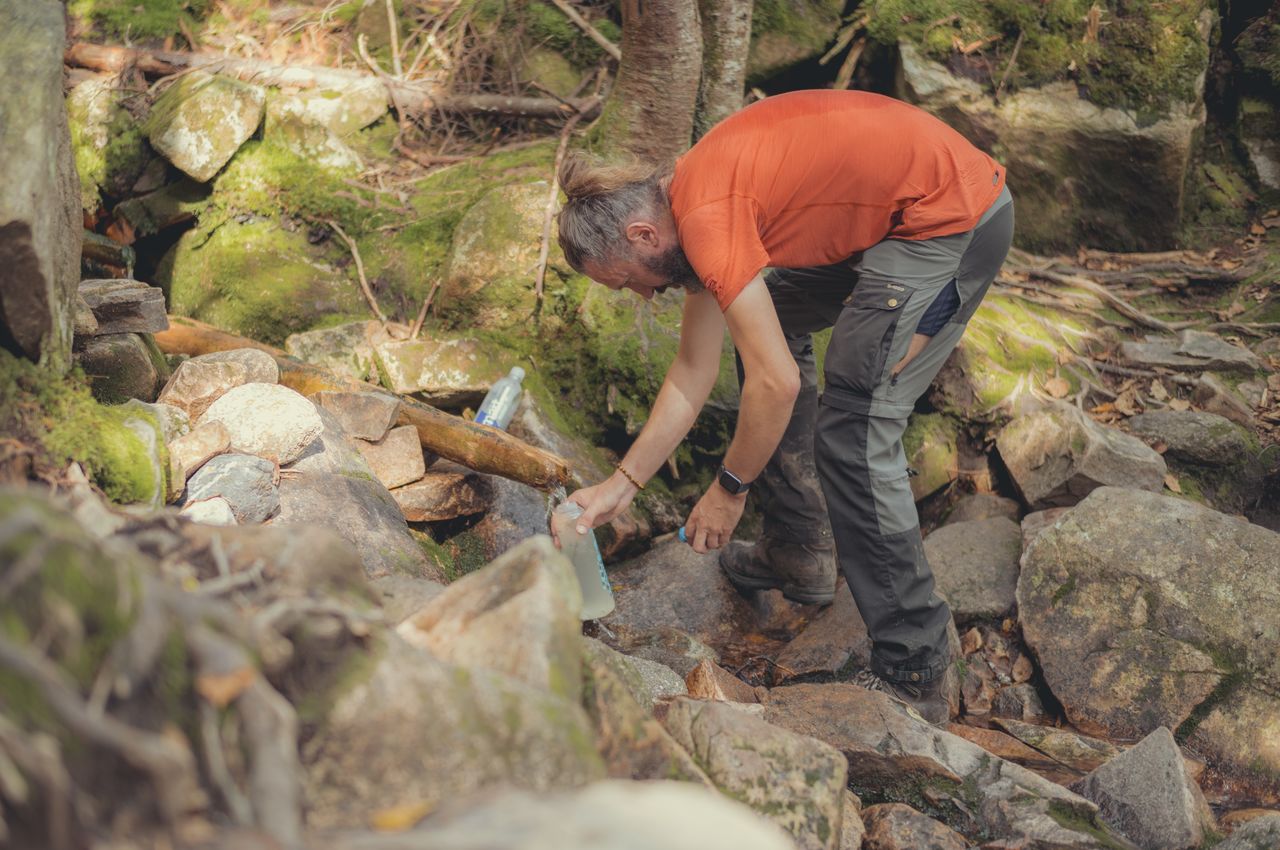 As we ate a snack at the summit, we gazed at our next obstacle, Mount Lafayette, which stood prominently before us. From our vantage point, it appeared both distant and daunting. And that is precisely what it was: a 3.9 mile hike with a hefty 1,200 foot elevation gain.
The path to Mount Lafayette was long and demanding. It began with a steep descent from Mount Garfield, marked by a sequence of rock scrambles. Next, nestled between both peaks was a dense forest, a sort of "comforting green cocoon". Within this forest, slightly off trail, was Garfield Pond, the only pitstop for us to replenish our water supplies for some time. (The pond water had a slightly stagnant taste compared to the crispness of creek water, but it did the job.) And finally, the ascent to Mount Lafayette, a climb that would not end. As we got closer to Mount Lafayette, the dense tree cover began to thin, making way for alpine scrub.
But with this transition also came a steeper and more difficult incline, putting my determination to a test. Just half a mile away from Mount Lafayette's peak, with a mere 260 feet to ascend, I hit a wall. My energy tanked.
It was a sobering moment because we also realized that, after 7 hours of hiking, we hadn't even reached Mount Lafayette's summit yet. To make matters even more daunting, there were still two 4,000+ footers to conquer after Lafayette before we'd arrive at our tentsite for the night.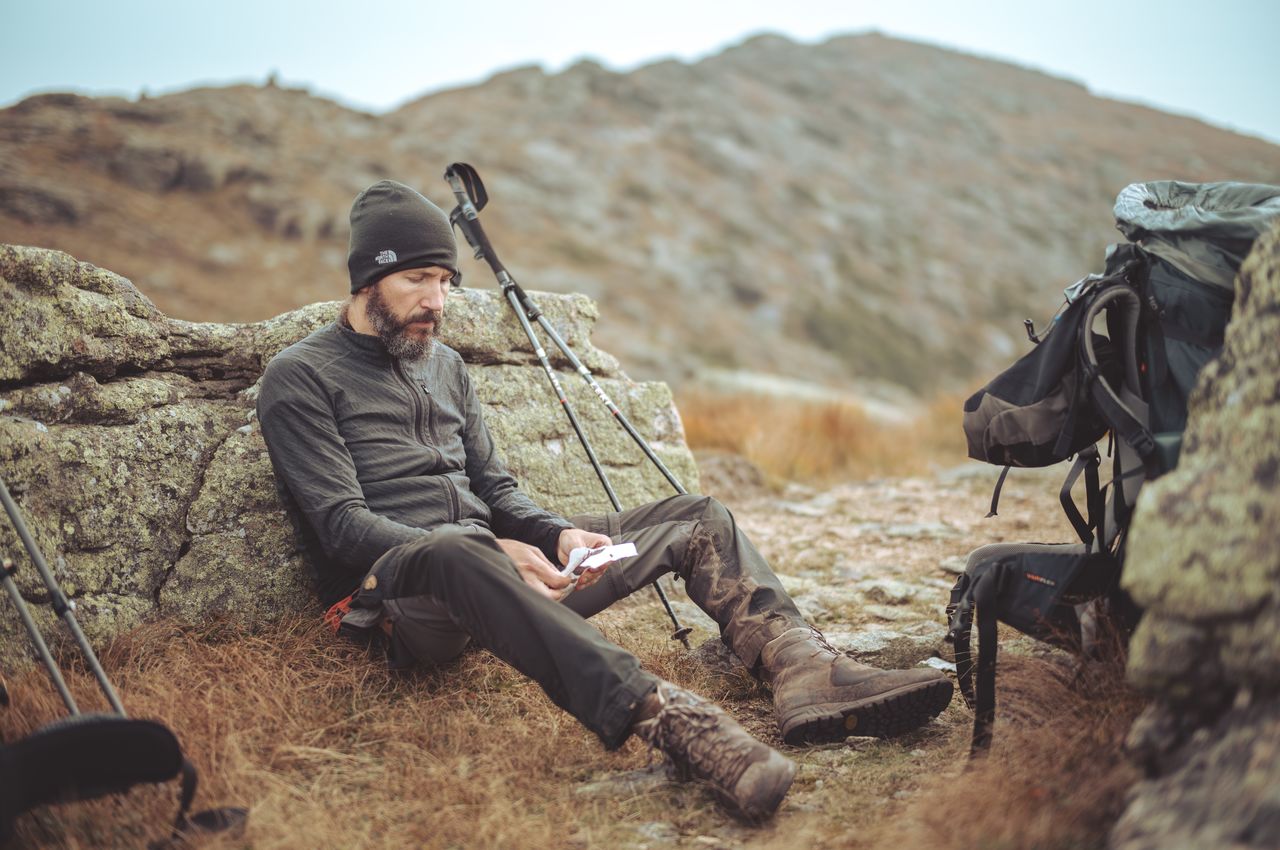 We had only covered 6.6 miles in those 7 hours. The rugged terrain had slowed our pace to less than a mile an hour. It was already 3:30pm and with another 3.8 miles to go, the math was against us; if we continued at this pace, we'd be setting up camp in the dark.
The thought of giving up and hiking out to the nearest road or exit point crossed our minds. But then, in the depths of our backpacks, we found a lifeline: some electrolyte tablets and a handful of peanut butter cups. To give me an extra boost, Klaas also insisted on making me a sandwich with almond-chocolate paste.
I never imagined that such a combination could work wonders, but it did. It felt as though my legs were reborn. With this newfound determination, we made the unanimous decision to press forward and aim for Liberty Spring Tentsite. We were determined; giving up wasn't an option.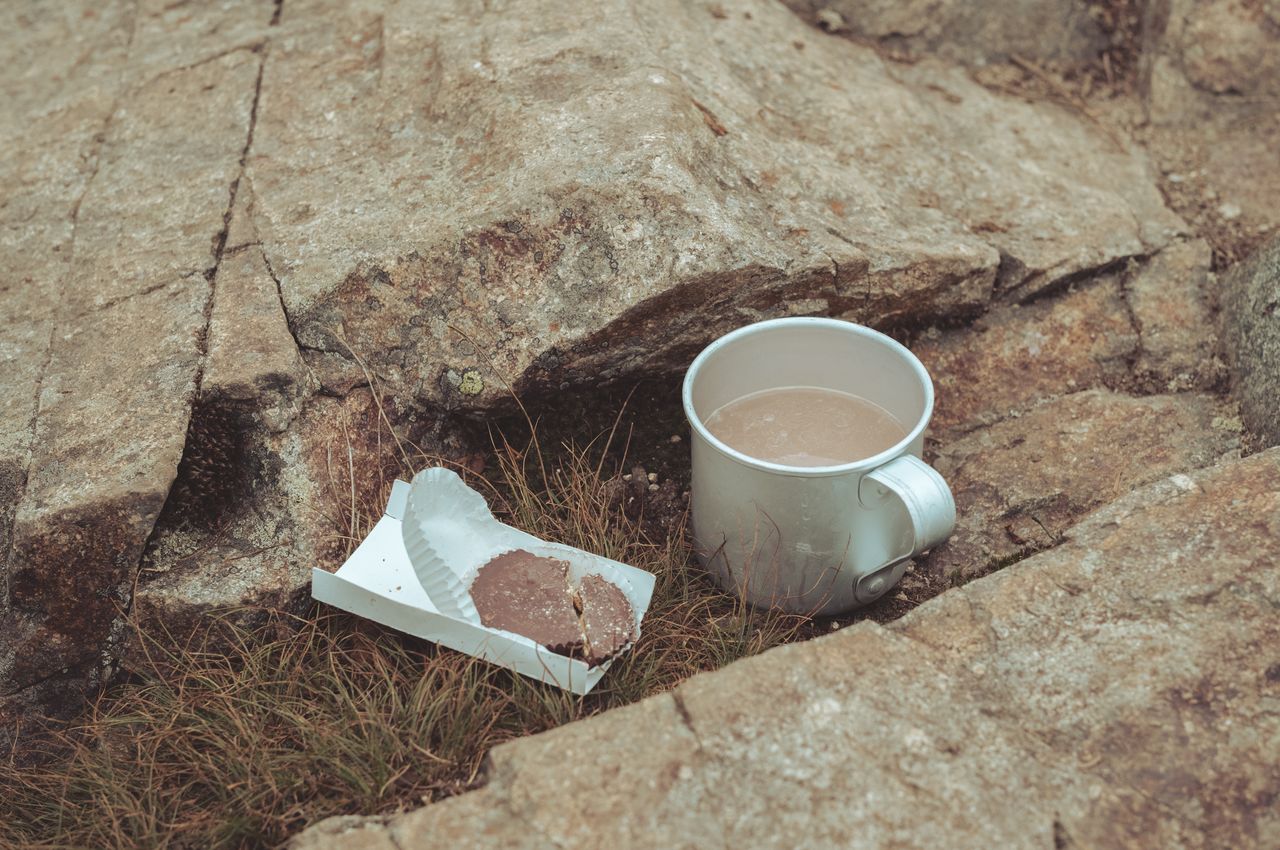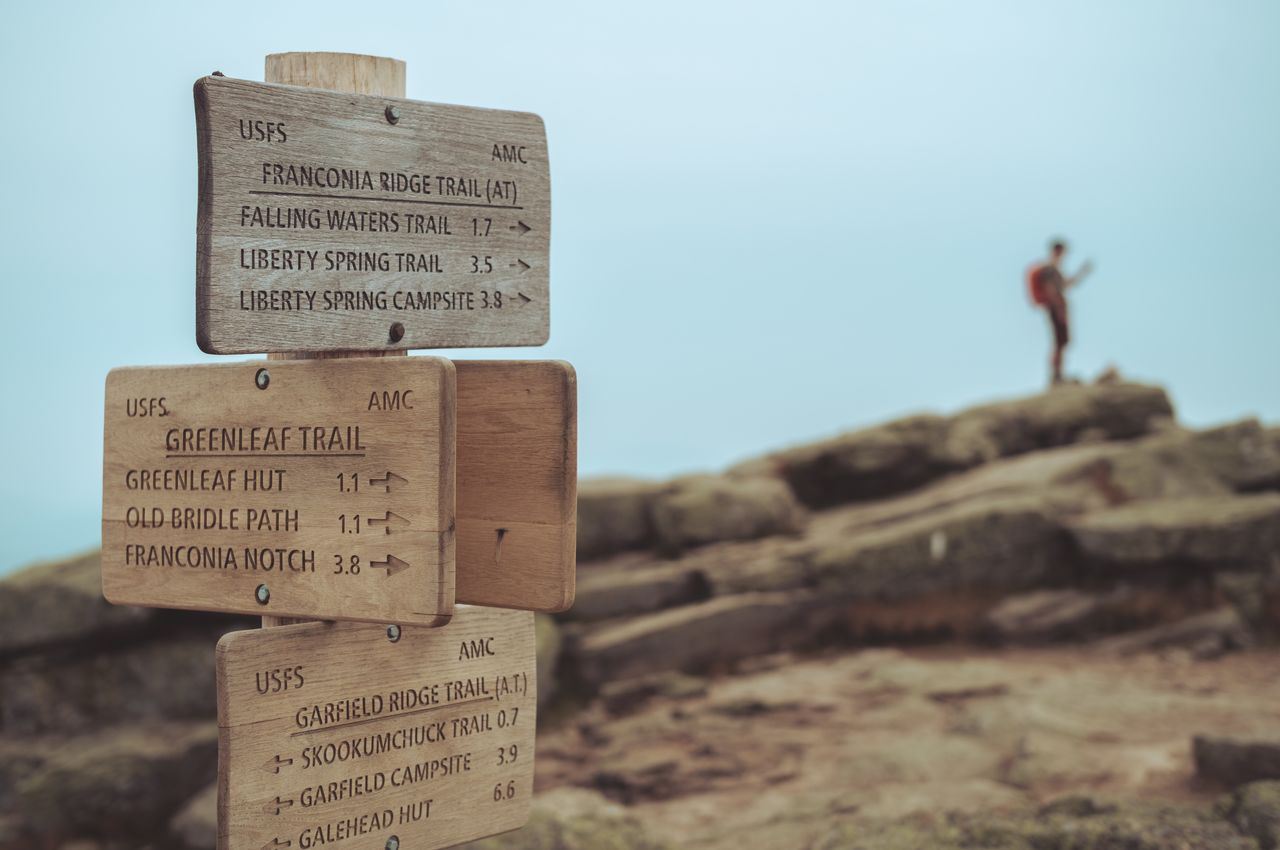 As we soldiered on, the ridge connecting Mount Lafayette, Mount Lincoln, and Little Haystack Mountain, was nothing short of breathtaking. The views, the sheer drop-offs, and the rugged beauty made every step on this ridge a memorable one. It ended up being my favorite part of the entire Pemi Loop.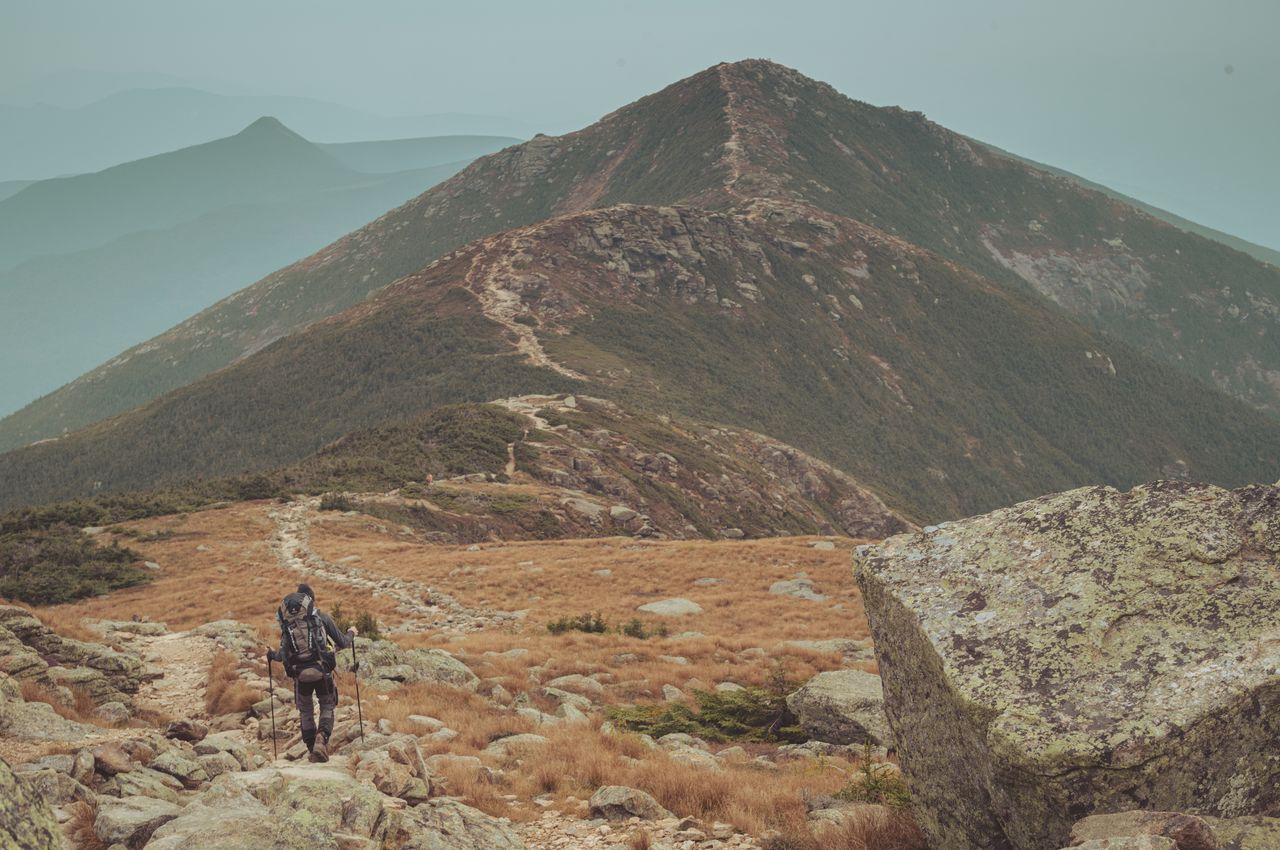 With the daylight waning and the terrain being relatively easier, we even picked up our pace, determined to cover as much ground as possible. We also agreed that we'd be ready to sleep on the trail if necessary. Fortunately, we reached the tentsite by 7pm. We set up our tent in the dark with the help of headlamps, prepared dinner and turned in for the night at 8:30pm.
As I layed in our tent, listening to the nocturnal sounds of the forest (read: Klaas gently snoring), I felt a mix of exhaustion and pride. I was glad we hadn't given up. The trail from Galehead Hut to Liberty Springs Tentsite wasn't just a hike; it was an experience, and proof that I could push my limits.
Day 4: From rain to reward
We woke up to rain gently tapping our tent, realizing this was the last day of our hike. Somehow, the last day always seems easy, but reality often sings a different tune. I had to remind myself we still had to conquer two 4,000-footers.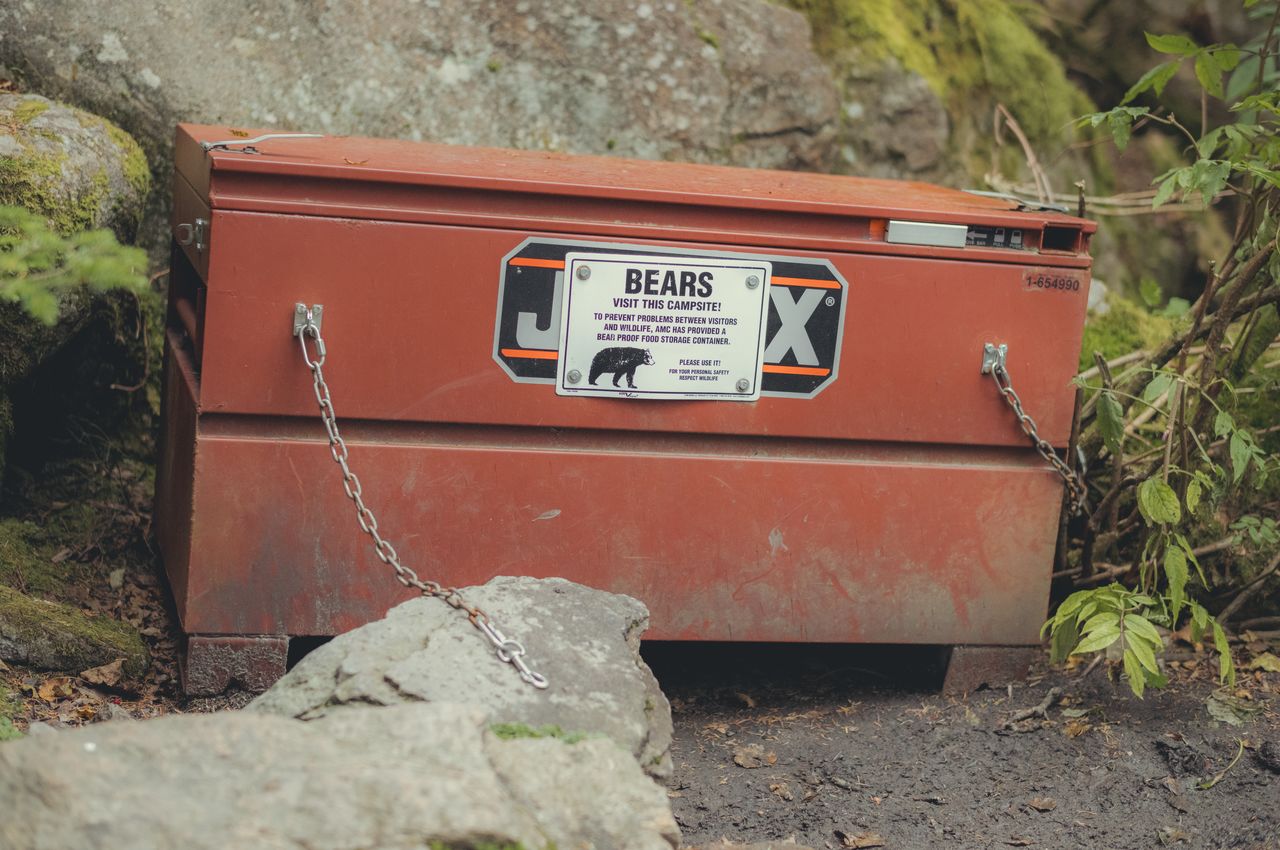 We had a pact to treat ourselves to a delicious burger with a cold, refreshing beer when we reached the finish line. Plus, the thought of a warm shower to wash away four days' worth of sweat was practically a siren's call. It's remarkable how these basic luxuries can become the things we look forward to the most.
Mount Liberty kicked off the day's challenges. With every step, our determination grew stronger. Despite the discomfort of aching knees and blisters – two blisters on my left foot and three blisters on my right foot – nothing was going to keep us from completing the Pemi Loop. At the top, we took in the view of all the peaks we had conquered, truly comprehending the distance we had hiked and the impressive heights we had attained.
Soon after, it was Mount Flume's turn. Going down its slopes brought a sense of relief, knowing all the tough climbs were behind us. Once we left Mount Flume behind, the trail began to smooth out, making our journey noticeably easier. However, despite the terrain becoming less demanding, those final 4 miles seemed to stretch on endlessly.
By 3pm, we triumphantly reached the Lincoln Trailhead, the very place where our journey began. We gave each other a high five, followed by a sweaty but heartfelt hug, and headed straight to Black Mountain Burger, just a few miles down the road. There, the beer and the burger tasted incredible, a well-deserved treat after our incredible adventure.
Conclusion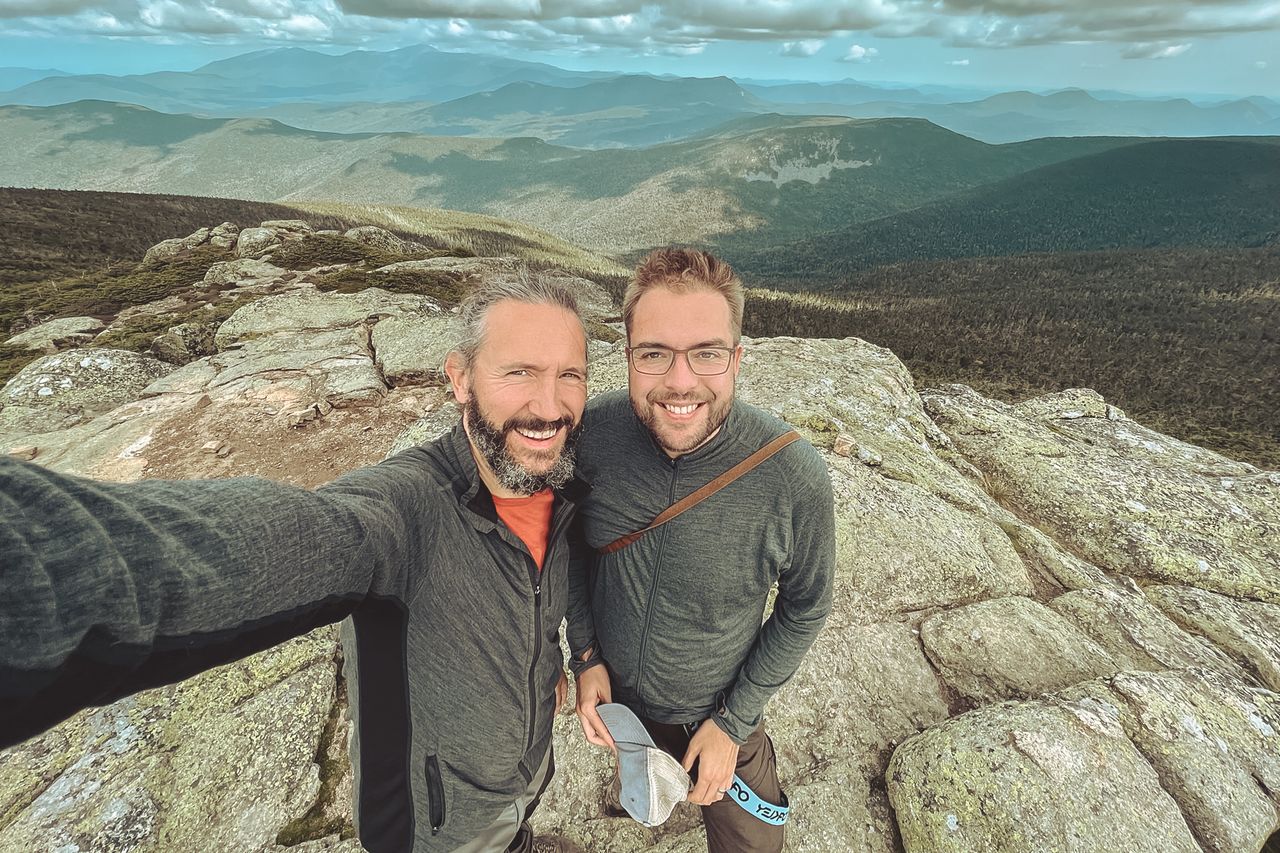 As I sit down to write this blog post, I'm filled with a mix of happiness and fulfillment. At the same time, there is a touch of sadness that our adventure has come to an end. The Pemi Loop was an incredible adventure. It tested my physical and mental strength, even when completed in four days. But pain is forgotten, and experiences will live on forever. The moments shared with Klaas during this challenge were truly unique, and they're memories I'll always hold dear. We crushed life for four days.
— Dries Buytaert