Ten years ago, the average organization had one website. Since then, the world has become a more complex place with a diverse set of needs. If you're like most organizations the number of sites you have continues to grow at a rapid clip. You've dipped your toe into the social media waters by setting up one or more blogs, you use microsites for the foundation of your marketing efforts to promote products and events, and community sites to engage with the people who use your products. And of course, you have your corporate website, as well as your intranet and a number of internal collaboration websites for different projects. This is today's reality.
During the past year, I've met with many organizations that have hundreds of sites; some even have thousands of sites. Most of these sites are vastly different in terms of scale, functionality, complexity and longevity. As a result, the level of investment and the time to market requirements are usually very different. Some of the websites are owned by the company's IT department while other websites may be owned by their marketing department.
For most organizations, one tool cannot get the job done, so they keep multiple tools in their toolbox - whether they intend to or not. Unfortunately this is a common scenario in many enterprises. We see many organizations that run on Vignette, but they add WordPress to power their blog, and use SharePoint for their intranet. Managing integration and multiple (proprietary) solutions is not only costly but it acts as a roadblock to innovation and slows time to market when changes are needed.
It can be a complete mess.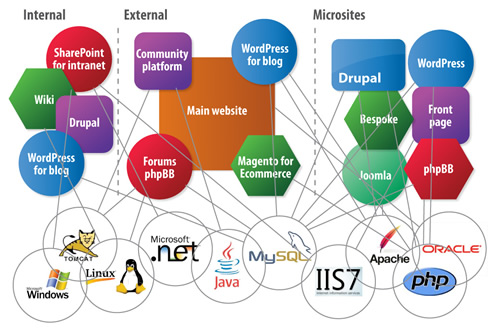 CIOs are now waking up; they're realizing that the cost of running twenty different content management systems on twenty different stack configurations is an expensive, unnecessary burden for the organization. They can see that there are cost savings to be made if they standardize. What they want is something more than a content management system: they need a single platform that meets their needs. They need Drupal.
The New York Stock Exchange is launching 30 sites on Drupal. Turner Broadcasting is migrating 80 sites to Drupal. A large consumer pharmaceuticals company might end up with over 3000 Drupal sites. Why? Because Drupal gives their IT team an agile platform to deliver new sites quickly with the breadth of capabilities to meet their needs, but broad enough in scope to serve as a web platform too.
More and more, I see large organizations standardize on Drupal. Drupal's low-cost entry point and open, modular architecture provides the perfect foundation. Drupal is one of the few solutions that can scale from very small to extremely large, and has the depth and breadth of functionality to support thousands of different use cases. Drupal sites can span a wide range of functionality; from blogs, to marketing microsites, social business community sites, corporate intranets, e-commerce sites and more. There are incredible success stories for each of these use cases already. Plus, we've now reached a point where many open source content management systems outperform proprietary solutions on technical superiority and pace of innovation. Drupal is in a very unique position.
This is an immensely powerful trend. If we navigate this well, Drupal could become truly ubiquitous and go from powering 1% of the web, to quickly powering 5% of the web and even further. It requires us to keep making Drupal a better platform, to crack the code on how to make Drupal distributions truly compete with commercial point solutions, and to build out an even larger commercial ecosystem and community. Needless to say, I'm super excited about Drupal's future and the opportunity ahead of us.
— Dries Buytaert