We had a fun vacation exploring Acadia National Park and all of its natural beauty. We enjoyed watching the sunrise from the top of Cadillac Mountain and the sun set from our backyard.
For our 2018 family vacation, we wanted to explore one of America's National Parks. We decided to take advantage of one of the national parks closest to us: Acadia National Park in Maine.
Day 1: Driving around Mount Desert Island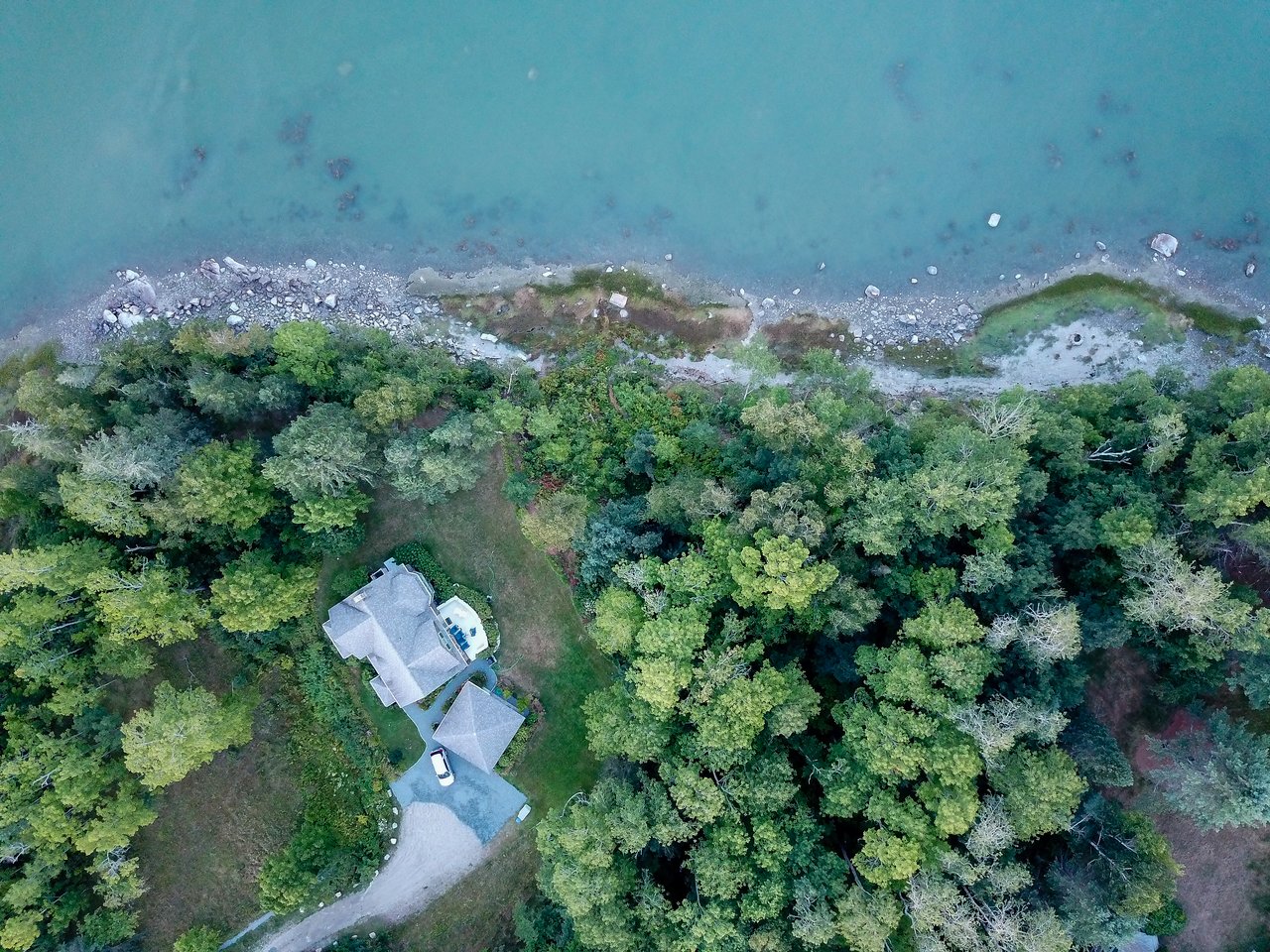 We rented a house on the water near Bar Harbor. So on our first morning we explored the beach area around the house. In good tradition, the boys collected some sticks to practice their ninja moves and ninja sword fighting. Both also enjoyed throwing their "ninja stars" (rocks) into what they called "fudge" (dried up piles of seaweed). The ninja stars landed with a nice, soggy "plop".
When not being pretend ninjas, Axl's favorite part of exploring the beach was finding sea life in the tidal pools. For Stan it was collecting various crab shells in hopes to glue them all together to make a whole crab.
Next up, we drove around Mount Desert Island, stopped for lunch, visited Bass Harbor Lighthouse and explored the rocks. On the way, we saw multiple deer, which triggered a memory for Stan that he saw a "man deer".
Stan: I saw a man deer once!
Vanessa: What? A man deer? You mean like a half man and half deer?
Stan: Yes.
Vanessa: LOL! Like a mythical creature?
Stan: Yes.
Dries: You saw a deer that was half man and half deer in real life?
Stan: Yes, you know a deer that is a man.
Laughter erupted in the car
Everyone: Oh, you mean a male deer!?
Stan: Yes.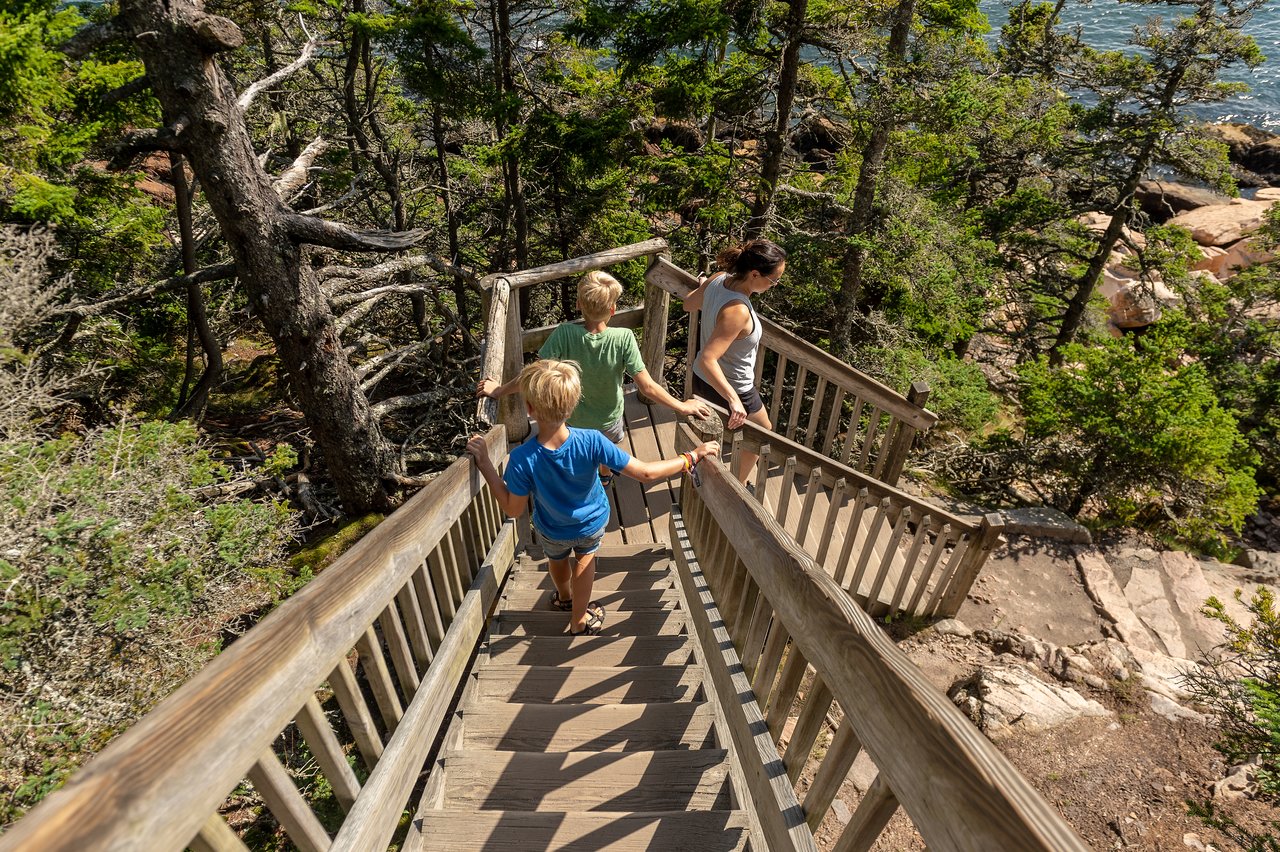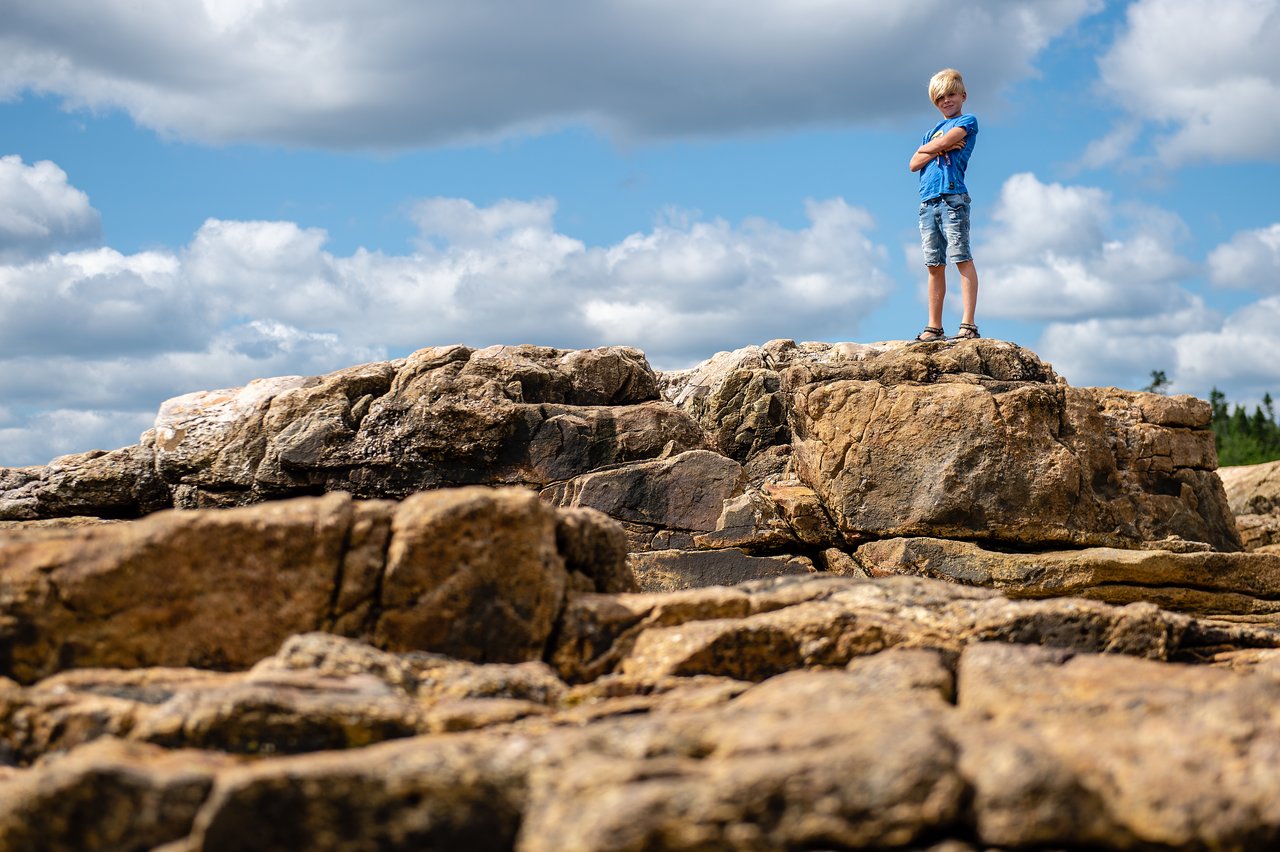 Acadia's rocky landscape dates back to more than 500 million years ago. It's the result of continents colliding, volcanoes erupting, and glaciers scraping the bedrock. It all sounds very dramatic, and I'm sure it was. Sand, mud and volcanic ash piled up in thick layers, and over millions of years, was compressed into sedimentary rock. As tectonic plates shifted, this newly formed rock was pushed to the surface of the earth. The end result? One of the most stunning islands in the United States.
Day 2: Hiking on Acadia Mountain
This beautiful landscape is perfect for hiking so on the second day of our vacation, we decided to take our first hike: Acadia Mountain Trail. The forested trail quickly makes its ascent up Acadia Mountain, with a few sections of relatively steep rock formations that require a bit of scrambling. Once at the top, the trail took us along the ridge of the mountain with great views into Somes Sound and the Atlantic Ocean.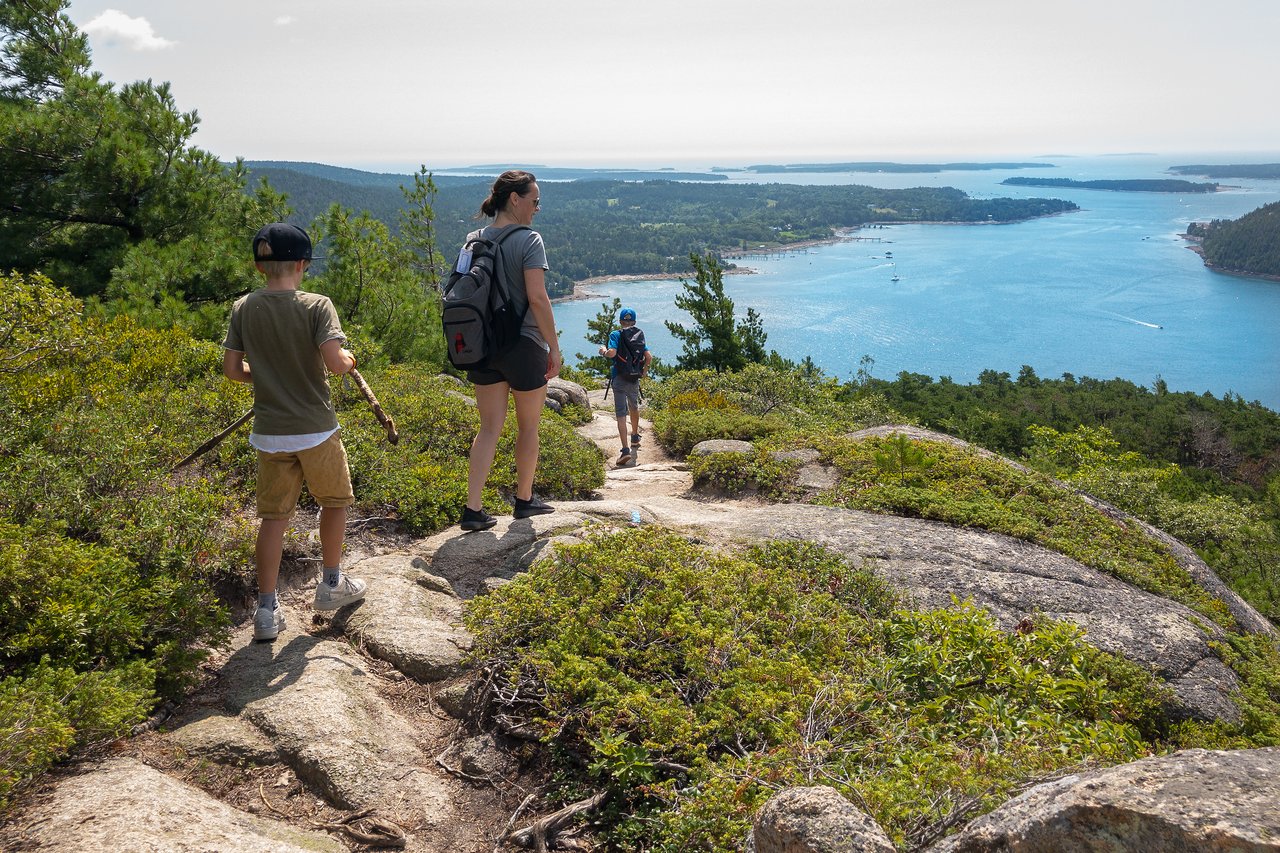 Coming down was harder than going up; the trail down is steep. Vanessa and I often had to sit down and hop off the rocks. Axl and Stan, on the other hand, hopped down the rocks like the elves in The Hobbit. We were happily surprised how much they loved hiking. Axl even declared he enjoyed hiking much more than walking, because "walking is exhausting" to him.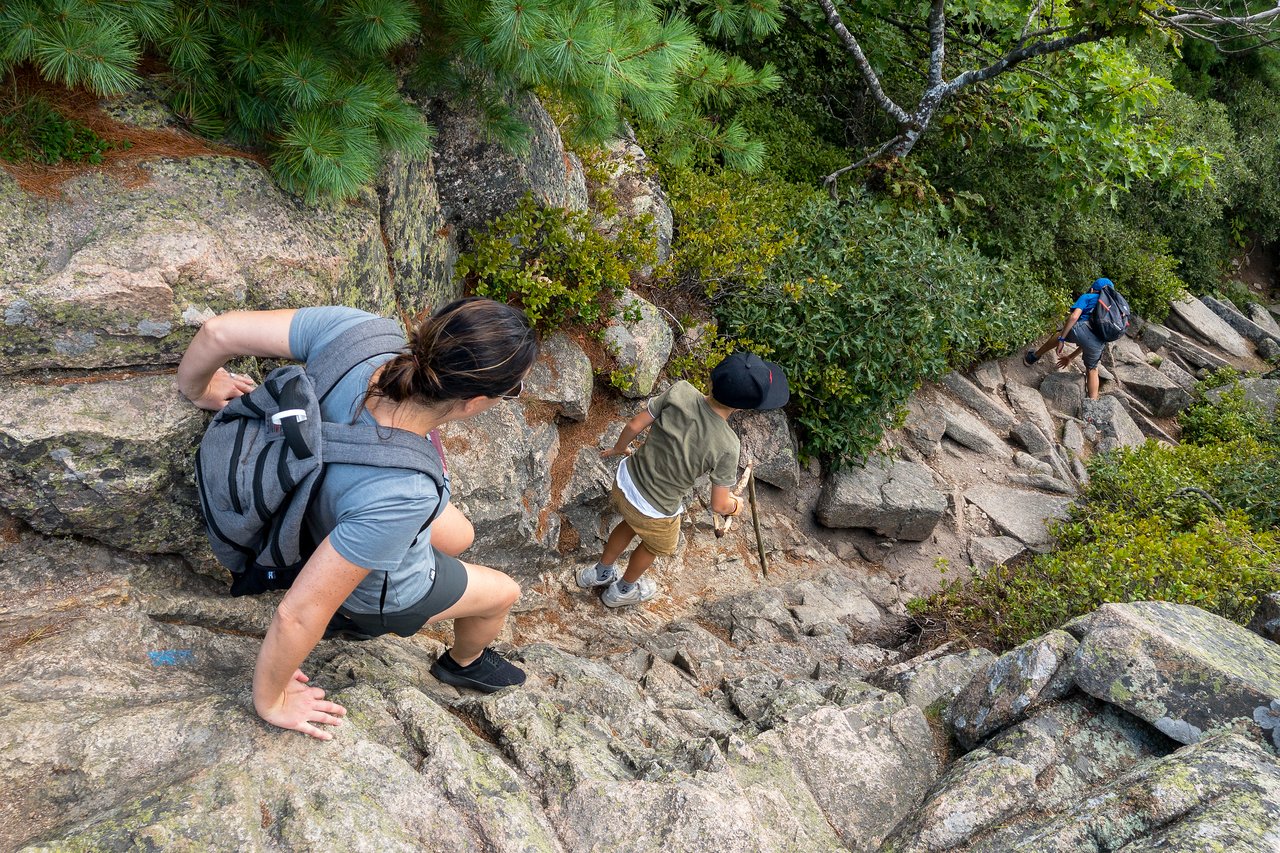 After our hike we went to Echo Lake for a swim and picnic. It is a gorgeous fresh water lake in a spectacular setting. Imagine a beautiful mountain lake, next to 800 foot (250 meter) steep rocks. We even saw two bald eagles flying by when swimming. Pretty magical!
Day 3: Watching the sunrise on Cadillac Mountain
We woke up at 4am to the glaring noise of our alarm clock. There are few sounds worse than the blaring of an alarm clock, especially on vacation.
I feel tired, but also excited. We drank a quick cup of coffee, and hit the road. By 5am we were up at the top of Cadillac Mountain, a different part of Acadia National Park. Cadillac Mountain is famously the first spot in the United States to see the sunrise.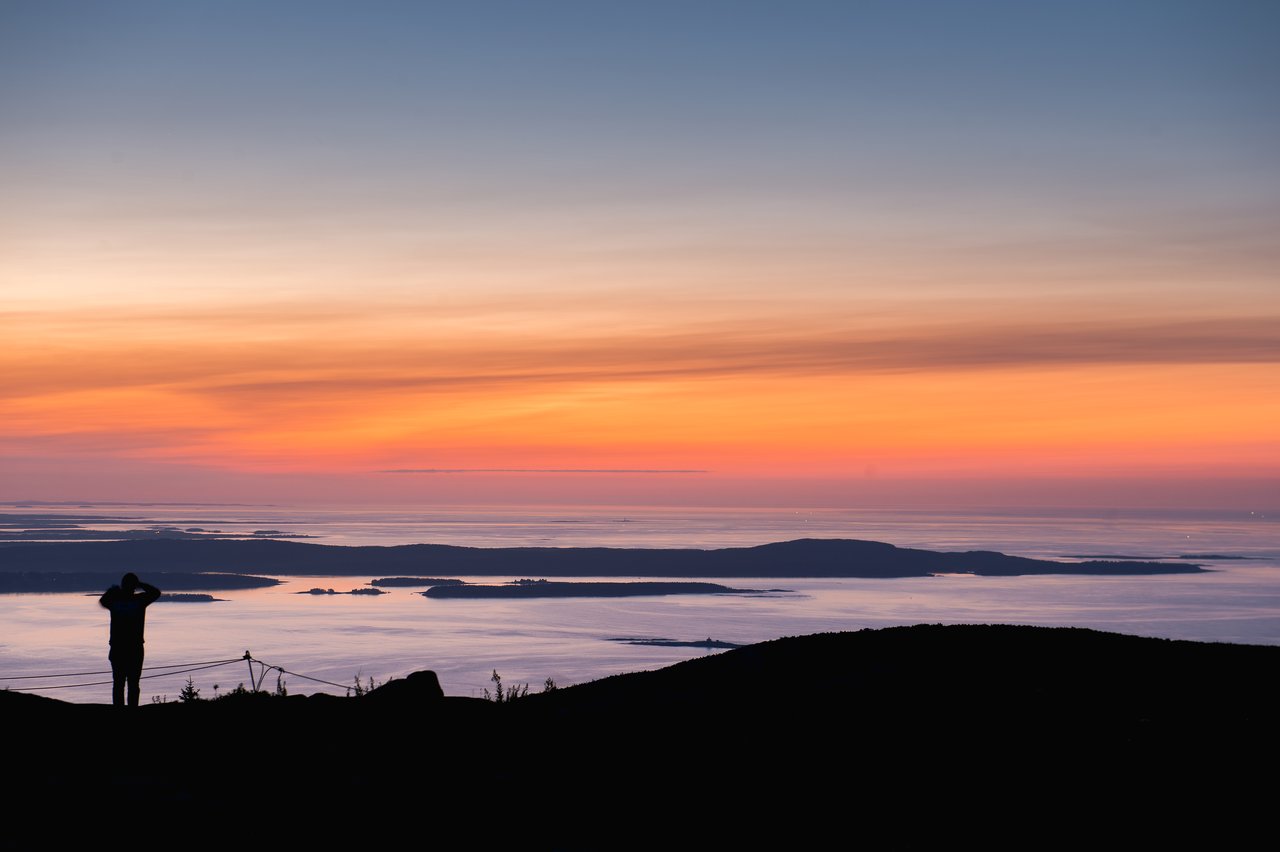 For the photographer in me, it also meant that I got to see the park in its most beautiful light. As the sun started to peek through, the colors first turned purple and blue, and then slowly yellow, until the morning sun covered everything in golden hues.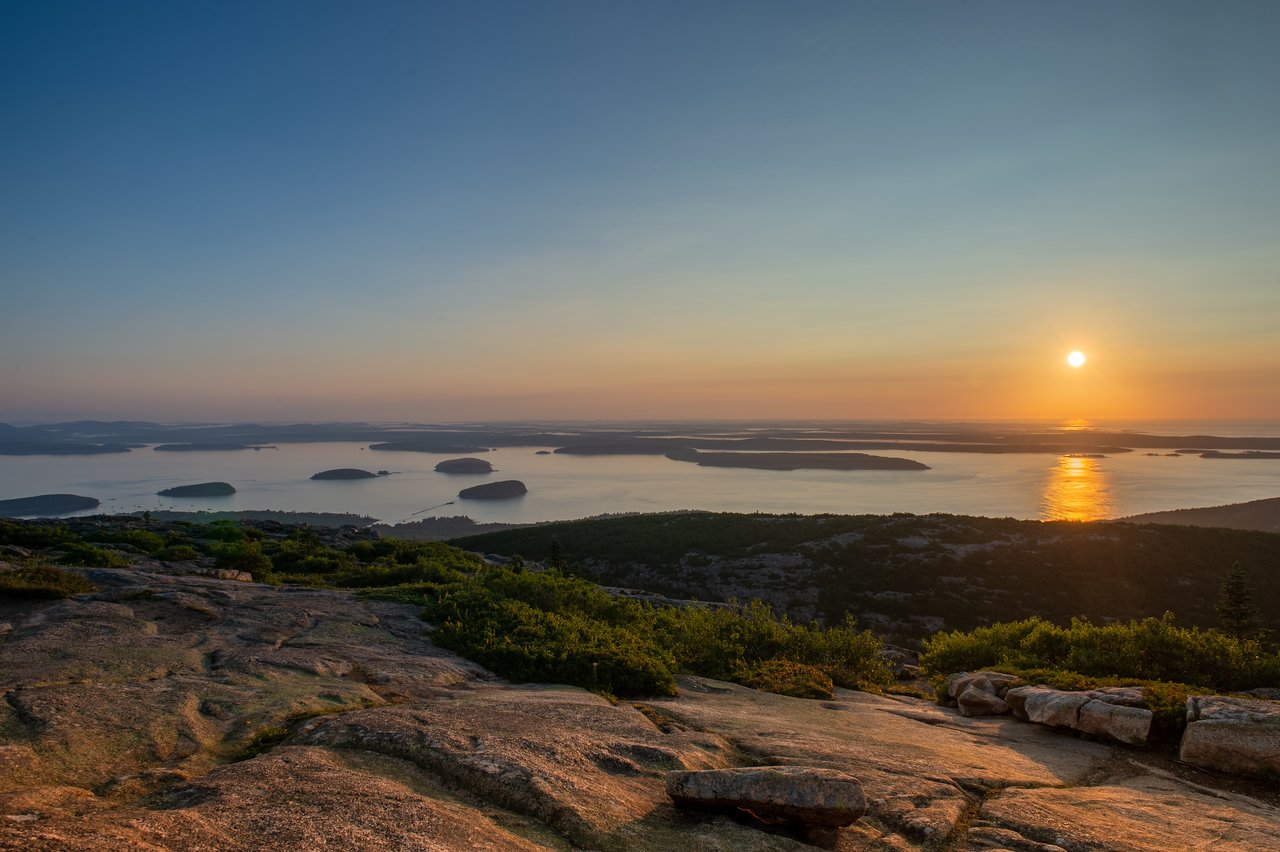 To watch the sunrise from the top of a mountain is an experience worth getting up early for.
Day 4: Rain day
Raining today! In the morning, Vanessa made cornmeal griddle cakes with fresh Maine wild blueberries. Stan gave them a 10 on 10, and while Axl liked them a lot but he indicated he prefers it when the blueberries are still whole (hadn't popped during the cooking process) … our little food critics! :)
We played a variety of board games throughout the day. It's fun to watch the boys start to think more strategically. In between games, Vanessa taught Stan how to make chocolate peanut butter chip cookies, and Axl how to make pasta bolognese. Both of the boys wrote down their recipes so they can make them again — we can't wait to try these!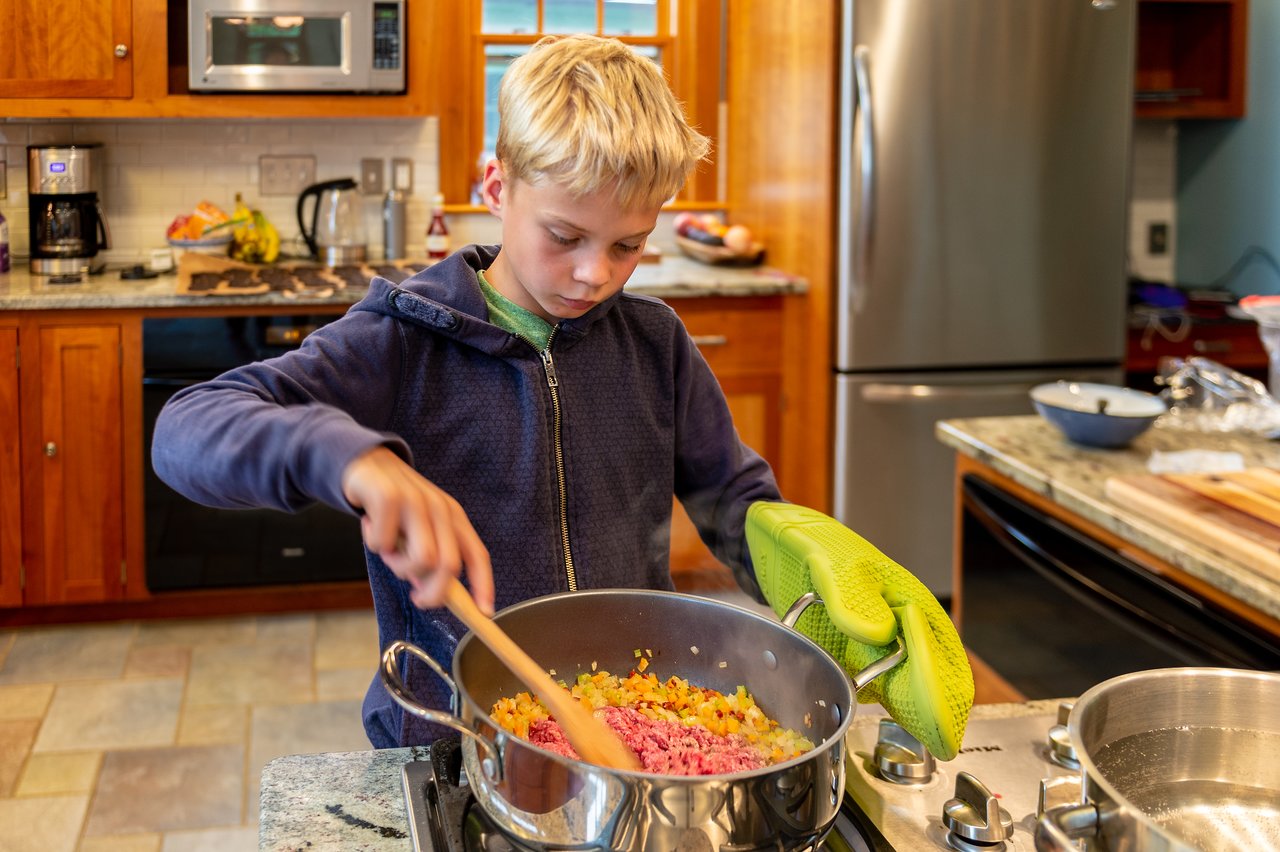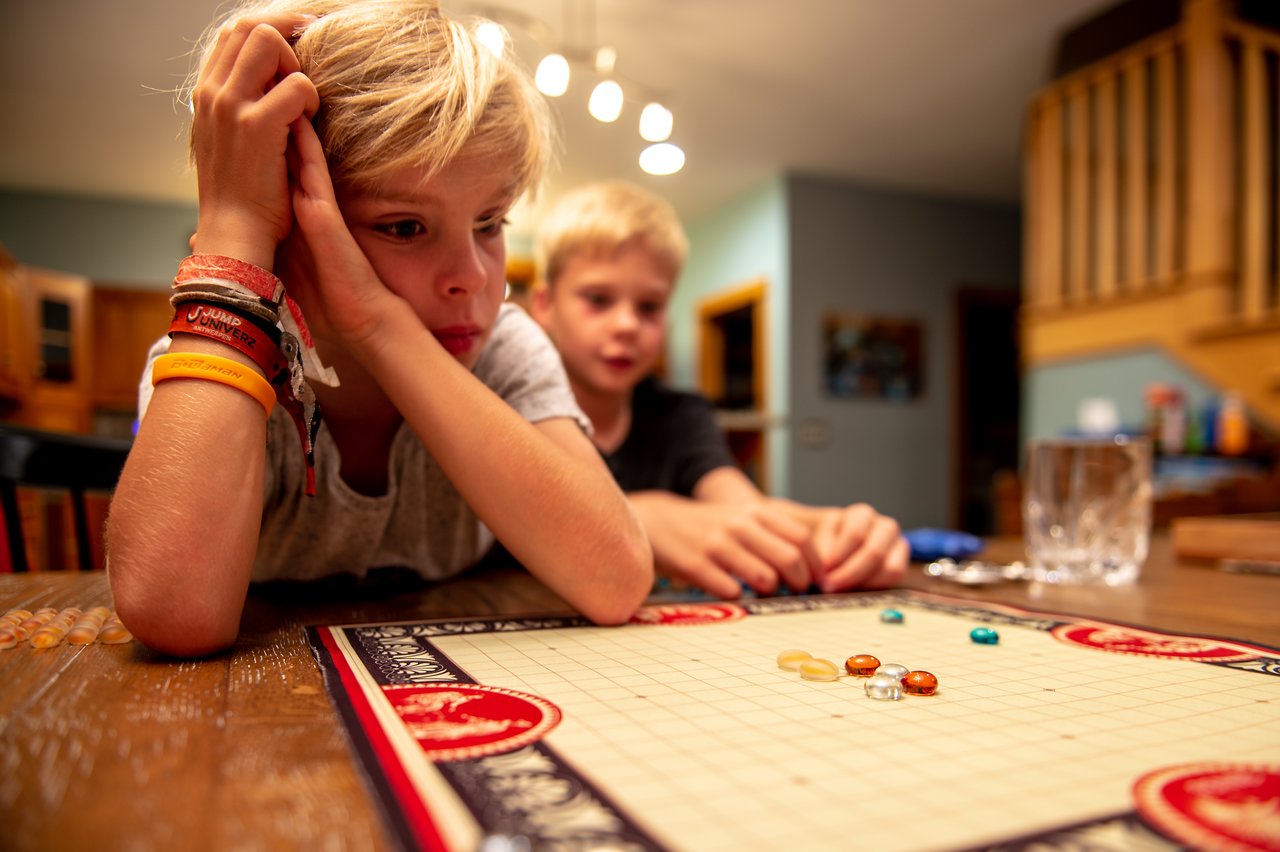 We also love our long dinner conversations about life. Axl said he has a great business idea. I hope he doesn't mind me sharing it here but it's a "self-charging smartphone". He is determined to sell his idea to Apple for $3.5 million dollars. This prompted a long conversation about how it's not enough to have a great idea, but how it takes a lot of determination and team work to bring such an idea to life. In that conversation, we covered a range of topics from working hard, to wealth, giving back, and what really matters in life to be happy.
Day 5: Out on the water
We started the day with a Kubb tournament (a lawn game that involves throwing wooden batons), where Stan and I won the first game, and then Stan gave the second game away to Vanessa and Axl. Nonetheless it was a lot of fun!
After lunch we made our way into Bar Harbor and then boarded a boat to explore the Acadia coastline. On the boat tour we learned more about the animals indigenous to the area, the history of the park and how Bar Harbor came to be. On our trip we saw grey seals, Egg Rock Lighthouse and another bald eagle.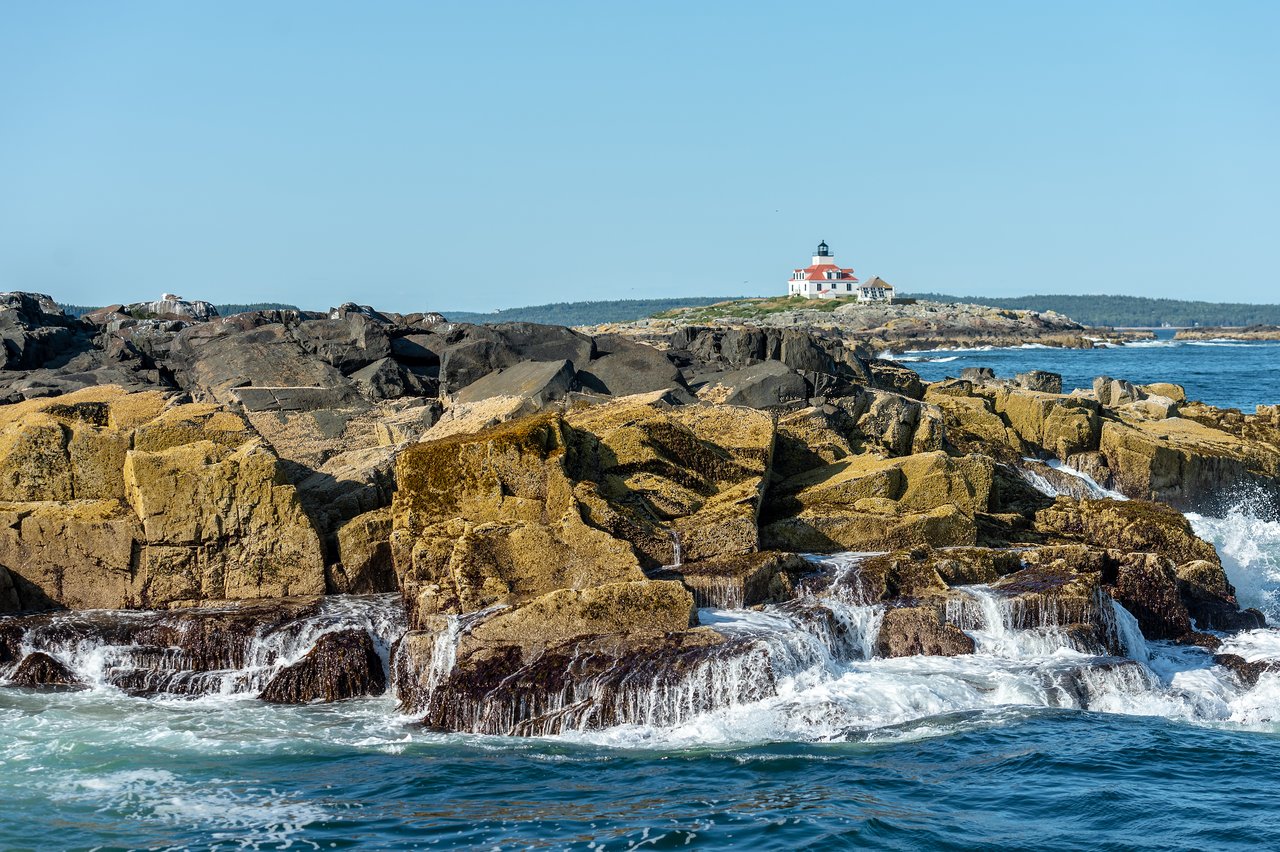 It wouldn't be a vacation in Maine without lobster and chowder. When we got back on land, we went to a lobster shack where we were able to pick out our lobsters, and then they were boiled in custom fishermen's nets in large pots filled with seawater outside over fires fed with local wood. The lobsters were cooked to perfection! Stan was in heaven as he had been craving lobster for weeks.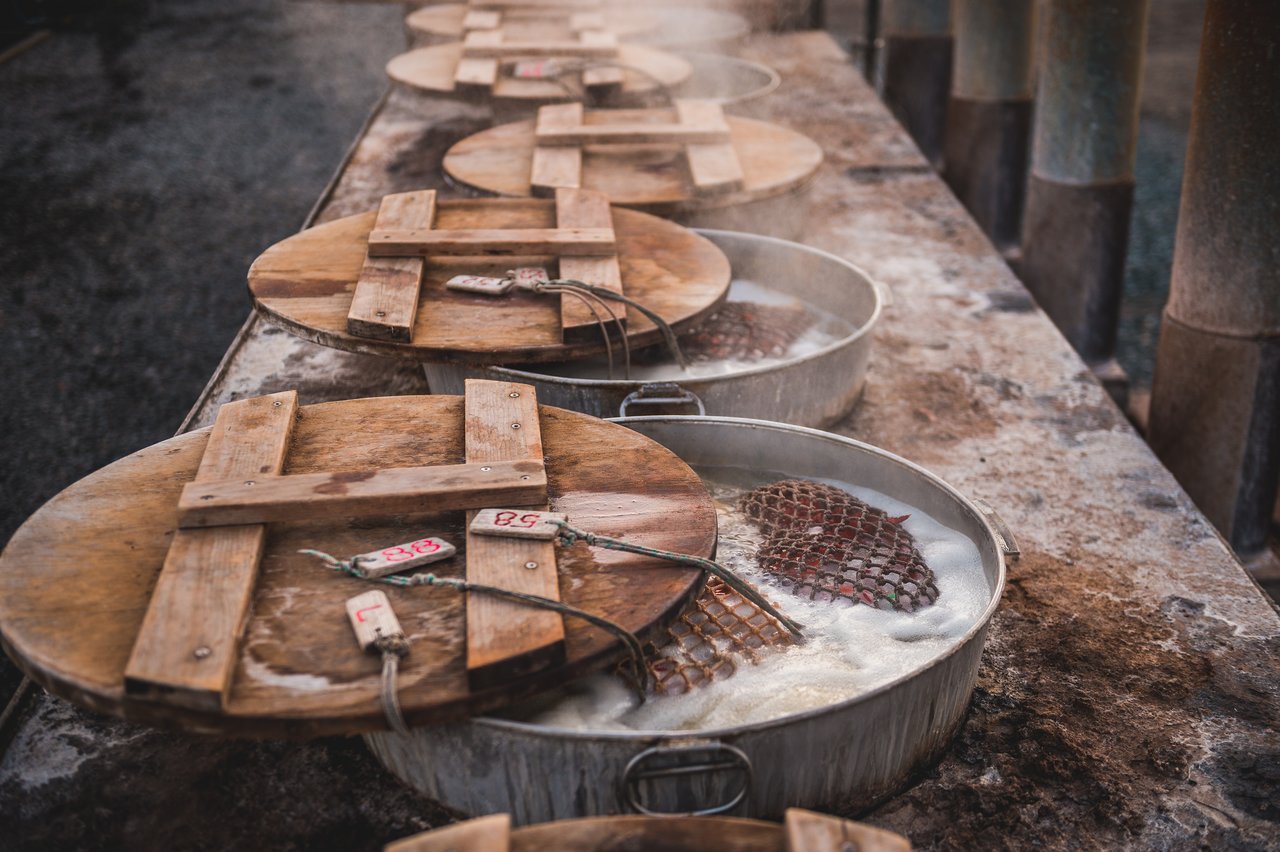 Day 6: Exploring Pemetic Mountain
After a quick work call in the morning, we're off for a hike. We hiked Pemetic Mountain today; roughly 4 miles (6.5 kilometer) and 1,200 feet (365 meter) of elevation. Getting to the top involves some steep and strenuous uphill hiking, but the views of the ocean, surrounding forests, lakes and other mountains make it worth it. The appeal is not just in communing with nature, but also connecting with the boys.
After our hike we grabbed lunch at Sweet Pea's Cafe. The name is misleading; it's not really a cafe, but a farm to table restaurant, and one were you are literally eating at the farm. All the food was fresh and delicious, and we all agreed to come back at a future trip (which is why I decided to capture the name in my blog).
My favorite part of the day was undeniably the dance party we had in the kitchen just before dinner. No, there are not pictures of it. The party climaxed with Neil Diamond's Sweet Caroline which involved us dancing and singing along. More than Neil Diamond, I love that we can dance and sing together without caution or reservation, and just being our true selves.
Day 7: Hiking Bubble Rock
We're kicking off the day with Axl and Stan doing some homework; math, reading, writing, reading the clock, etc. The entire month of August, we've been doing homework for about one hour a day. As it is often the case, it's frustrating me. I continue to be surprised how many mistakes they make or why they still don't seem to understand basic concepts. We'll keep practicing though!
In the afternoon, we decided to hike Bubble Rock, named after one of the most famous boulders in Maine. Bubble Rock is a huge boulder that was placed into this unique position, teetering on the edge of a cliff, millions of years ago by a glacier. It makes you wonder how it remained in place for all these years. Of course, we tried to push it off, and failed.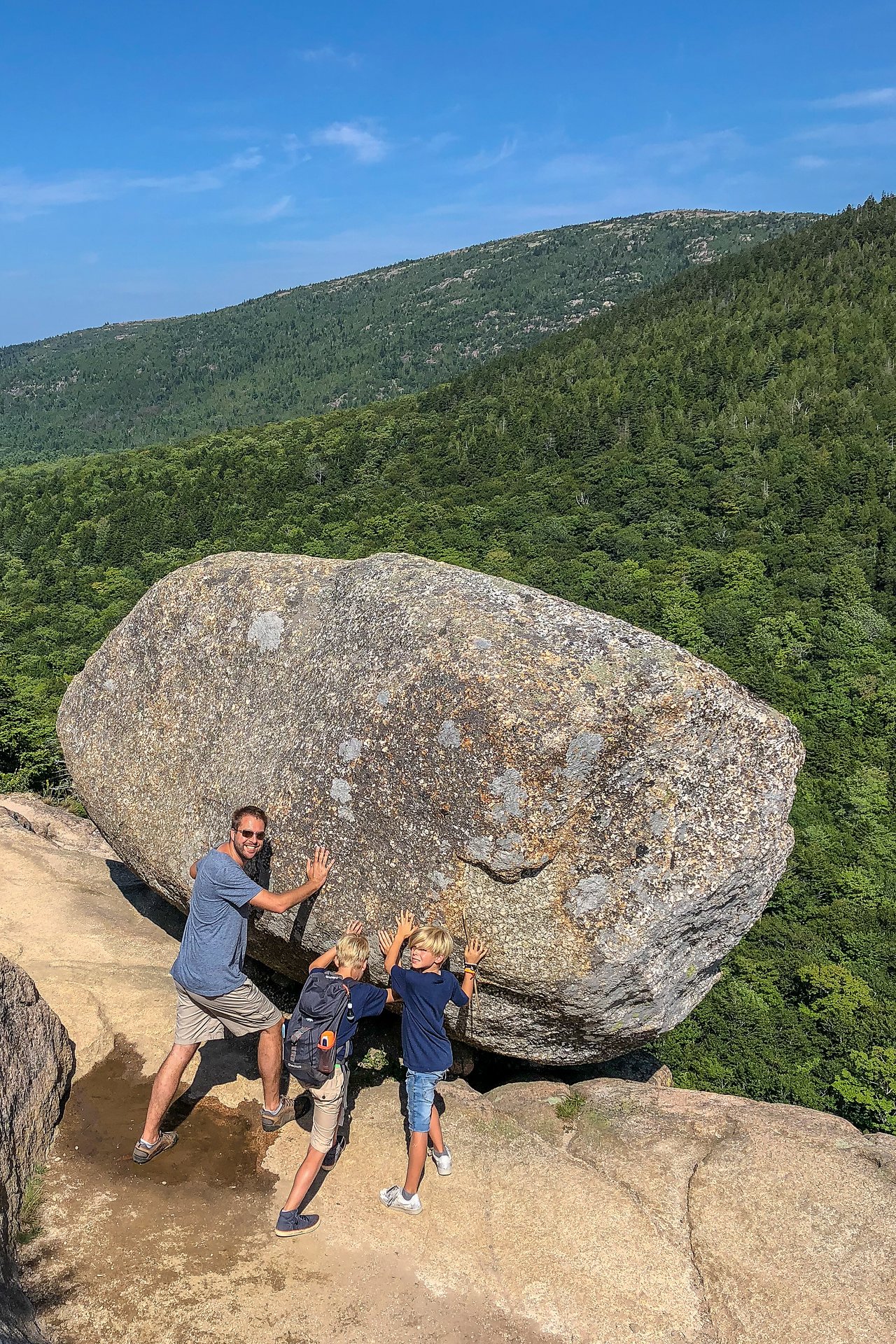 Day 8: Chilling in the backyard
The last day of our vacation, we just hung around the house. We played Spikeball (also called Roundnet), soccer, made pizza on the grill, collected shells on the beach, caught up on some work, and relaxed in the hammock. At home, we live in a condominium so we don't have a backyard or a large grill — just a small electric one. So playing games in the backyard and grilling actually makes for a wonderful experience. And with that last relaxing day, the Maine part of our vacation came to an end. We're headed back to the Boston suburbs, because the next day, we have a flight to Europe to catch. By the time you're reading this, we'll probably be in Europe.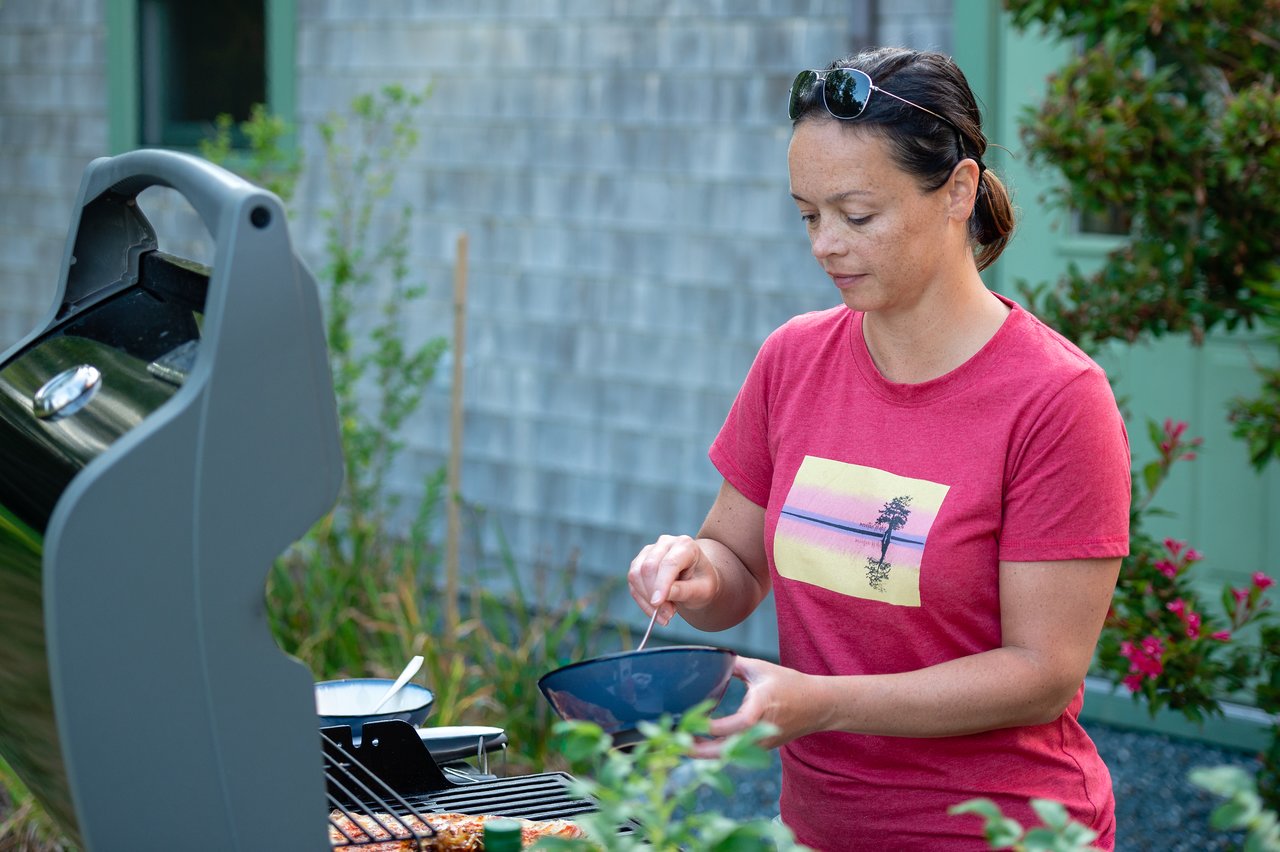 Some photos were taken with my Nikon DSLR, some with my iPhone X and some with my DJI Mavic Pro. I wish I could have taken my Nikon on all our hikes, but they were often too strenuous to bring it along.
— Dries Buytaert