Drupal continues to rack up successes among large developer communities, with x.commerce joining Twitter, which made the move last month. X.commerce is a new division of PayPal that serves as an open, central meeting place for over 700,000 developers for eBay, PayPal, Magento, and other eBay properties.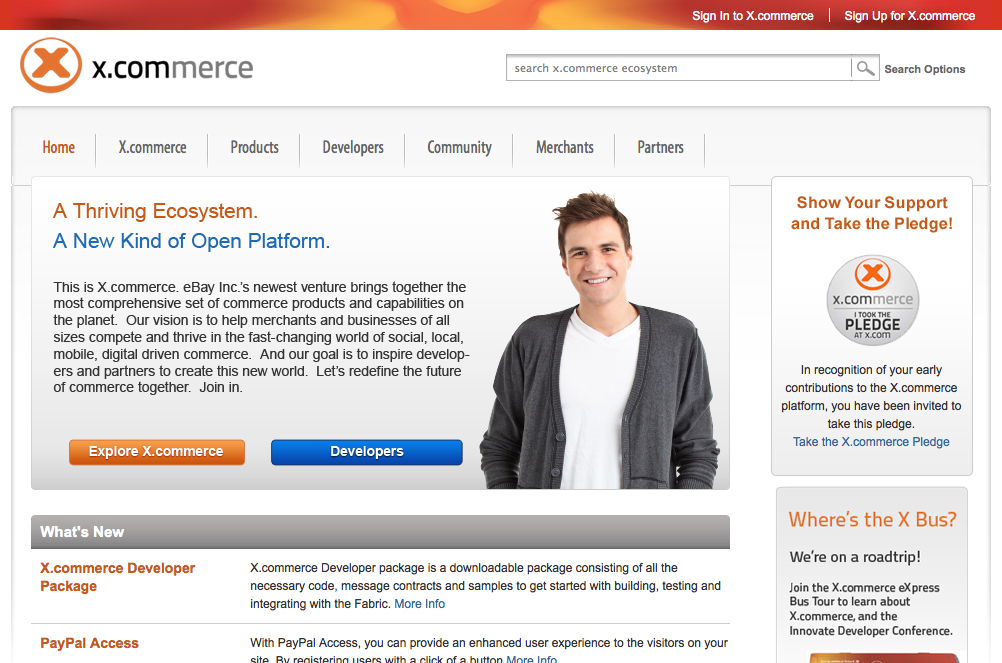 These communities join those of Brightcove, Symantec, DivX — and, of course, Drupal. All told, that's millions of developers relying on Drupal-run sites for coding tips, product info, and idea exchange.
x.commerce's communities were formerly run on Jive, a proprietary package. Through Acquia, eBay engaged VML to create the site, with additional consulting by Cyrve (now part of Acquia) to migrate data. Acquia provided a Technical Account Manager (TAM), who helped coordinate resources to put the site into production and will be on call as it grows.
Like many developer sites, x.commerce centers around its documentation and its communities. The latter are a model of social networking at its best, in the service of a question-and-answer format. Developers help each other by responding directly to questions, either publicly or through private email; vote on questions (and answers) to highlight those of importance; promote conversations through other social sites such as Facebook; and bookmark discussions to form personal collections. The results are evident in the enormous level of activity within the forums (which, by the way, are built on Organic Groups).
This project is an excellent example of how open-source software drives innovation. Under Jive, eBay wasn't able to develop features that it needed. If eBay needed to do something that wasn't in Jive's roadmap, that was just too bad. Drupal, of course, allows them to create whatever they need, or developers outside the company to do it. That jibes well with x.commerce's ethos of open development, as is demonstrated by the extensive APIs it provides for eBay and PayPal, and the freedom the company allows its developers. I believe that their openness is a key factor to their success — there are over 4,500 apps on Magento alone — and that their move to Drupal will allow them to grow at the speed of their community.
— Dries Buytaert