Rackspace, the hosting giant, is using Drupal on a support addon website: https://www.rackspace.com/apps/support.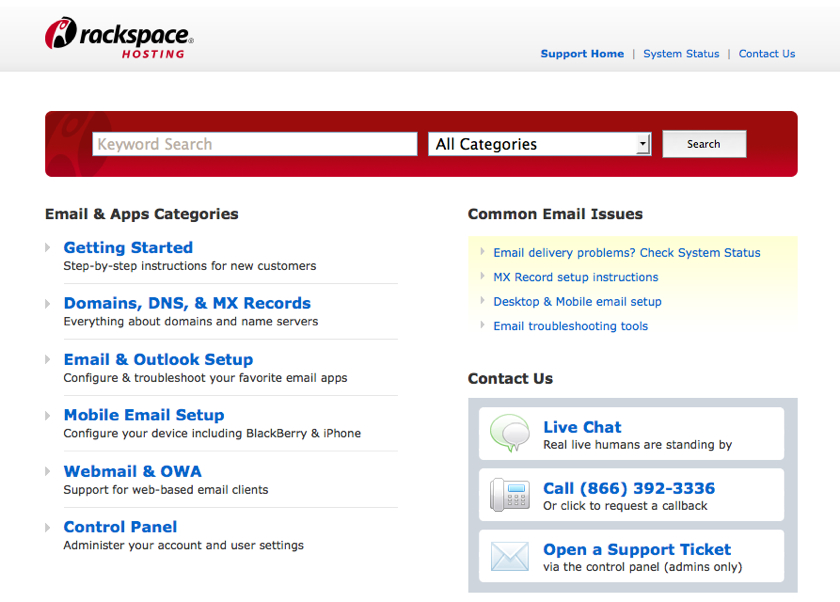 In their blog post on the Rackspace Blog they explain: "The new site was designed to give our customers immediate access to the support documentation they need. We took our existing support information, re-wrote it, organized it into categories and subcategories, and built a new search system so you can find your answers in a hurry ...".
Rackspace's support ideology - termed Fanatical Support - is something they are very proud of and has made Rackspace one of the world's leaders in hosting. I assume this Drupal-based support site is very important to their business.
Drupal lends itself perfectly to these kind of sites and allows organizations to get a site up and running quickly. Given that they are looking for feedback on the new site, I'd recommend them to install Apache Solr (or to sign up for Acquia Search), as search facets would make searching their knowledge base both faster and easier. Drupal's custom content types and taxonomy system in combination with Apache Solr's faceted navigation makes for a very powerful knowledge base.
Either way, it is great to see well-established organizations use Drupal for micro sites or add-on sites. It is a great way to dabble your feet in Drupal and get a sample of its power. It is often individual developers or small teams that bring Drupal into use within larger organizations. Once an organization has its feet wet with Drupal after implementing a couple of micro- or add-on sites, you start to see Drupal bubble to the top of the organization or to larger and larger web properties. In fact, it is remarkably similar to how Linux started to get adopted in the enterprise ten years ago. Let's hope we see more Drupal at Rackspace. Either way, Drupal should have 'grassroots' tattooed on its arm.
— Dries Buytaert