A couple of weeks ago Acquia, the Red Hat of Drupal, reached out to fellow CMS founder, Matt Mullenweg of WordPress, to see if he would consider switching to Drupal. As luck would have it, this was enticing to Matt. He has long understood the value of the Drupal community and has been looking for ways to leverage our community to make WordPress even better. When Acquia suggested switching to Drupal, it dawned on Matt that this was certainly the easiest way to integrate with Drupal without irritating his webmaster.
I have always wanted to be part of the Drupal community, where technical expertise is sought after to create some of the most advanced websites. This move demonstrates the synergy between WordPress and Drupal without the possibility of function name conflicts. — Matt Mullenweg
We, at Acquia, couldn't be more excited to have Matt and the Automattic team on board, because some things are just better together ... like e-mail and spam filters.
Several months ago I started working with some of our top developers to try to come up with a practical integration strategy between Drupal and WordPress. We had been struggling with this for some time when webchick said jokingly: It would be a lot easier if they would just use Drupal instead.
To be honest, I felt a bit silly even talking to Matt about using Drupal, but I didn't know at the time that he had been struggling with exactly the same goal and the same problems. webchick's inadvertent idea has ushered in new possibilities for innovation and frankly this is such a fundamental change for us I can't even imagine the world as it was before.
I am very excited about this collaboration. WordPress and Drupal form a killer combination that can't be beat in today's CMS market. I can hardly wait for the WordPress developers to get their drupal.org accounts set up, so we can work together in ways that were never possible before. I also suggested xjm to setup extra "WordPress tables" at the DrupalCon Portland code sprint.
A new Drupal module has been created to ease the transition. The "WordPress_iframe" module will be available on drupal.org soon. It facilitates a rapid integration of existing WordPress sites into their Drupal counterparts. We are excited about the debut of this new module because it embodies the Drupal community's open acceptance of this partnership while it allows us to roll out literally millions of these new Drupal/WordPress sites over the coming weeks.
As part of the agreement, Matt didn't want to completely move away from the WordPress branding, so we have incorporated it into Acquia's logo. Phonetically Acquia is pronounced ah-kwee-uh, so we've swapped out our Q for the well-known WordPress "W". The name is still pronounced "ah-kwee-uh" but will now be spelled "Acwuia". This visually puts WordPress right in the center of our logo - exactly where it belongs. This is WordPress, powered by Drupal.

We are very proud of this partnership and look forward to serving many more customers as a result. You can expect many more great things from Acwuia coming soon.
Matt, your Red Press of Drupal t-shirt is on the way. Let's stand together as brothers, united in Drupal!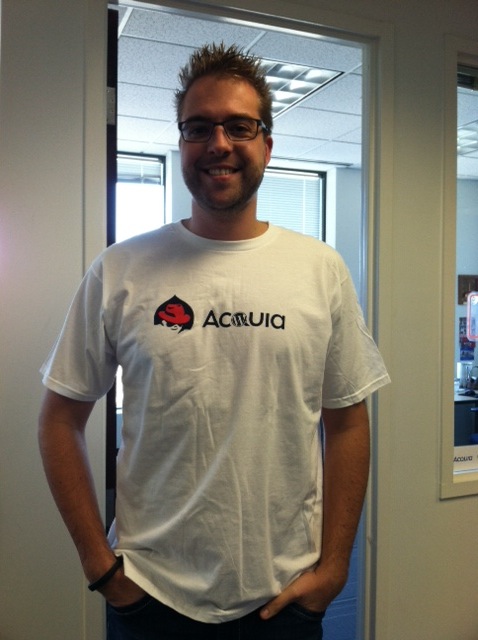 — Dries Buytaert