Earlier this week I returned from DrupalCon Asia, which took place at IIT Bombay, one of India's premier engineering universities. I wish I could have bottled up all the energy and excitement to take home with me. From dancing on stage, to posing for what felt like a million selfies, to a motorcycle giveaway, this DrupalCon was unlike any I've seen before.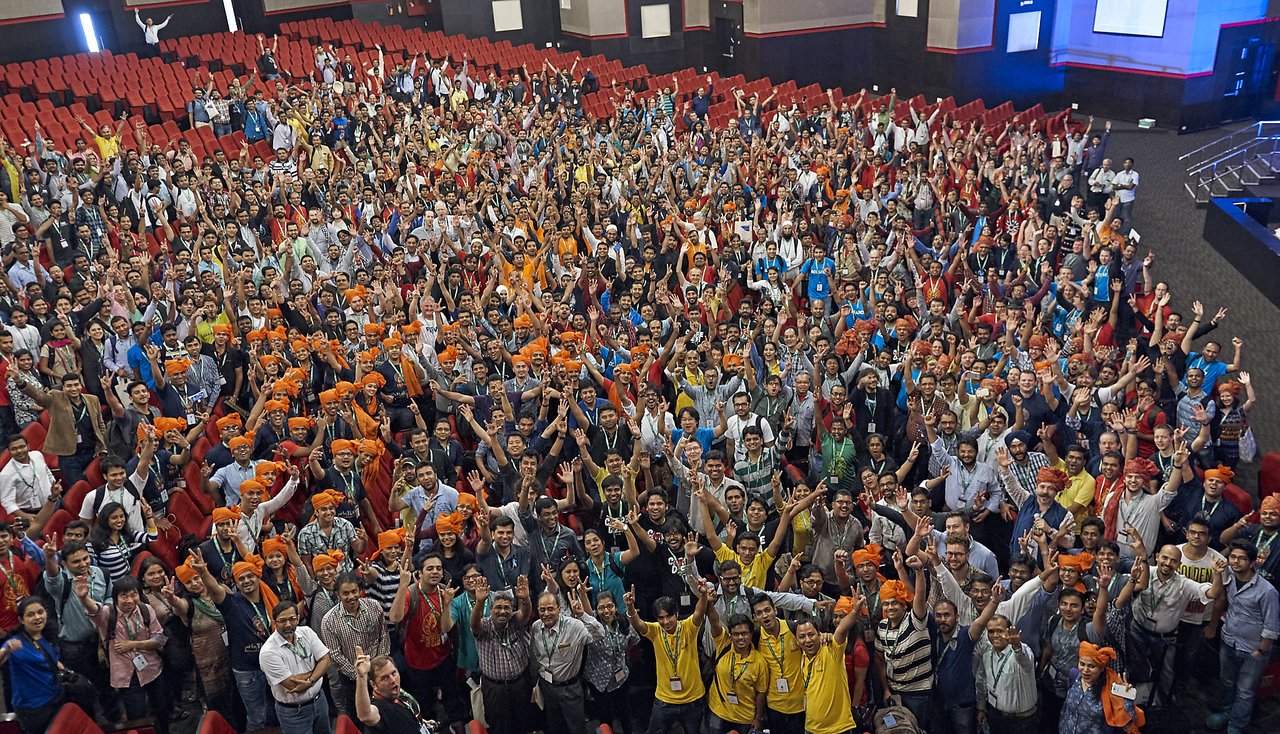 The excitement and interest around Drupal has been growing fast since I last visited in 2011. DrupalCamp attendance in both Delhi and Mumbai has exceeded 500 participants. There have also been DrupalCamps held in Hyderabad, Bangalore, Pune, Ahmedabad Jaipur, Srinagar, Kerala and other areas.
Indian Drupal companies like QED42, Axelerant, Srijan and ValueBound have made meaningful contributions to Drupal 8. The reason? Visibility on Drupal.org through the credit system helps them win deals and hire the best talent. ValueBound said it best when I spoke to them: "With our visibility on drupal.org, we no longer have to explain why we are a great place to work and that we are experts in Drupal.".
Also present were the large System Integrators (Wipro, TATA Consultancy Services, CapGemini, Accenture, MindTree, etc). TATA Consultancy Services has 400+ Drupalists in India, well ahead of the others who have between 100 and 200 Drupalists each. Large digital agencies such as Mirum and AKQA also sent people to DrupalCon. They are all expanding their Drupal teams in India to service the needs of growing sales in other offices around the world. The biggest challenge across the board? Finding Drupal talent. I was told that TATA Consultancy Services allows many of its developers to contribute back to Drupal, which is why they have been able to hire faster. More evidence that the credit system is working in India.
The government is quickly adopting Drupal. MyGov.in is one of many great examples; this portal was established by India's central government to promote citizen participation in government affairs. The site reached nearly two million registered users in less than a year. The government's shifting attitude toward open source is a big deal because historically, the Indian government has pushed back against open source because large organizations like Microsoft were funding many of the educational programs in India. The tide changed in 2015 when the Indian government announced that open source software should be preferred over proprietary software for all e-government projects. Needless to say, this is great news for Drupal.
Another initiative that stood out was the Drupal Campus Ambassador Program. The aim of this program is to appoint Drupal ambassadors in every university in India to introduce more students to Drupal and help them with their job search. It is early days for the program, but I recommend we pay attention to it, and consider scaling it out globally if successful.
Last but not least there was FOSSEE (Free and Open Source Software for Education), a government-funded program that promotes open source software in academic institutions, along with its sister project, Spoken Tutorial. To date, 2,500 colleges participate in the program and more than 1 million students have been trained on open source software. With the spoken part of their videos translated into 22 local languages, students gain the ability to self-study and foster their education outside of the classroom. I was excited to hear that FOSSEE plans to add a Spoken Tutorial series on Drupal course to its offerings. There is a strong demand for affordable Drupal training and certifications throughout India's technical colleges, so the idea of encouraging millions of Indian students to take a free Drupal course is very exciting — even if only 1% of them decides to contribute back this could be a total game changer.
Open source makes a lot of sense for India's thriving tech community. It is difficult to grasp the size of the opportunity for Drupal in India and how fast its adoption has been growing. I have a feeling I will be back in India more than once to help support this growing commitment to Drupal and open source.
— Dries Buytaert