A look back at Acquia's first ten years.
This week marked Acquia's 10th anniversary. In 2007, Jay Batson and I set out to build a software company based on open source and Drupal that we would come to call Acquia. In honor of our tenth anniversary, I wanted to share some of the milestones and lessons that have helped shape Acquia into the company it is today. I haven't shared these details before so I hope that my record of Acquia's founding not only pays homage to our incredible colleagues, customers and partners that have made this journey worthwhile, but that it offers honest insight into the challenges and rewards of building a company from the ground up. If you like this story, I also encourage you to read Jay's side of story.
A Red Hat for Drupal
In 2007, I was attending the University of Ghent working on my PhD dissertation. At the same time, Drupal was gaining momentum; I will never forget when MTV called me seeking support for their new Drupal site. I remember being amazed that a brand like MTV, an institution I had grown up with, had selected Drupal for their website. I was determined to make Drupal successful and helped MTV free of charge.
It became clear that for Drupal to grow, it needed a company focused on helping large organizations like MTV be successful with the software. A "Red Hat for Drupal", as it were. I also noticed that other open source projects, such as Linux had benefitted from well-capitalized backers like Red Hat and IBM. While I knew I wanted to start such a company, I had not yet figured out how. I wanted to complete my PhD first before pursuing business. Due to the limited time and resources afforded to a graduate student, Drupal remained a hobby.
Little did I know that at the same time, over 3,000 miles away, Jay Batson was skimming through a WWII Navajo Code Talker Dictionary. Jay was stationed as an Entrepreneur in Residence at North Bridge Venture Partners, a venture capital firm based in Boston. Passionate about open source, Jay realized there was an opportunity to build a company that provided customers with the services necessary to scale and succeed with open source software. We were fortunate that Michael Skok, a Venture Partner at North Bridge and Jay's sponsor, was working closely with Jay to evaluate hundreds of open source software projects. In the end, Jay narrowed his efforts to Drupal and Apache Solr.
If you're curious as to how the Navajo Code Talker Dictionary fits into all of this, it's how Jay stumbled upon the name Acquia. Roughly translating as "to spot or locate", Acquia was the closest concept in the dictionary that reinforced the ideals of information and content that are intrinsic to Drupal (it also didn't hurt that the letter A would rank first in alphabetical listings). Finally, the similarity to the world "Aqua" paid homage to the Drupal Drop; this would eventually provide direction for Acquia's logo.
Breakfast in Sunnyvale
In March of 2007, I flew from Belgium to California to attend Yahoo's Open Source CMS Summit, where I also helped host DrupalCon Sunnyvale. It was at DrupalCon Sunnyvale where Jay first introduced himself to me. He explained that he was interested in building a company that could provide enterprise organizations supplementary services and support for a number of open source projects, including Drupal and Apache Solr. Initially, I was hesitant to meet with Jay. I was focused on getting Drupal 5 released, and I wasn't ready to start a company until I finished my PhD. Eventually I agreed to breakfast.
Over a baguette and jelly, I discovered that there was overlap between Jay's ideas and my desire to start a "Red Hat for Drupal". While I wasn't convinced that it made sense to bring Apache Solr into the equation, I liked that Jay believed in open source and that he recognized that open source projects were more likely to make a big impact when they were supported by companies that had strong commercial backing.
We spent the next few months talking about a vision for the business, eliminated Apache Solr from the plan, talked about how we could elevate the Drupal community, and how we would make money. In many ways, finding a business partner is like dating. You have to get to know each other, build trust, and see if there is a match; it's a process that doesn't happen overnight.
On June 25th, 2007, Jay filed the paperwork to incorporate Acquia and officially register the company name. We had no prospective customers, no employees, and no formal product to sell. In the summer of 2007, we received a convertible note from North Bridge. This initial seed investment gave us the capital to create a business plan, travel to pitch to other investors, and hire our first employees. Since meeting Jay in Sunnyvale, I had gotten to know Michael Skok who also became an influential mentor for me.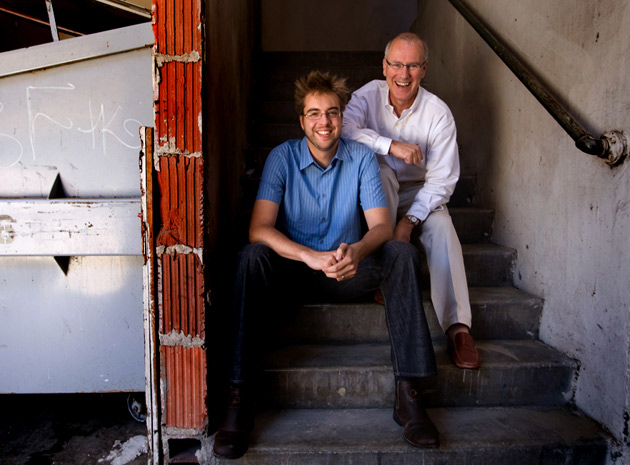 Throughout this period, I remained hesitant about committing to Acquia as I was devoted to completing my PhD. Eventually, Jay and Michael convinced me to get on board while finishing my PhD, rather than doing things sequentially.
Acquia, my Drupal startup
Soon thereafter, Acquia received a Series A term sheet from North Bridge, with Michael Skok leading the investment. We also selected Sigma Partners and Tim O'Reilly's OATV from all of the interested funds as co-investors with North Bridge; Tim had become both a friend and an advisor to me.
In many ways we were an unusual startup. Acquia itself didn't have a product to sell when we received our Series A funding. We knew our product would likely be support for Drupal, and evolve into an Acquia-equivalent of the Red Hat Network. However, neither of those things existed, and we were raising money purely on a PowerPoint deck. North Bridge, Sigma and OATV mostly invested in Jay and I, and the belief that Drupal could become a billion dollar company that would disrupt the web content management market. I'm incredibly thankful for Jay, North Bridge, Sigma and OATV for making a huge bet on me.
Receiving our Series A funding was an incredible vote of confidence in Drupal, but it was also a milestone with lots of mixed emotions. We had raised $7 million, which is not a trivial amount. While I was excited, it was also a big step into the unknown. I was convinced that Acquia would be good for Drupal and open source, but I also understood that this would have a transformative impact on my life. In the end, I felt comfortable making the jump because I found strong mentors to help translate my vision for Drupal into a business plan; Jay and Michael's tenure as entrepreneurs and business builders complimented my technical strength and enabled me to fine-tune my own business building skills.
In November 2007, we officially announced Acquia to the world. We weren't ready but a reporter had caught wind of our stealth startup, and forced us to unveil Acquia's existence to the Drupal community with only 24 hours notice. We scrambled and worked through the night on a blog post. Reactions were mixed, but generally very supportive. I shared in that first post my hopes that Acquia would accomplish two things: (i) form a company that supported me in providing leadership to the Drupal community and achieving my vision for Drupal and (ii) establish a company that would be to Drupal what Ubuntu or Red Hat were to Linux.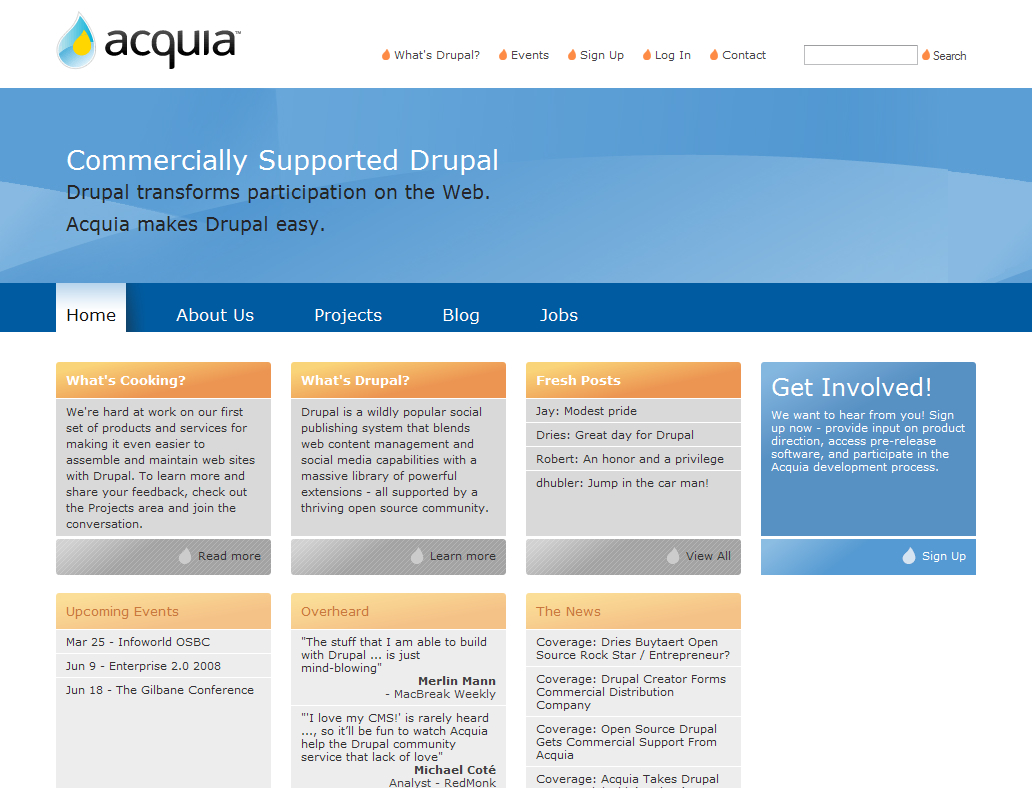 The importance of enduring values
It was at an offsite in late 2007 where we determined our corporate values. I'm proud to say that we've held true to those values that were scribbled onto our whiteboard 10 years ago. The leading tenant of our mission was to build a company that would "empower everyone to rapidly assemble killer websites".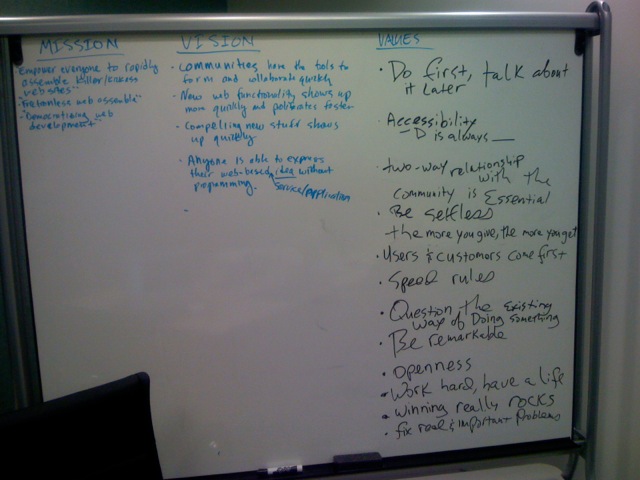 In January 2008, we had six people on staff: Gábor Hojtsy (Principal Acquia engineer, Drupal 6 branch maintainer), Kieran Lal (Acquia product manager, key Drupal contributor), Barry Jaspan (Principal Acquia engineer, Drupal core developer) and Jeff Whatcott (Vice President of Marketing). Because I was still living in Belgium at the time, many of our meetings took place screen-to-screen: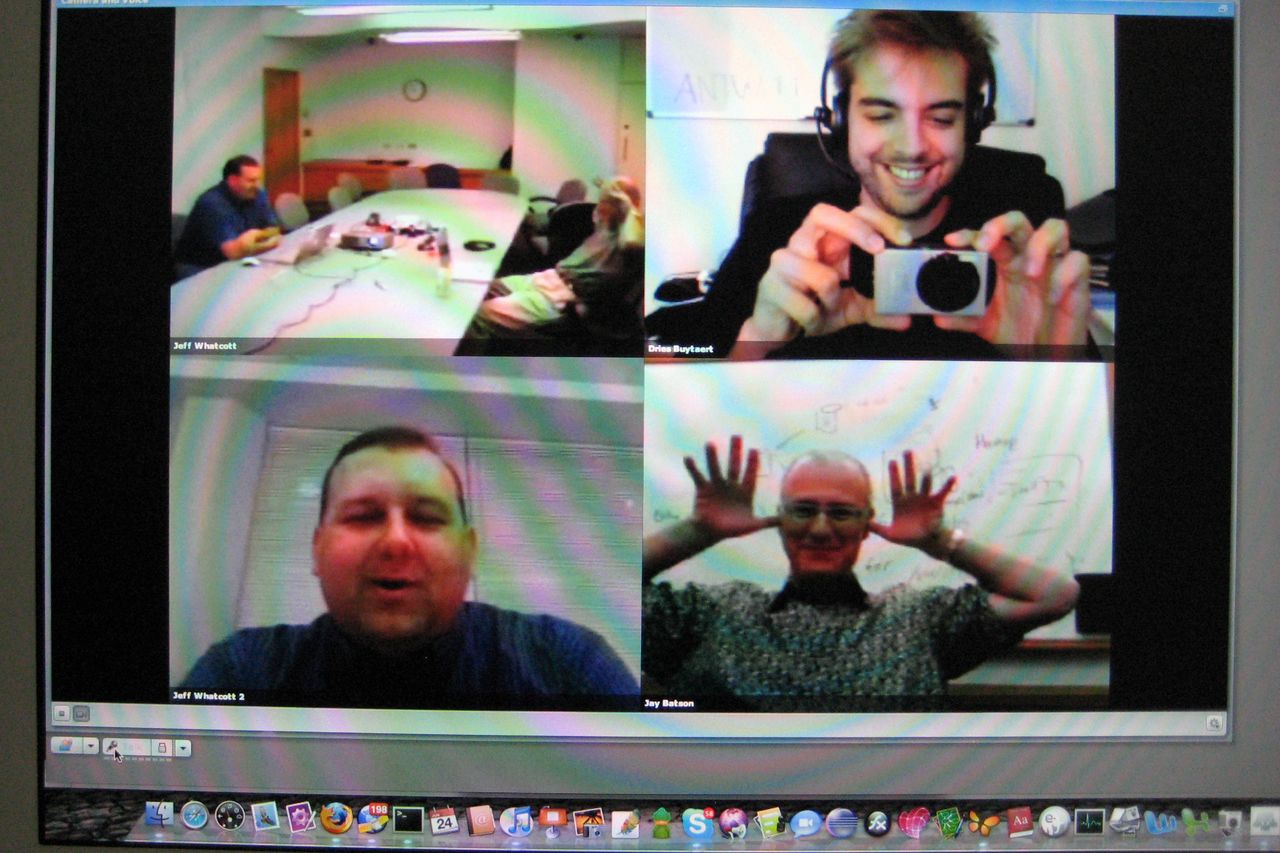 Opening our doors for business
We spent a majority of the first year building our first products. Finally, in September of 2008, we officially opened our doors for business. We publicly announced commercial availability of the Acquia Drupal distribution and the Acquia Network. The Acquia Network would offer subscription-based access to commercial support for all of the modules in Acquia Drupal, our free distribution of Drupal. This first product launched closely mirrored the Red Hat business model by prioritizing enterprise support.
We quickly learned that in order to truly embrace Drupal, customers would need support for far more than just Acquia Drupal. In the first week of January 2009, we relaunched our support offering and announced that we would support all things related to Drupal 6, including all modules and themes available on drupal.org as well as custom code.
This was our first major turning point; supporting "everything Drupal" was a big shift at the time. Selling support for Acquia Drupal exclusively was not appealing to customers, however, we were unsure that we could financially sustain support for every Drupal module. As a startup, you have to be open to modifying and revising your plans, and to failing fast. It was a scary transition, but we knew it was the right thing to do.
Building a new business model for open source
Exiting 2008, we had launched Acquia Drupal, the Acquia Network, and had committed to supporting all things Drupal. While we had generated a respectable pipeline for Acquia Network subscriptions, we were not addressing Drupal's biggest adoption challenges; usability and scalability.
In October of 2008, our team gathered for a strategic offsite. Tom Erickson, who was on our board of directors, facilitated the offsite. Red Hat's operational model, which primarily offered support, had laid the foundation for how companies could monetize open source, but we were convinced that the emergence of the cloud gave us a bigger opportunity and helped us address Drupal's adoption challenges. Coming out of that seminal offsite we formalized the ambitious decision to build "Acquia Gardens" and "Acquia Fields". Here is why these two products were so important:
Solving for scalability: In 2008, scaling Drupal was a challenge for many organizations. Drupal scaled well, but the infrastructure companies required to make Drupal scale well was expensive and hard to find. We determined that the best way to help enterprise companies scale was by shifting the paradigm for web hosting from traditional rack models to the then emerging promise of the Cloud.
Solving for usability: In 2008, WordPress and Ning made it really easy for people to start blogging or to set up a social network. At the time, Drupal didn't encourage this same level of adoption for non-technical audiences. Acquia Gardens was created to offer an easy on-ramp for people to experience the power of Drupal, without worrying about installation, hosting, and upgrading. It was one of the first times we developed an operational model that would offer "Drupal-as-a-service".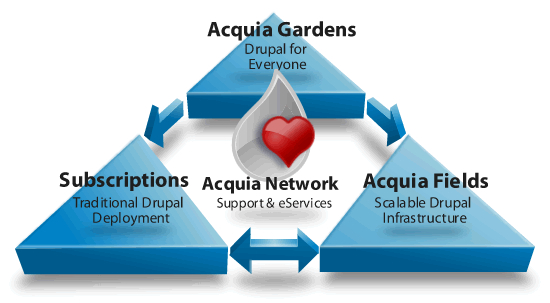 Fast forward to today, and Acquia Fields was renamed Acquia Hosting and later Acquia Cloud. Acquia Gardens became Drupal Gardens and later evolved into Acquia Cloud Site Factory. In 2008, this product roadmap to move Drupal into the cloud was a bold move. Today, the Cloud is the starting point for any modern digital architecture. By adopting the Cloud into our product offering, I believe Acquia helped establish a new business model to commercialize open source. Today, I can't think of many open source companies that don't have a cloud offering.
Tom Erickson takes a chance on Acquia
Tom joined Acquia as an advisor and a member of our Board of Directors when Acquia was founded. Since the first time I met Tom, I always wanted him to be an integral part of Acquia. It took some convincing, but Tom eventually agreed to join us full time as our CEO in 2009. Jay Batson, Acquia's founding CEO, continued on as the Vice President at Acquia responsible for incubating new products and partnerships.
Moving from Europe to the United States
In 2010, after spending my entire life in Antwerp, I decided to move to Boston. The move would allow me to be closer to the team. A majority of the company was in Massachusetts, and at the pace we were growing, it was getting harder to help execute our vision all the way from Belgium. I was also hoping to cut down on travel time; in 2009 flew 100,000 miles in just one year (little did I know that come 2016, I'd be flying 250,000 miles!).
This is a challenge that many entrepreneurs face when they commit to starting their own company. Initially, I was only planning on staying on the East Coast for two years. Moving 3,500 miles away from your home town, most of your relatives, and many of your best friends is not an easy choice. However, it was important to increase our chances of success, and relocating to Boston felt essential. My experience of moving to the US had a big impact on my life.
Building the universal platform for the world's greatest digital experiences
Entering 2010, I remember feeling that Acquia was really 3 startups in one; our support business (Acquia Network, which was very similar to Red Hat's business model), our managed cloud hosting business (Acquia Cloud) and Drupal Gardens (a WordPress.com based on Drupal). Welcoming Tom as our CEO would allow us to best execute on this offering, and moving to Boston enabled me to partner with Tom directly. It was during this transformational time that I think we truly transitioned out of our "founding period" and began to emulate the company I know today.
The decisions we made early in the company's life, have proven to be correct. The world has embraced open source and cloud without reservation, and our long-term commitment to this disruptive combination has put us at the right place at the right time. Acquia has grown into a company with over 800 employees around the world; in total, we have 14 offices around the globe, including our headquarters in Boston. We also support an incredible roster of customers, including 16 of the Fortune 100 companies. Our work continues to be endorsed by industry analysts, as we have emerged as a true leader in our market. Over the past ten years I've had the privilege of watching Acquia grow from a small startup to a company that has crossed the chasm.
With a decade behind us, and many lessons learned, we are on the cusp of yet another big shift that is as important as the decision we made to launch Acquia Field and Gardens in 2008. In 2016, I led the project to update Acquia's mission to "build the universal platform for the world's greatest digital experiences". This means expanding our focus, and becoming the leader in building digital customer experiences. Just like I openly shared our roadmap and strategy in 2009, I plan to share our next 10 year plan in the near future. It's time for Acquia to lay down the ambitious foundation that will enable us to be at the forefront of innovation and digital experience in 2027.
A big thank you
Of course, none of these results and milestones would be possible without the hard work of the Acquia team, our customers, partners, the Drupal community, and our many friends. Thank you for all your hard work. After 10 years, I continue to love the work I do at Acquia each day — and that is because of you.
— Dries Buytaert