Acquia retrospective 2016
As my loyal blog readers know, at the beginning of every year I publish a retrospective to look back and take stock of how far Acquia has come over the past 12 months. If you'd like to read my previous annual retrospectives, they can be found here: 2015, 2014, 2013, 2012, 2011, 2010, 2009. When read together, they provide a comprehensive overview of Acquia's trajectory from its inception in 2008 to where it is today, nine years later.
The process of pulling together this annual retrospective is very rewarding for me as it gives me a chance to reflect with some perspective; a rare opportunity among the hustle and bustle of the day-to-day. Trends and cycles only reveal themselves over time, and I continue to learn from this annual period of reflection.
Crossing the chasm
If I were to give Acquia a headline for 2016, it would be the year in which we crossed the proverbial "chasm" from startup to a true leader in our market. Acquia is now entering its ninth full year of operations (we began commercial operations in the fall of 2008). We've raised $186 million in venture capital, opened offices around the world, and now employ over 750 people. However, crossing the "chasm" is more than achieving a revenue target or other benchmarks of size.
The "chasm" describes the difficult transition conceived by Geoffrey Moore in his 1991 classic of technology strategy, Crossing the Chasm. This is the book that talks about making the transition from selling to the early adopters of a product (the technology enthusiasts and visionaries) to the early majority (the pragmatists). If the early majority accepts the technology solutions and products, they can make a company a de facto standard for its category.
I think future retrospectives will endorse my opinion that Acquia crossed the chasm in 2016. I believe that Acquia has crossed the "chasm" because the world has embraced open source and the cloud without any reservations. The FUD-era where proprietary software giants campaigned aggressively against open source and cloud computing by sowing fear, uncertainty and doubt is over. Ironically, those same critics are now scrambling to paint themselves as committed to open source and cloud architectures. Today, I believe that Acquia sets the standard for digital experiences built with open source and delivered in the cloud.
When Tom (my business partner and Acquia CEO) and I spoke together at Acquia's annual customer conference in November, we talked about the two founding pillars that have served Acquia well over its history: open source and cloud. In 2008, we made a commitment to build a company based on open source and the cloud, with its products and services offered through a subscription model rather than a perpetual license. At the time, our industry was skeptical of this forward-thinking combination. It was a bold move, but we have always believed that this combination offers significant advantages over proprietary software because of its faster rate of innovation, higher quality, freedom from vendor lock-in, greater security, and lower total cost of ownership.
Creating digital winners
Acquia has continued its evolution from a content management company to a company that offers a more complete digital experience platform. This transition inspired an internal project to update our vision and mission accordingly.
In 2016, we updated Acquia's vision to "make it possible for dreamers and doers to craft the digital world". To achieve this vision, we want to build "the universal platform for the world's greatest digital experiences".
We increasingly find ourselves at the center of our customer's technology and digital strategies, and they depend on us to provide the open platform to integrate, syndicate, govern and distribute all of their digital business.
The focus on any and every part of their digital business is important and sets us apart from our competitors. Nearly all of our competitors offer single-point solutions for marketers, customer service, online commerce or for portals. An open source model allows customers to integrate systems together through open APIs, which enables our technology to fit into any part of their existing environment. It gives them the freedom to pursue a best-of-breed strategy outside of the confines of a proprietary "marketing cloud".
Business momentum
We continued to grow rapidly in 2016, and it was another record year for revenue at Acquia. We focused on the growth of our recurring revenue, which includes new customers and the renewal and expansion of our work with existing customers. Ever since we started the company, our corporate emphasis on customer success has fueled both components. Successful customers mean renewals and references for new customers. Customer satisfaction remains extremely high at 96 percent, an achievement I'm confident we can maintain as we continue to grow.
In 2016, the top industry analysts published very positive reviews based on their dealings with our customers. I'm proud that Acquia made the biggest positive move of all vendors in this year's Gartner Magic Quadrant for Web Content Management. There are now three distinct leaders: Acquia, Adobe and Sitecore. Out of the leaders, Acquia is the only player that is open-source or has a cloud-first strategy.
Over the course of 2016 Acquia welcomed an impressive roster of new customers who included Nasdaq, Nestle, Vodafone, iHeartMedia, Advanced Auto Parts, Athenahealth, National Grid UK and more. Exiting 2016, Acquia can count 16 of the Fortune 100 among its customers.
Digital transformation is happening everywhere. Only a few years ago, the majority of our customers were in either government, media and entertainment or higher education. In the past two years, we've seen a lot of growth in other verticals and today, our customers span nearly every industry from pharmaceuticals to finance.
To support our growth, we opened a new sales office in Munich (Germany), and we expanded our global support facilities in Brisbane (Queensland, Australia), Portland (Oregon, USA) and Delhi (India). In total, we now have 14 offices around the world. Over the past year we have also seen our remote workforce expand; 33 percent of Acquia's employees are now remote. They can be found in 225 cities worldwide.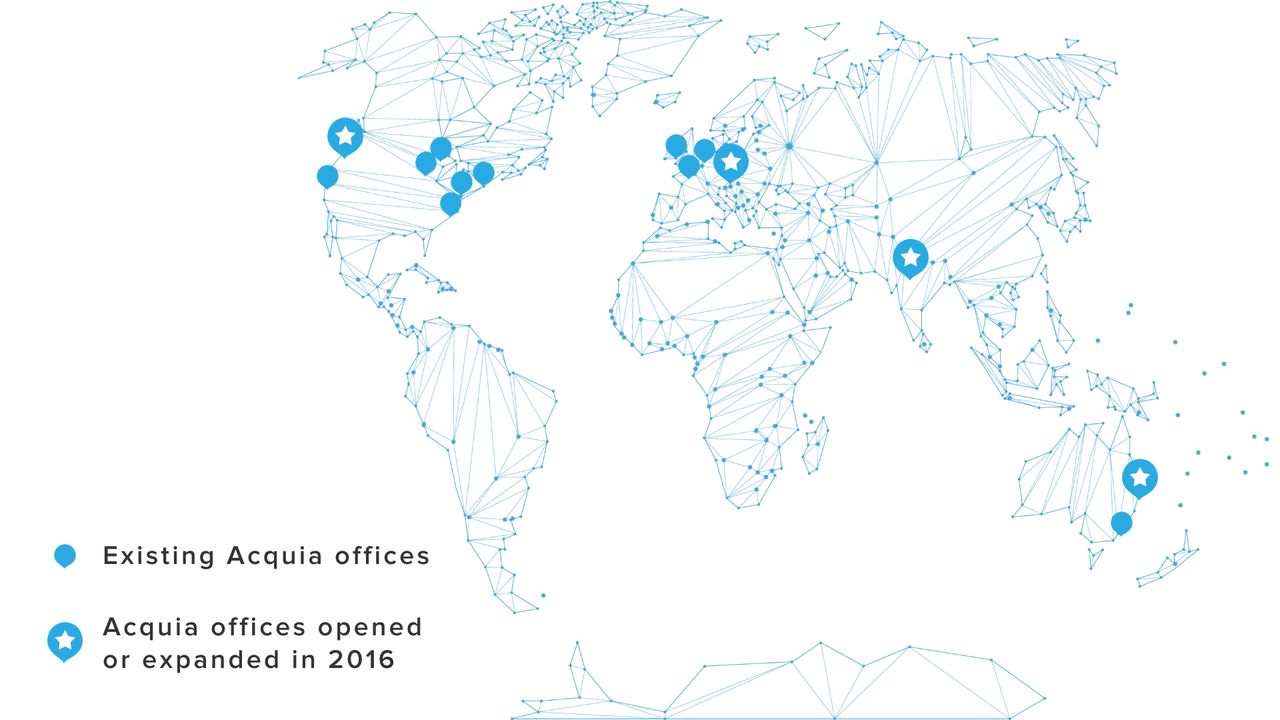 We've also seen an evolution in our partner ecosystem. In addition to working with traditional Drupal businesses, we started partnering with the world's most elite digital agencies and system integrators to deliver massive projects that span dozens of languages and countries. Our partners are taking Acquia and Drupal into some of the world's most impressive brands, new industries and into new parts of the world.
Growing pains and challenges
I enjoy writing these retrospectives because they allow me to chronicle Acquia's incredible journey. But I also write them for you, because you might be able to learn a thing or two from my experiences. To make these retrospectives useful for everyone, I try to document both milestones and difficulties. To grow an organization, you must learn how to overcome your challenges and growing pains.
Rapid growth does not come without cost. In 2016 we made several leadership changes that will help us continue to grow. We added new heads of revenue, European sales, security, IT, talent acquisition and engineering. I'm really proud of the team we built. We exited 2016 in the market for new heads of finance and marketing.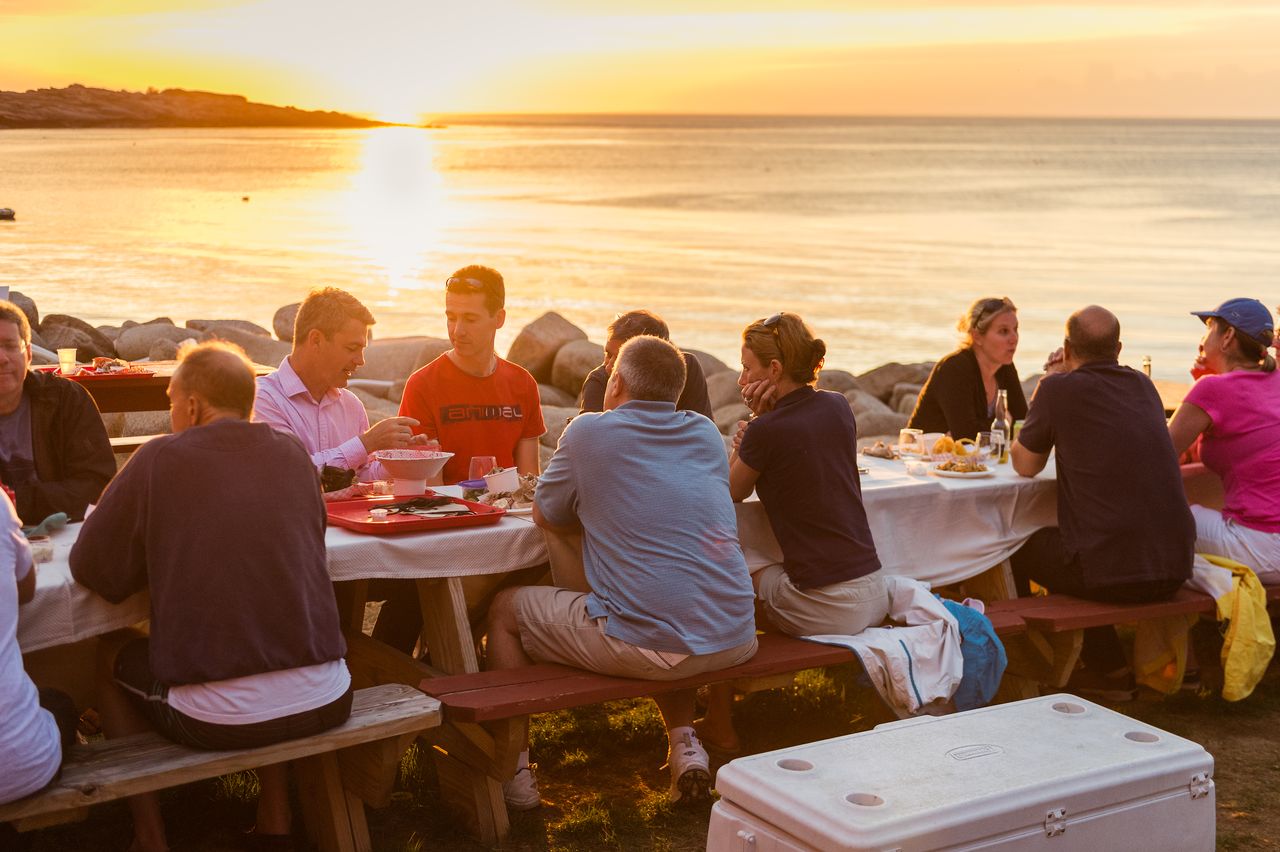 We adjusted our business levers to adapt to changes in the financial markets, which in early 2016 shifted from valuing companies almost solely focused on growth to a combination of growth and free cash flow. This is easier said than done, and required a significant organizational mindshift. We changed our operating plan, took a closer look at expanding headcount, and postponed certain investments we had planned. All this was done in the name of "fiscal fitness" to make sure that we don't have to raise more money down the road. Our efforts to cut our burn rate are paying off, and we were able to beat our targets on margin (the difference between our revenue and operating expenses) while continuing to grow our top line.
We now manage 17,000+ AWS instances within Acquia Cloud. What we once were able to do efficiently for hundreds of clients is not necessarily the best way to do it for thousands. Going into 2016, we decided to improve the efficiency of our operations at this scale. While more work remains to be done, our efforts are already paying off. For example, we can now roll out new Acquia Cloud releases about 10 times faster than we could at the end of 2015.
Lastly, 2016 was the first full year of Drupal 8 availability (it was formally released in November 2015). As expected, it took time for developers and the Drupal community to become familiar with its vast array of changes and new capabilities. This wasn't a surprise; in my DrupalCon keynotes I shared that I expected Drupal 8 to really take off in Q4 of 2016. Through the MAP program we committed over $1M in funds and engineering hours to help module creators upgrade their modules to Drupal 8. All told, Acquia invested about $2.5 million in Drupal code contributions in 2016 alone (excluding our contributions in marketing, events, etc). This is the most we have ever invested in Drupal and something is I'm personally very proud of.
Product milestones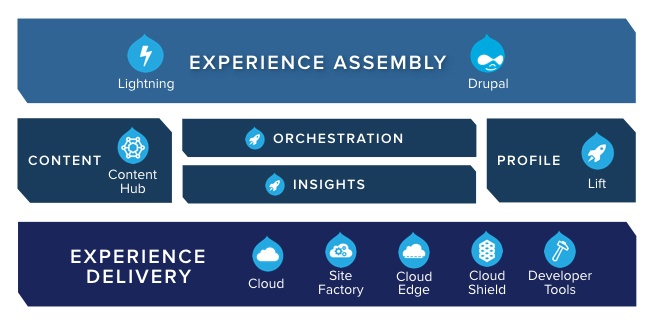 Acquia remains an amazing place for engineers who want to build great products. We achieved some big milestones over the course of the year.
One of the largest milestones was the significant enhancements to our multi-site platform: Acquia Cloud Site Factory. Site Factory allows a team to manage and operate thousands of sites around the world from a single console, ensuring all fixes, upgrades and improvements are delivered responsibly and efficiently. Last year we added support for multiple codebases in Site Factory – which we call Stacks – allowing an organization to manage multiple Site Factories from the same administrative console and distribute the operation around the world over multiple data centers. It's unique in its ability and is being deployed globally by many multinational, multi-brand consumer goods companies. We manage thousands of sites for our biggest customers. Site Factory has elevated Acquia into the realm of very large and ambitious digital experience delivery.
Another exciting product release was the third version of Acquia Lift, our personalization and contextualization tool. With the third version of Acquia Lift, we've taken everything we've learned about personalization over the past several years to build a tool that is more flexible and easier to use. The new Lift also provides content syndication services that allow both content and user profile data to be reused across sites. When taken together with Site Factory, Lift permits true content governance and reuse.
We also released Lightning, Acquia's Drupal 8 distribution aimed at developers who want to accelerate their projects based on the set of tested and vetted modules and configurations we use ourselves in our customer work. Acquia's commitment to improving the developer experience also led to the release of both Acquia BLT and Acquia Pipelines (private beta). Acquia BLT is a development tool for building new Drupal projects using a standard approach, while Pipelines is a continuous delivery and continuous deployment service that can be used to develop, test and deploy websites on Acquia Cloud.
Acquia has also set a precedent of contributing significantly to Drupal. We helped with the release management of Drupal 8.1 and Drupal 8.2, and with the community's adoption of a new innovation model that allows for faster innovation. We also invested a lot in Drupal 8's "API-first initiative", whose goal is to improve Drupal's web services capabilities. As part of those efforts, we introduced Waterwheel, a group of SDKs which make it easier to build JavaScript and native mobile applications on top of Drupal 8's REST-backend. We have also been driving usability improvements in Drupal 8 by prototyping a new UX paradigm called "Outside-in" and by contributing to the media and layout initiatives. I believe we should maintain our focus on release management, API-first and usability throughout 2017.
Our core product, Acquia Cloud, received a major reworking of its user interface. That new UI is a more modern, faster and responsive user interface that simplifies interaction for developers and administrators.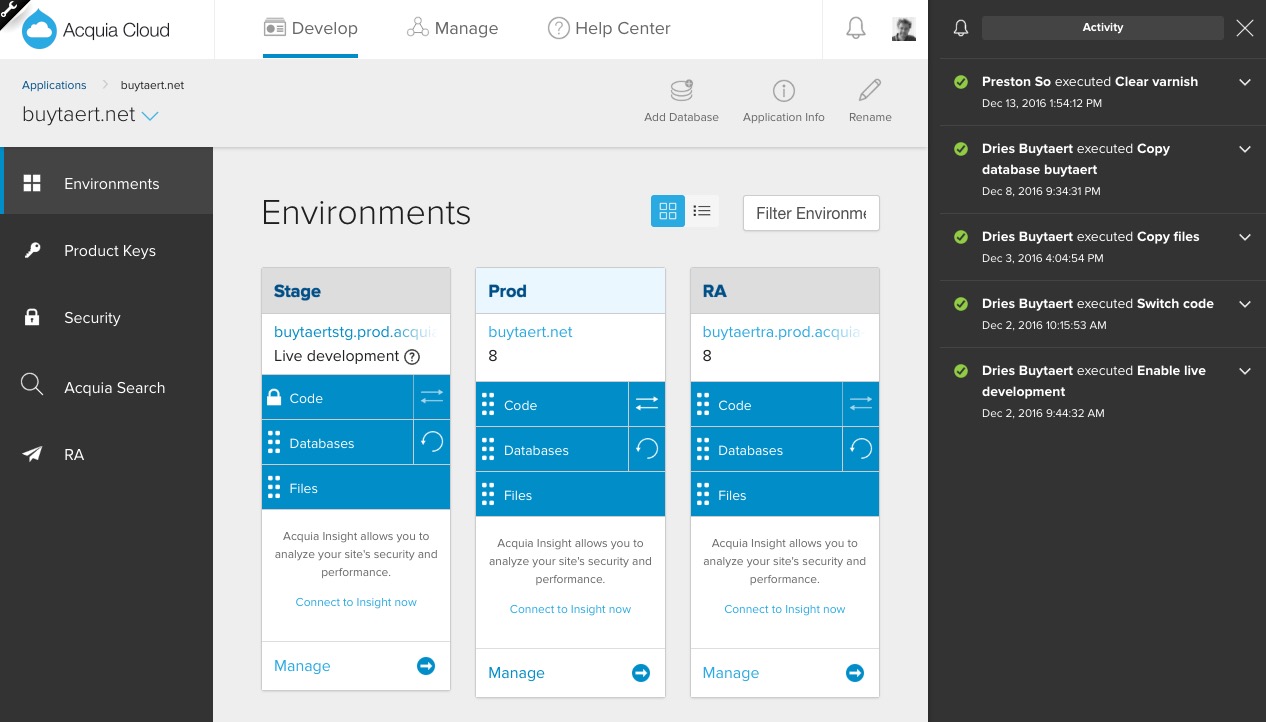 Our focus on security reached new levels in 2016. In January we secured certification that we complied with ISO 27001: the international security and compliance standard for enterprise cloud frameworks. In April we were awarded our FedRAMP ATO from the U.S. Department of Treasury after we were judged compliant with the U.S. federal standards for cloud security and risk management practices. Today we have the most secure, reliable and agile cloud platform available.
We ended the year with an exciting partnership with commerce platform Magento that will help us advance our vision of content and commerce. Existing commerce platforms have focused primarily on the transactions (cart systems, payment processing, warehouse/supply chain integration, tax compliance, customer credentials, etc.) and neglected the customer's actual shopping experience. We've demonstrated with numerous customers that a better brand experience can be delivered with Drupal and Acquia Lift alongside these existing commerce platforms.
The wind in our sales (pun intended)
Entering 2017, I believe that Acquia is positioned for long-term success. Here are a few reasons why:
The current market for content, commerce, and community-focused digital experiences is growing rapidly at just under 20 percent per year.
We hold a leadership position in our market, despite our relative market share being small. The analysts gave Acquia top marks for our strategic roadmap, vision and execution.
Digitization is top-of-mind for all organizations and impacts all elements of their business and value chain. Digital first businesses are seeking platforms that not only work for marketing, but also for service, compliance, portals, commerce and more.
Open source combined with the cloud continue to grow at a furious pace. The continuing rise of the developer's influence on technology selection also works in our favor.
Drupal 8 is the most significant advance in the evolution of the Drupal and Drupal's new innovation model allows the Drupal community to innovate faster than ever before.
Recent advances in machine learning, Internet of Things, augmented reality, speech technology, and conversational interfaces all coming to fruition will lead to new customer experiences and business models, reinforcing the need for API-first solutions and the levels of freedom that only open source and cloud computing offer.
As I explained at the beginning of this retrospective, trends and cycles reveal themselves over time. After reflecting on 2016, I believe that Acquia is in a unique position. As the world has embraced open source and cloud without reservation, our long-term commitment to this disruptive combination has put us at the right place at the right time. Our investments in expanding the breadth of our platform with products like Acquia Lift and Site Factory are also starting to pay off.
However, Acquia's success is not only determined by the technology we back. Our unique innovation model, which is impossible to cultivate with proprietary software, combined with our commitment to customer success has also contributed to our "crossing of the chasm."
Of course, none of these 2016 results and milestones would be possible without the hard work of the Acquia team, our customers, partners, the Drupal community, and our many friends. Thank you for your support in 2016 – I can't wait to see what the next year will bring!
— Dries Buytaert