As many of my loyal blog readers know, I sit down to write a retrospective at the end of each year. It's helpful from the perspective of seeing how far Acquia has come in a single year, but it should also give you a glimpse of what is in store for Acquia in 2016 and beyond. If you find it interesting to take a look back at previous retrospectives, here they are: 2014, 2013, 2012, 2011, 2010 and 2009. These posts provide a pretty detailed overview of Acquia's trajectory as a company.
Market trends
Since Acquia started eight years ago, we've believed that open source offers significant advantages over proprietary software because of its faster innovation, higher quality, freedom from vendor lock-in, greater security, and lower total cost of ownership. Early in our life as a company, we made a big bet that open source combined with the cloud, offered through a subscription model rather than perpetual license, would be a very compelling solution for the market. Few people believed us at the time, but now it is clear that our early vision is starting to pay off; perpetual software licenses are on the decline and Deutsche Bank analyst Karl Keirstead recently called cloud and open source the two leading themes in Silicon Valley.
The market demand for Acquia's digital business platform continues to grow; three of the top analyst firms, IDC, Gartner and Forrester have all named digital business transformation a top strategic imperative for the C-suite in 2016 and beyond. Open source, cloud computing, big data, the Internet of Things (IoT), and artificial intelligence are all catalysts for the expansion of digital transformation into all corners of the organization.
Organizations are rapidly expanding the range of digital interactions with their customers and partners, moving Drupal and Acquia to the core of their business. There is a growing focus on personalization and data-driven automation, which bodes well for products like Acquia Lift. In general, I believe that the growing reliance on digital provides Drupal and Acquia with a multi-decade opportunity.
Open source
Within the last 12 months, some of the largest technology companies including Apple, Google, Microsoft and Facebook have open-sourced key components of their business. There are many motivations for this shift. According to Apple, the company open-sourced its Swift programming language to extend it to new platforms. Google open-sourced TensorFlow, its artificial intelligence platform to make an even bigger impact outside Google, even though the company employs 2,000 engineers working on artificial intelligence alone. Microsoft open-sourced .NET to increase its relevance with developers and play nicely with other operating systems. In Deutsche Bank's 2016 predictions, Keirstead says "open source keeps eating the world", causing major price deflation for the traditional enterprise software industry. Whether the motive is faster innovation or increased adoption, companies are relying less and less on proprietary software and embracing open source.
Cloud adoption
Amazon SVP of Web Services, Andy Jassy, explained in his 2015 AWS re:Invent presentation that websites have been a "critical gateway" to AWS' wider cloud adoption in the enterprise. His rationale: nearly every organization has one or more websites, and many aren't considered "mission-critical applications". Therefore, most organizations feel comfortable moving some or all of their websites to the cloud. Websites are an important stepping stone for organizations to build up the knowledge and confidence to migrate their entire businesses to the cloud.
As cloud adoption grows, we're seeing our customers use a mixture of SaaS, PaaS and IaaS. In particular the Platform-as-a-Service (PaaS) model continues to grow fast, which is great news for Acquia Cloud. A growing number of enterprises are choosing PaaS ahead of Infrastructure-as-a-Service (IaaS) to save time and money on building, scaling and maintaining infrastructure so they can focus on building websites. Gartner sizes the PaaS market at $4.1B in 2015, attaining a compound annual growth rate (CAGR) of 65%+ through 2018. We are a few years ahead of our competitors (Adobe, Sitecore, IBM, Oracle) when it comes to PaaS, and I don't see that changing in 2016.
The migration to the cloud is only getting started. When I met with Eric Schmidt this year, he told me that he believes Google's cloud business could outpace its advertising business in five years. To put that in context, Google made more than $65 billion in advertising in 2015, roughly 90% of its total revenue. I don't think Google Cloud can possibly grow that fast, but directionally it's an eye-opening goal. Amazon's cloud business, bigger than its four closest competitors combined (including Google's cloud business), generated roughly $7 billion in revenues in 2015 and is expected to grow 80% year-over-year. Needless to say, it is exciting for Acquia be a "critical gateway" in such a massive movement to the cloud.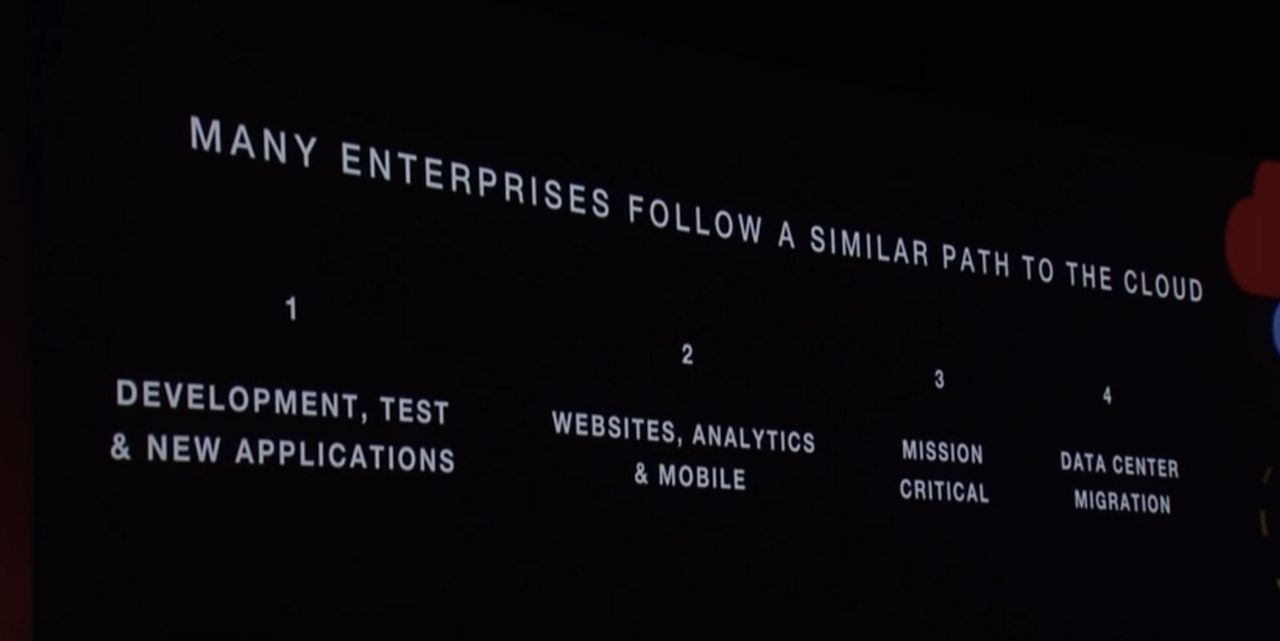 Digital experiences
As the web evolves, the idea of a "digital business" takes on an entirely new meaning. I've said this before but digital is not just about building websites anymore; many of our customers are using digital to change the way their business operates, automate manual processes, and save millions of dollars in the process. Digital strategies are no longer confined to the marketing department; they're quickly becoming a boardroom priority.
Digital experiences are also getting more sophisticated. What used to be as simple as building a website now involves getting the right information, to the right user, at the right time, in the right context — an idea I call B2One and talked about as part of my Big Reverse of the Web thesis. It's all about understanding the user's context and preferences to deliver the best next experience. We started investing in this area in late 2013, acquired a personalization company in 2014, and expect this trend to grow really big, especially as big data, the Internet of Things (IoT) and artificial intelligence mature.
Beyond personalization and contextualization, companies have a greater need for flexibility and freedom to integrate a variety of external services, ranging from commerce to marketing automation solutions. While there are plenty of point solutions on the market that achieve pieces of this puzzle, Acquia and Drupal uniquely provide a platform to do it all.
Acquia continues its growth
Acquia's growth is an indicator that businesses are already betting big on open source, cloud, personalization, and digital transformation. Looking at our numbers for 2015, it is hard to believe that last year was only our seventh full year as a revenue-generating business. Our new logo subscriptions — the business that we get from companies new to Acquia — continued its fast growth, while our renewal rates are among the best around.
To support our growth, we added $55 million in new venture capital funding in 2015, bringing Acquia's total raised to $188.6 million.
We dramatically increased headcount last year. In May, we moved into a beautiful new corporate headquarters in Boston, where we hosted a launch party with mayor Martin J. Walsh that established us as an anchor growth company for the city. Globally, we added 150 more employees in 2015, bringing us to 720 people. The executive team changed substantially in 2015, with the addition of Al Nugent as CISO, Preston Bradford as COO, Heather Hartford as Chief People Officer, and most recently Loren Jarrett as CMO. We also announced the appointment of Christine Komola, CFO of Staples, to Acquia's board of directors. We expanded European operations with the opening of a new office in Munich. Acquia now operates out of 10 global offices on three continents!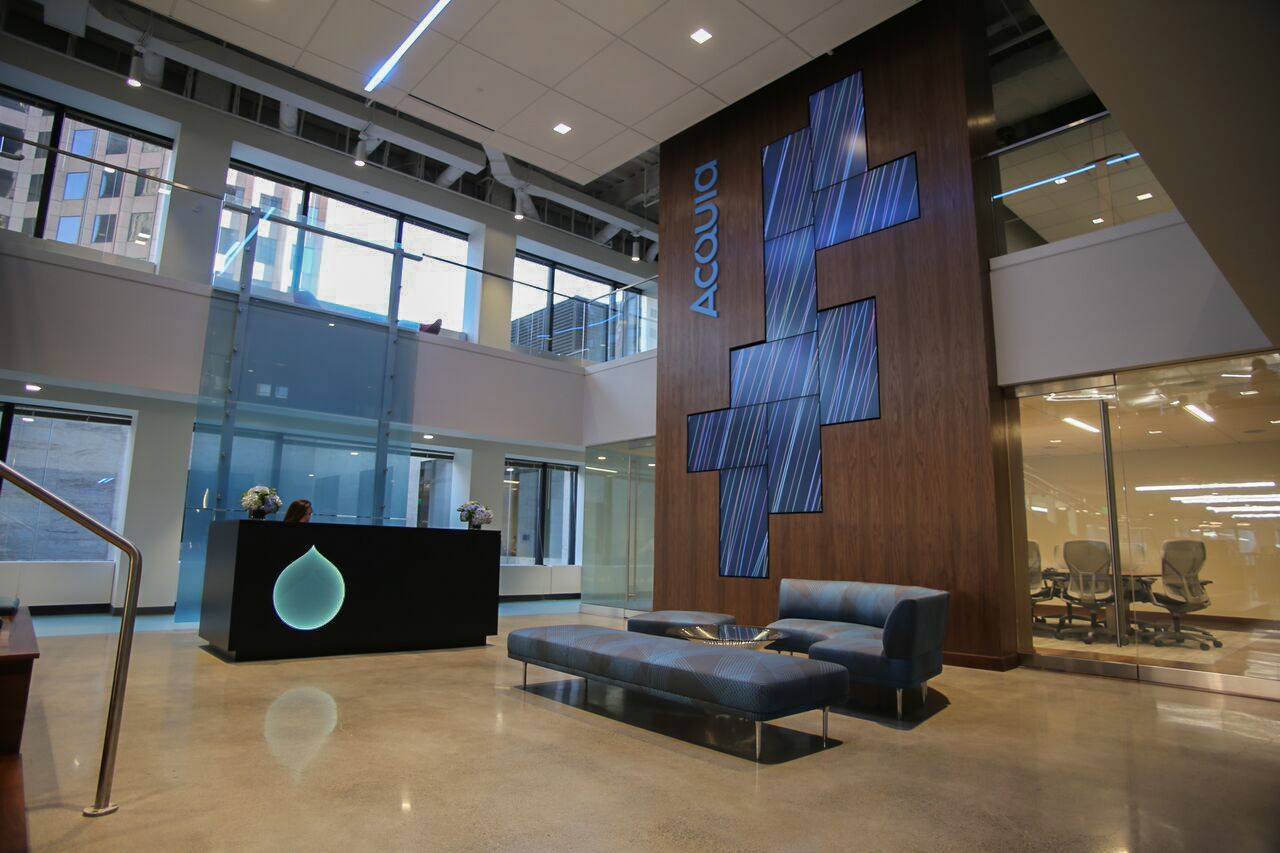 We made key investments in talent for our partner team, grew the number of Drupal certifications achieved globally, and strengthened our relationship with agency partners. We were proud to announce our WPP Global Alliance partnership this year, which brings Acquia closer to the organizations building the world's most amazing digital experiences.
Top industry analysts continued to recognize Acquia as a leading provider of digital experience software and services. In October 2015, we were named a "Strong Performer" in The Forrester Wave: Digital Experience Platforms Q4 2015. In August, Gartner named us a "Leader" in the 2015 Magic Quadrant for Web Content Management. This type of external validation supports Acquia as a viable alternative to proprietary solutions provided by companies like Adobe, IBM, Sitecore or Oracle.
Acquia Cloud continues to enable organizations to run their websites securely and reliably, while providing them with the tools to accelerate web development and shorten time to market. We manage over 13,000 AWS instances (virtual servers) powering approximately 197,000 websites. In December 2015, Acquia Cloud served 10.8 billion Apache hits and 6.2 billion Drupal bootstraps (requests handled by Drupal instead of one of different caching layers or the web server directly), with billions more served from our caching layers and Acquia Cloud Edge.
Last year, we launched Acquia Cloud support for the São Paulo, Brazil and Frankfurt, Germany regions. With our German expansion we became the first Drupal PaaS to offer pan-European high availability to accommodate EU data sovereignty requirements.
Drupal 8
With the launch of Drupal 8 in late 2015, the Drupal community achieved our most significant release in the history of the platform. We implemented a more modern development framework, reimagined the usability and authoring experience, and made improvements that will help everyone build the multilingual, mobile and highly personalized digital experiences of the future. From how we model content and get content in and out the system, to how we assemble experiences on various devices, to how we scale that to millions of page views — it all got much better with Drupal 8.
Now that Drupal 8 is released, I'm convinced that it will attract new developers and site-builders to the platform. Nonetheless, the wait for Drupal 8 has been long and painful, temporarily slowing down much of the commercial Drupal ecosystem. Despite some turbulence, I'm proud that the Acquia team was a force in helping to push Drupal 8 over the finish line.
Acquia employs more than 150 Drupal experts, and has fixed upwards of 1,200 issues in Drupal 8. I reassigned our Drupal team from feature development (i.e. Spark) to working on critical bugs. This team was a major force in bringing the total number of critical bugs down from a high of 90 at the beginning of the year to zero in early October, through development, performance work, patch reviews, sprint coordination, and in helping to manage the Drupal 8 Accelerate program. To help jumpstart faster Drupal 8 adoption, Acquia is investing significantly in porting the top 50+ contributed modules. We have always believed in giving back more as a core part of our company's DNA. Our entire team is ready to enable and support companies working with Drupal 8.
Acquia products
Last year was an exciting one when it came to new products. We announced Content Hub, a cloud-based content distribution and discovery service. As more of our customers scale with Acquia across hundreds of sites, Content Hub lets authors and site owners reuse content from internal and external sites. And we added a critical commerce integration through a partnership with Hybris, which provides even more options for enterprises to drive commerce experiences.
We announced a variety of important security and compliance milestones that will be crucial to protecting our customers. First, we introduced Acquia Cloud Edge, a new DDoS security product developed in partnership with CloudFlare to keep our customers safer from external threats. Soon after, Acquia achieved HIPAA compliance upon passing an independent audit of Acquia Cloud Site Factory and Acquia Cloud. HIPAA compliance is significant because of Acquia's roster of healthcare customers, who require certain safeguards for data security and look to scale Acquia Cloud across their portfolio of sites.
In addition to this compliance milestone, our spam-blocking software, Mollom, has blocked over 10 billion spam comments.
Acquia Lift customers challenged some of our original assumptions about personalization. We worked to improve our Acquia Lift personalization product with the help of our customers, creating a new workflow and UX that supported more flexibility and freedom depending on the individual organization. In 2015, we learned a lot about the challenges organizations face when starting out with personalization and doubled down to help our customers become successful. Personalization will continue to be a huge focus of ours in 2016.
Looking ahead
This year, we will be rolling out many new products and enhancing existing ones. Acquia Cloud will get a brand-new, responsive, card-based UX in early 2016, and we'll give development teams the ability to create on-demand environments. We will continue to focus on security enhancements from audits like SOC and ISO, as well as key control planes including FedRAMP, Single Sign-On, and much more. Our team was challenged to get the first cloud service running on our new grid architecture by the end of 2015. With a few hours to spare on the 31st, the "Uptime" service is now running on our grid architecture, a major milestone. A continued focus on developer tools, more microservices, personalization and a "jumpstart" Drupal 8 distribution are just some of the technology we will be rolling out in 2016. Overall, you'll see us getting faster, more secure and more efficient, and providing even more options for our customers to create highly personalized digital experiences.
Longer term, I'm very excited about Acquia's opportunity. I believe we've steered the company to be positioned at the right place at the right time. Time will tell, but 2016 promises to be another big year for Acquia.
— Dries Buytaert