For the first time in over 20 years, Drupal has a significant appearance at Web Summit, one of the largest and most influential technology conferences, attracting over 70,000 attendees.
Baddy Sonja Breidert, the previous chair of the Drupal Association, delivered a keynote on Drupal: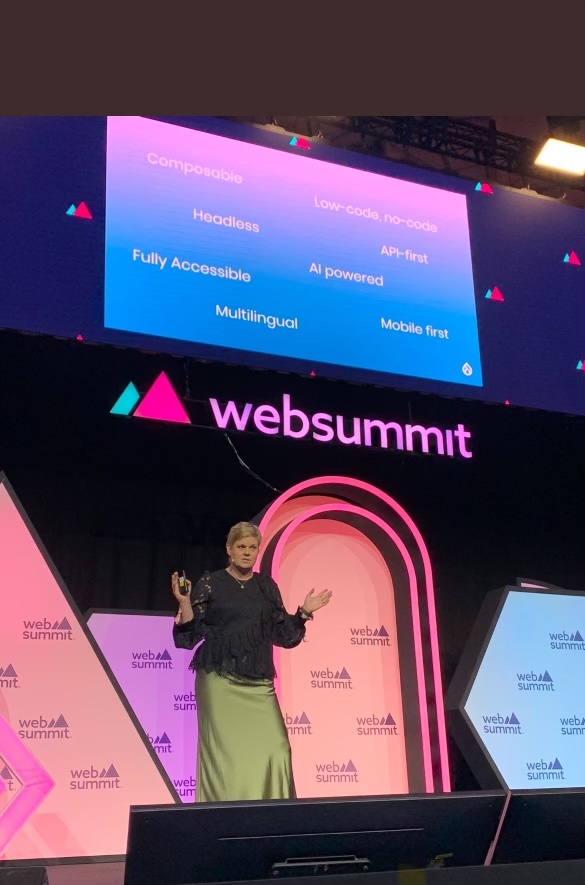 In the photo above, Baddy is on stage, in front of a slide with words like headless, accessible, API-first, etc. She made the point that Drupal has consistently been a pioneer in implementing the latest technologies to improve the web for builders and end users alike. Always innovating, always ahead.
Unfortunately, it can be difficult for open source projects like Drupal to participate in major events like Web Summit. Thanks to the generous support of 1xINTERNET, Acquia, FFW and Phase2, this year is different. We're attending the Web Summit in a big way, ready to discuss all the exciting developments and achievements in Drupal.
As I covered in my latest DriesNote presentation, Drupal is investing more in marketing over the next few years. The goals are to get more people to consider Drupal over closed web solutions, and to encourage more builders to try Drupal for the first time (or revisit it). You'll see the Drupal Association and the community spreading the word about Drupal at events and universities. You'll also see an upcoming brand refresh and many more marketing initiatives to come. Web Summit is just the beginning!
— Dries Buytaert