DrupalCon Europe 2023 Driesnote presentation
Last week, approximately 1,300 Drupal enthusiasts came together in Lille, France for DrupalCon. In good tradition, I delivered my State of Drupal keynote, commonly referred to as the "Driesnote". You can watch the video of my keynote or download my slides (264 MB).
This keynote was unlike any other. I narrated a fairy tale that explores how the Drupal community is working together to simplify the process of starting, building, and maintaining Drupal websites. Yes, you read that correctly – a fairy tale. However, rest assured, it's a fairy tale with a happy ending.
If you're keen to experience the full magic of the Drupal fairy tale, I highly recommend watching the video instead of reading this blog post. And if you want to avoid any spoilers, stop reading here.
A tale of four cities: learning from competitors
As the speaker, I took the audience on a journey that started with my discovery of a mysterious book related to Drupal. The book uses an analogy to explain Drupal as a character living in the Drupal Village. This village is full of different types of houses, from cozy cottages to grand estates. In this bustling village, ambitious villagers work together to construct and take care of their homes.
The Drupal villagers cherish core values such as creativity, flexibility, scalability, accessibility, collaboration, empowerment, security, and freedom.
In the Drupal Village, a young builder grows frustrated with the challenges of constructing and maintaining homes. Driven by curiosity about alternative approaches, the young builder makes the bold decision to leave Drupal Village and embark on a journey to neighboring towns. Their hope was to uncover if there were superior methods for homebuilding.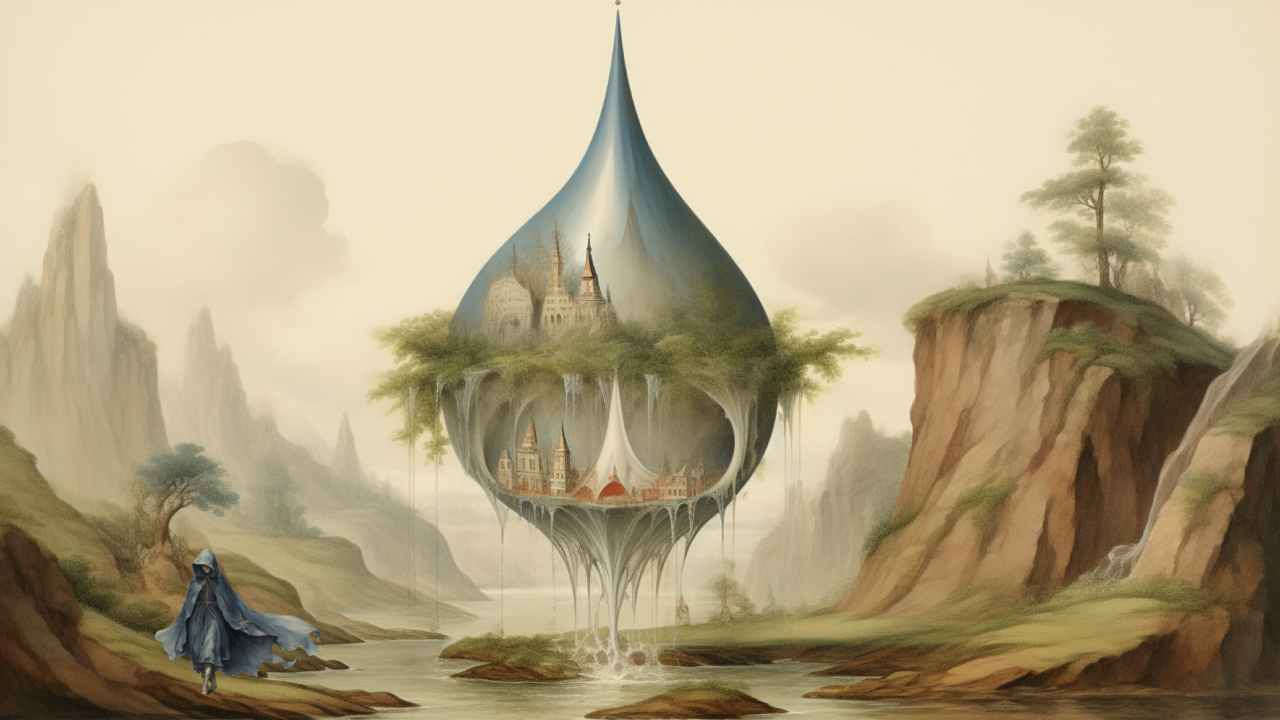 Drupal, our central character, decides to follow the young builder, embarking on a journey that takes them to four unique villages: Reactopia, Contentville, Squarix, and Edoby Heights. Along the way, Drupal gathers valuable insights from each of these unique villages. Despite uncovering some of their shortcomings, Drupal also came to understand why these villages hold allure for young builders.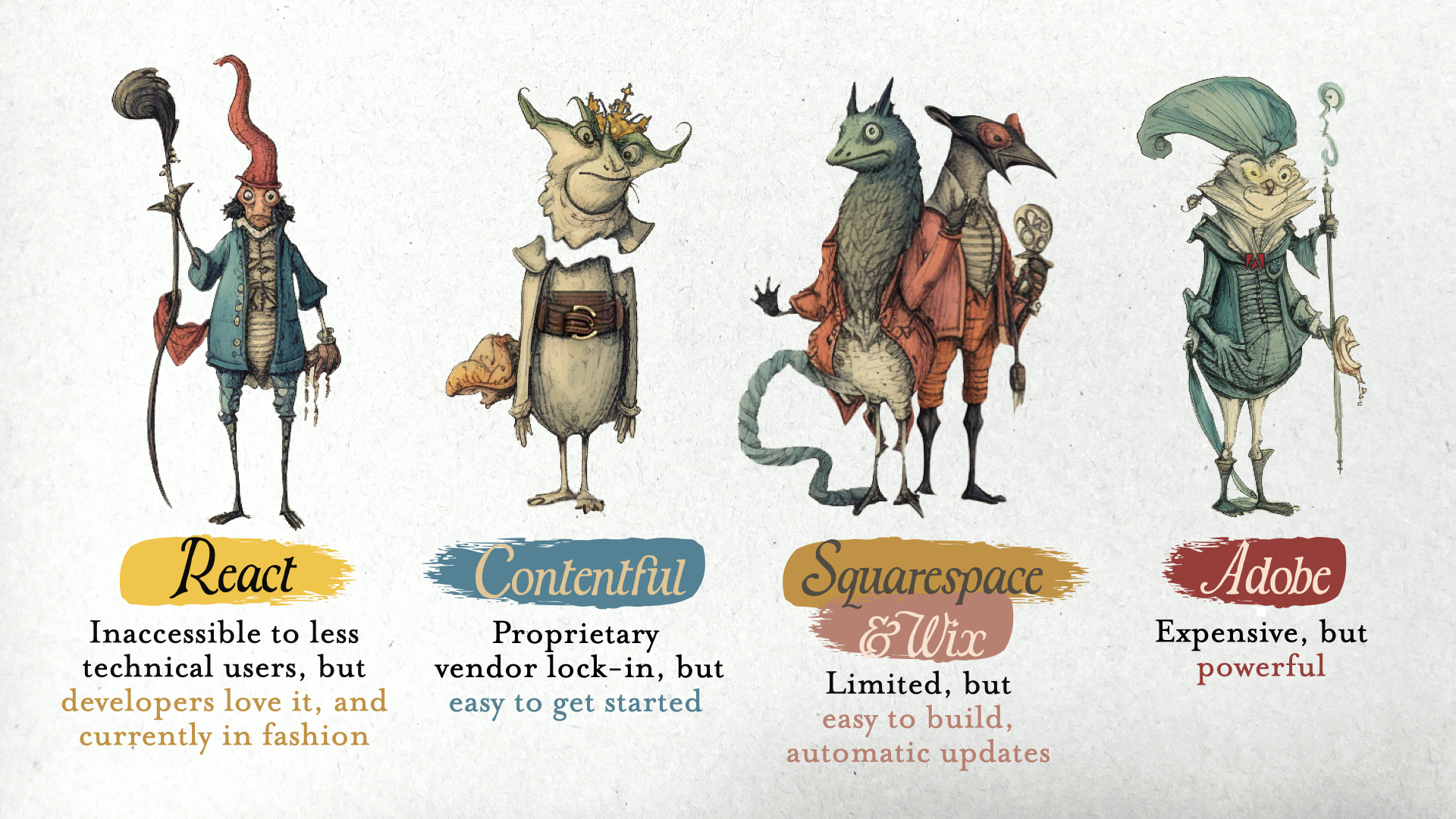 Learning from the strengths of these four villages, the Drupal character realizes that for Drupal Village to prosper, it must offer an exceptional builder experience. Furthermore, through their visits to these four villages, our main character developed a clear idea of what an exceptional experience might look like. With a clear goal in mind, Drupal decides to simplify the process of starting, building, and maintaining homes in the Drupal Village.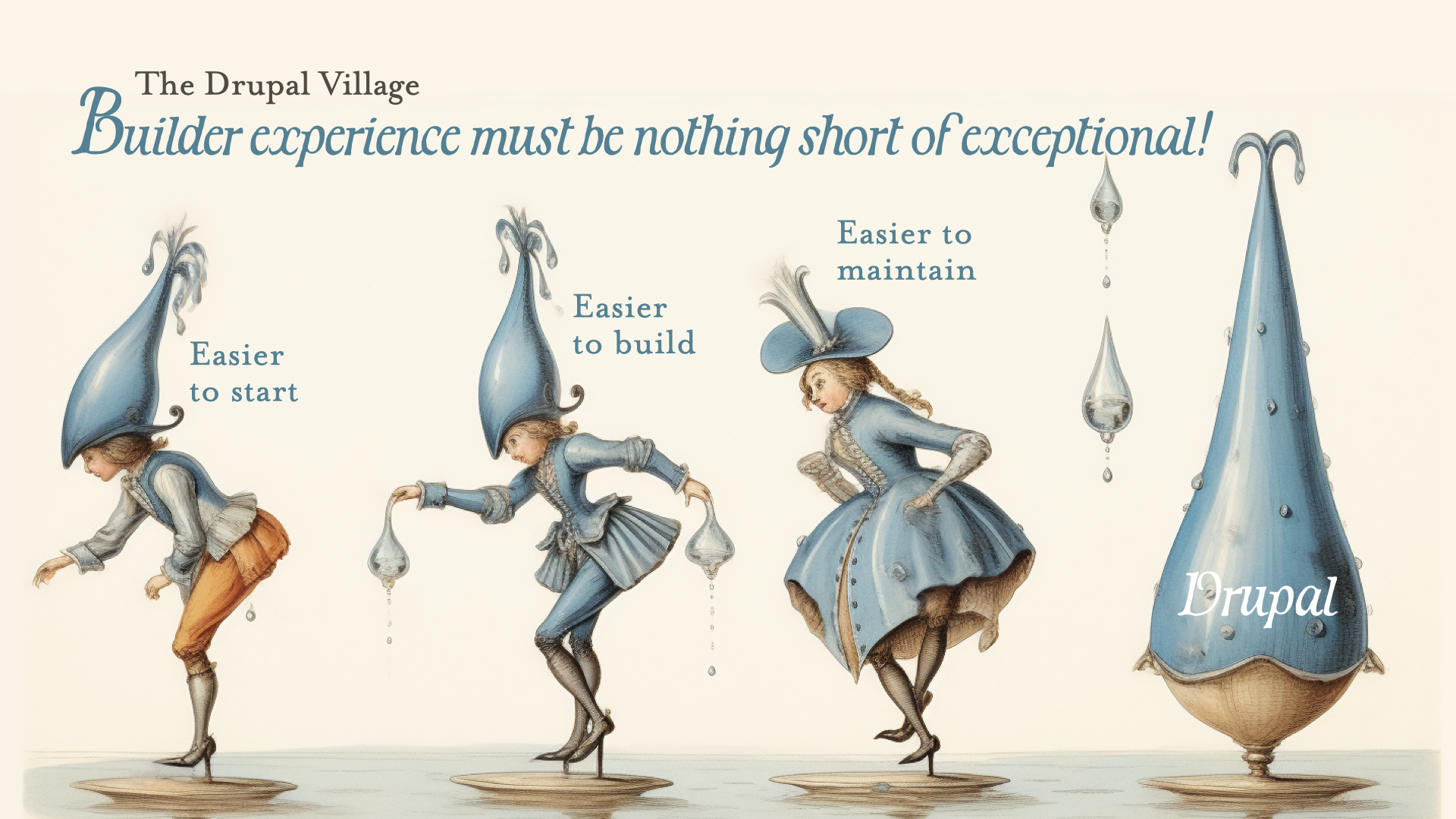 Drupal brings together some of the most skilled craftspeople from the community to meet at a nearby atelier called OuiWork. Within this collaborative space, initiative leaders Tim Plunkett (Acquia), Cristina Chumillas (Lullabot), and Lauri Eskola (Acquia) shared valuable insights about the work they are doing.
In practical terms, I discussed the significance of the Project Browser and Automatic Updates Initiatives. These initiatives serve to streamline the process of starting and maintaining your Drupal sites. Our goal is to include Automatic Updates and Project Browser into Drupal 10.3, scheduled to be released in June 2024. Achieving this milestone will be the culmination of over a decade of dedicated effort. I believe Drupal's Automatic Updates and Project Browser will be both the most advanced and most security-conscious tools of their kind among all PHP applications.
I also highlighted various efforts to make it easier to build with Drupal. This includes improvements in content modeling features (watch video segment) and enhancements to Drupal's administration toolbar (watch video segment). This work not only follows a design-first approach but also showcases our ability to make rapid progress, underscoring changes in the way we work and collaborate.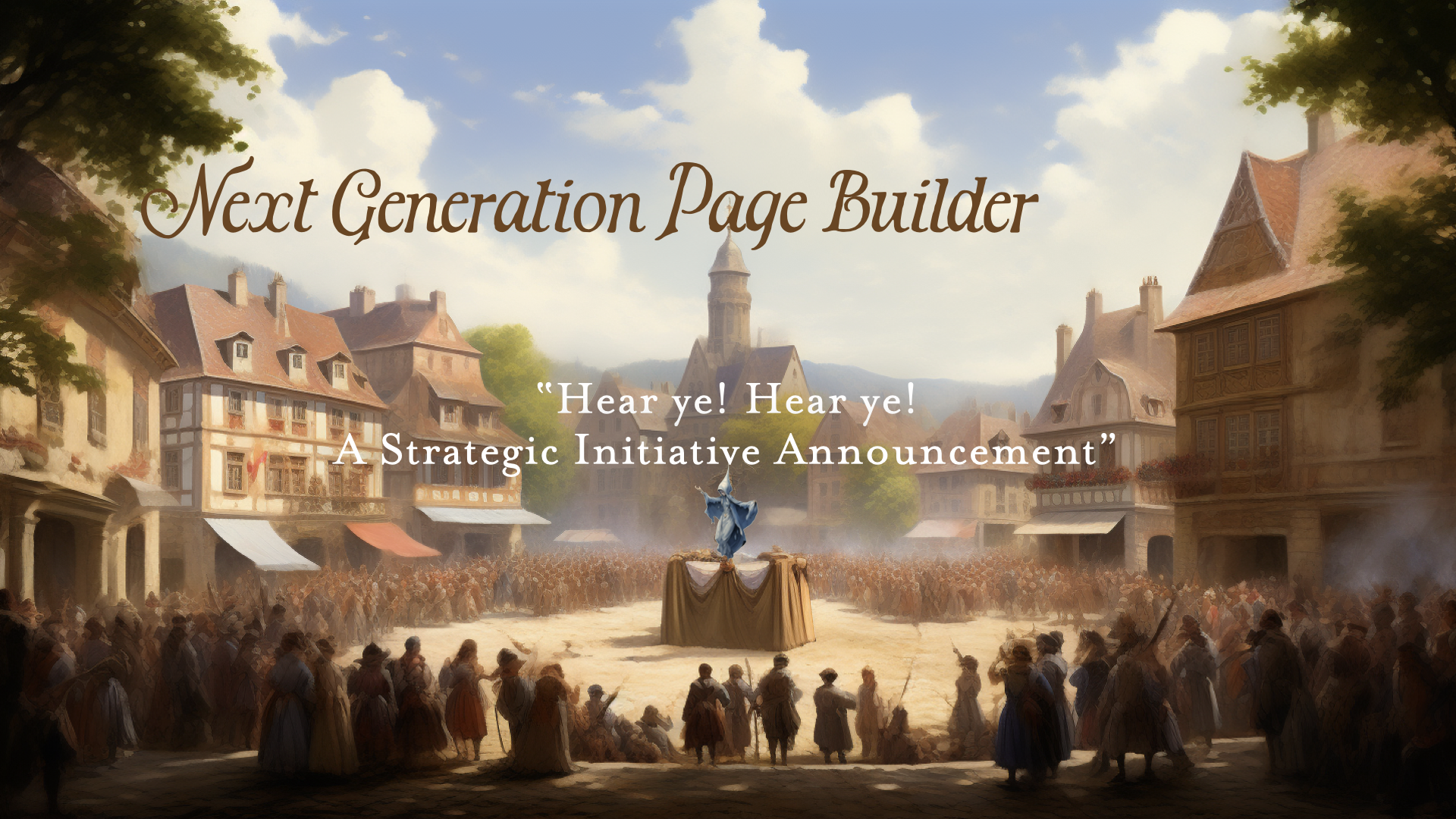 Lastly, I introduced a new strategic initiative aimed at improving the user experience for building pages with Drupal (watch video segment). The initiative is called Next Generation Page Builder and focuses on improving Drupal's layout builder, which was first introduced in Drupal 8.
Beyond the dark clouds: advocating for an Open Web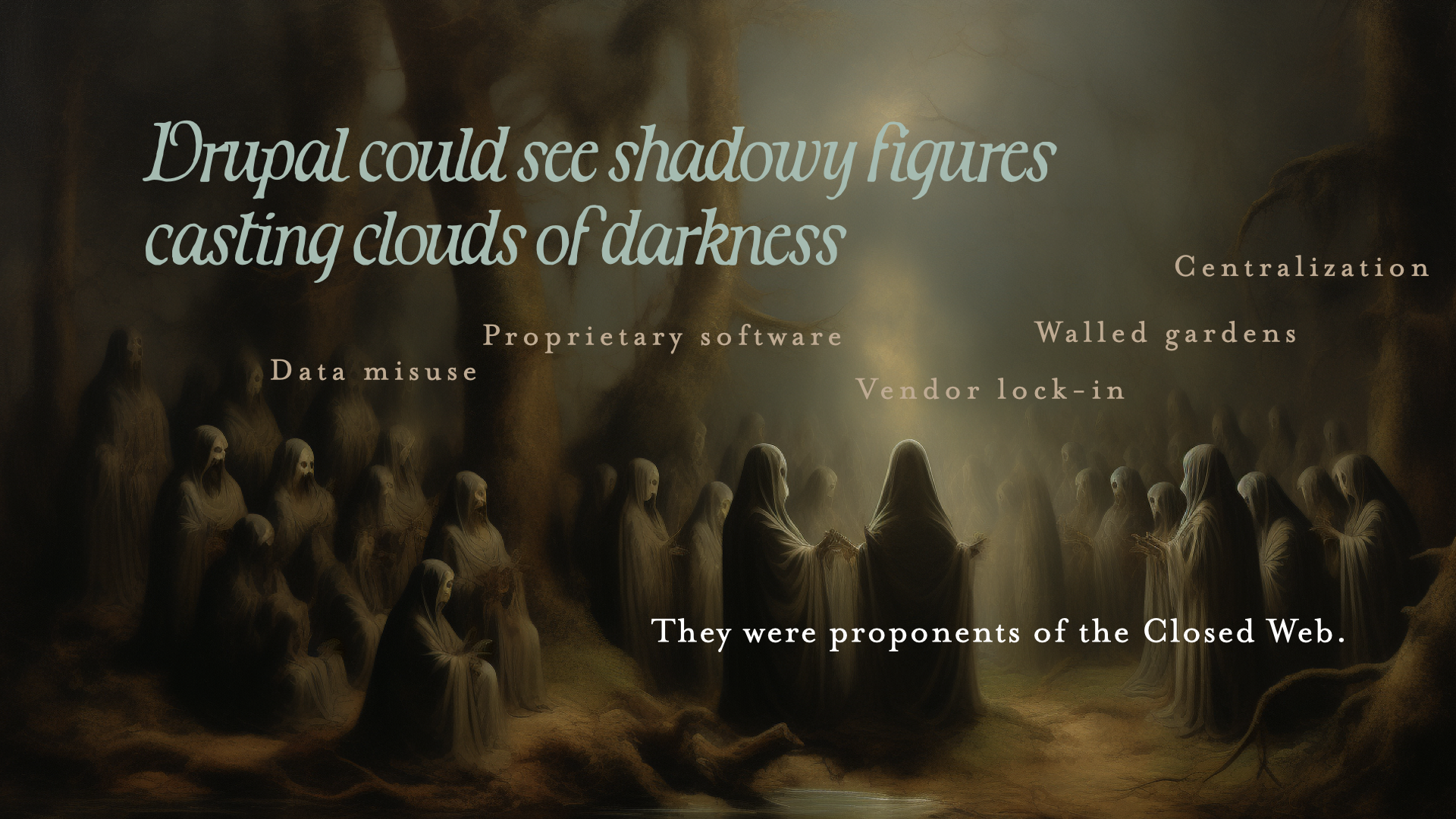 After working on improving the builder experience, the Drupal character returns home to discover Drupal Village shrouded in dark clouds. These ominous clouds are the work of the Closed Web advocates, sinister figures in the story. Hope arrives in the form of a visit from Fairy Godfather Tim Berners-Lee. The visit inspires Drupal to become an unwavering promoter and protector of the Open Web. In the morning, the Drupal character takes it upon themselves to write the Open Web Manifesto. This seminal document binds the entire community to a shared commitment: the creation of a digital future that is more accessible and inclusive for all.
Shining a light on Drupal: the role of Drupal marketing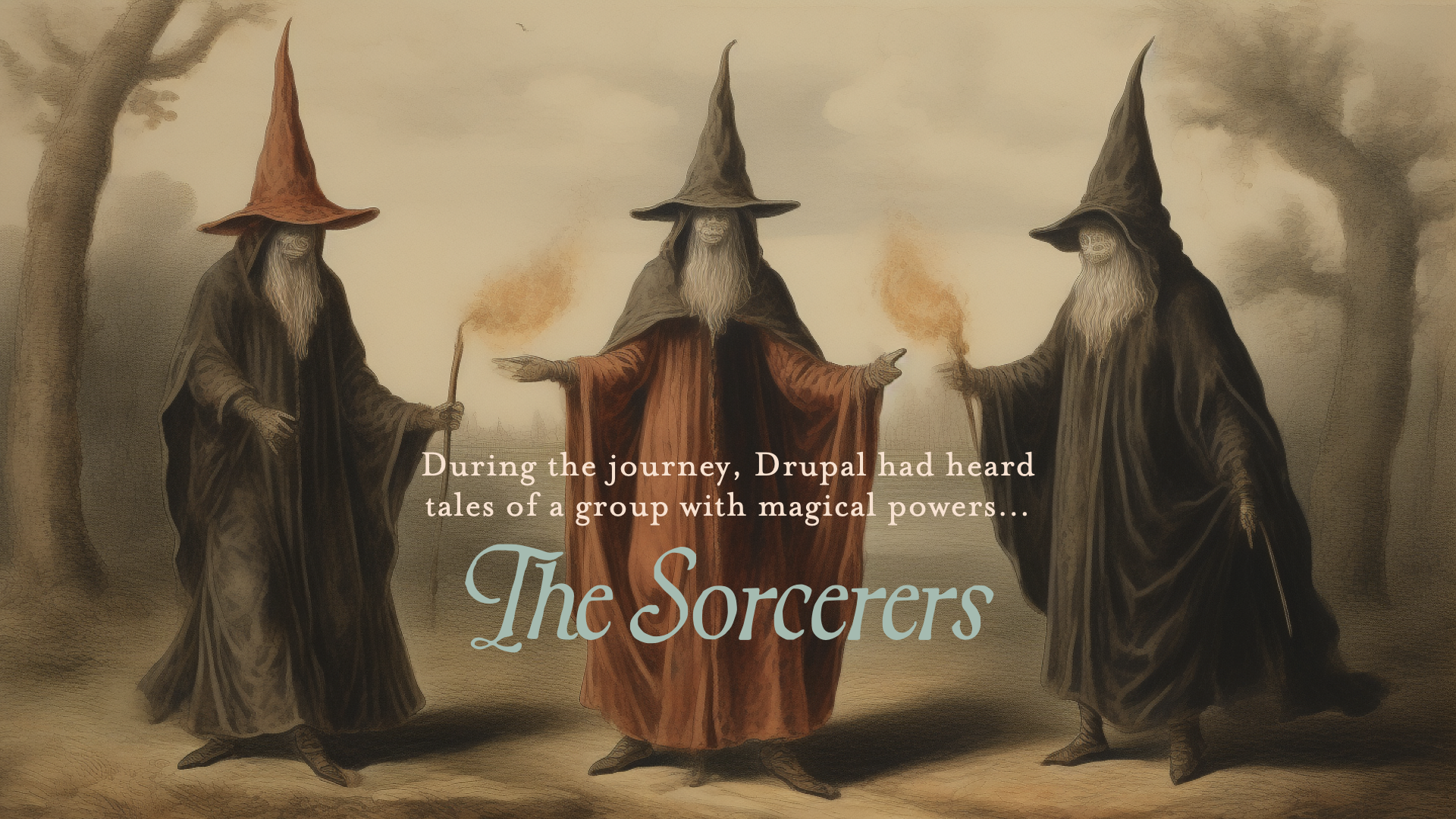 Sadly, the Open Web Manifesto alone can't clear away the dark clouds created by the Closed Web advocates. As the dark clouds creep closer and obscure the village, Drupal seeks help from three powerful sorcerers. The sorcerers use their magic to dispel the dark clouds, unveiling the remarkable work occurring in Drupal Village to the entire world.
In reality, the "sorcerers" are the Drupal Marketing Committee. Their mission is to shine a light on Drupal, promoting it to showcase the impressive work being done. The goal is to encourage more individuals to consider Drupal over closed web solutions, who often have significant resources for marketing themselves.
The Drupal Association launched a Drupal Marketing Committee after DrupalCon Pittsburgh. Comprising seasoned marketing professionals like Lynne Capozzi (former Acquia CMO), Suzanne Dergacheva (Evolving Web), Nikhil Deshpande (State of Georgia), and more, this committee is developing a marketing strategy for Drupal – a first in Drupal's 20+ year history. I had the honor of conducting an on-stage interview with them during my keynote (watch video segment), where they discussed the importance of marketing for Drupal and how it might impact the Drupal community.
We're committed to investing in Drupal's marketing efforts in the next few years. While the full marketing plan will be unveiled towards the end of this year, expect to see things like:
A new website launch, with more focus on outsiders and evaluators.
Refreshing the Drupal brand, with focused messaging aimed at attracting fresh talent.
Improving Drupal's visibility and presence at conferences.
Increase presence and engagement with universities.
Grow the involvement of Drupal Certified Partners.
The Drupal Marketing Committee welcomes all Drupal community members to participate in our marketing efforts.
Drupal's three promises
In the end, our main character, Drupal, commits to three important promises:
Enhance the builder experience to make it easier to start, build, and maintain Drupal sites.
Advocate for an Open Web, championing a more inclusive and accessible digital future.
Amplify our marketing efforts to highlight the outstanding work happening in Drupal, and to expand Drupal's reach and influence in the market.
With these promises in motion, the dark clouds fade. As they clear, the village's future sparkles with newfound hope, and the eager young builder returns home.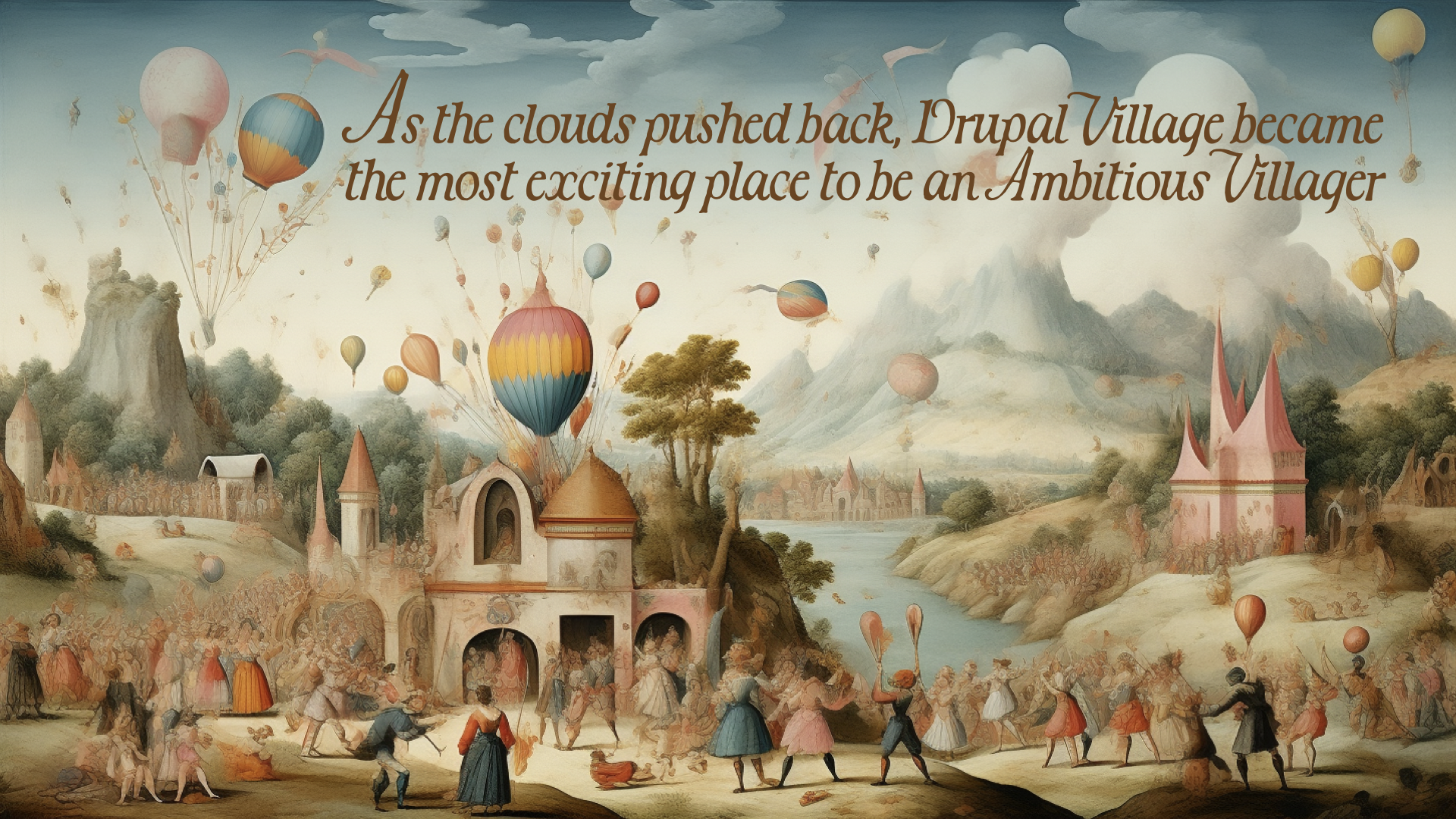 Thank you
Last but not least, I want to thank everyone who made DrupalCon Lille a tremendous success. I always come away inspired and full of ideas, and this year is no exception. Here is to a long and prosperous future for Drupal Village and all of its ambitious villagers! I look forward to sharing future chapters of the fairy tale as we continue to grow our community and software together!
— Dries Buytaert