Drupal Commons, meet Jive Software
DrupalCon San Francisco didn't even start, and already we have a first announcement to make! If you follow the Acquia blog, you might have read that we've begun building a free Drupal distribution, named "Drupal Commons", to go after social business software such as Jive Software. Drupal Commons will integrate groups, discussion forums, blogs, wikis, events into a single packaged solution. If you need a communication or collaboration website, or a corporate social network, Drupal Commons might be for you.
Over the last few months, I talked to a lot of Drupal users, customers and Drupal development shops, and it is clear that many of them need a distribution like Drupal Commons, but that the lack of a prepackaged solution was holding them back. Enterprise users weren't 100% sure Drupal could do what they needed it to do and had trouble convincing their boss about Drupal, and Drupal development shops and system integrators struggled convincing their customers without spending weeks building a functional prototype. In some cases, Drupal is too much of a framework.
We've only started working on Drupal Commons a few weeks ago, so we obviously have a long way to go. As soon we have a base version working, we'll share it on drupal.org under terms of the GPL like any other Drupal distribution. We hope others will join us in helping to build Drupal Commons.
Drupal Commons is also a good response to some of the FUD that Jive Software has been spreading about Open Source software, and Drupal in particular. The screenshot below, taken from a Jive Software whitepaper, shows how they position themselves against Drupal, and how they justify charging million dollar license fees to their customers. I don't know about you, but we'd love to show how Drupal can run circles around Jive SBS for a lot less money.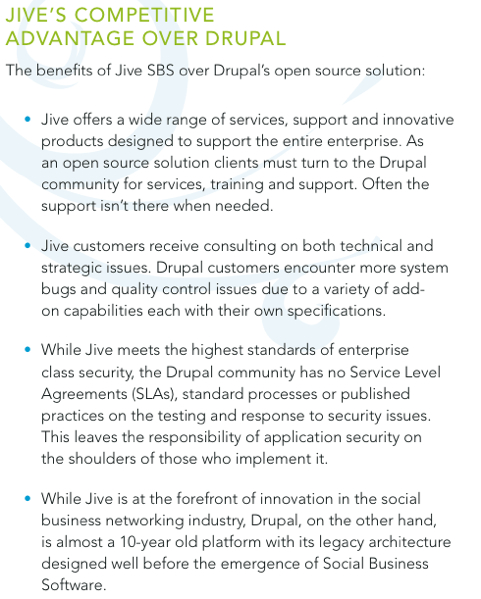 Last but not least, I've been supporting and championing distributions since 2006, and I still firmly believe Drupal distributions will be critical to Drupal's success. Without Drupal distributions, we won't be able to successfully compete with commercial vendors. Drupal distributions have great potential, but we have to do them right, and we have to figure out how to make them sustainable. By building a distribution ourselves, I hope to learn a lot, both on the technical side and on the business side. We already have a number of ideas, and will be announcing some of these shortly. Stay tuned!
— Dries Buytaert