A couple of days ago we launched the new Drupal.org website. If you haven't looked at the site, you might not think much of this announcement. However, this is an important milestone in the history of Drupal. Here is why.
Based on the results of a State of Drupal survey in 2007, the Drupal Association made the redesign of Drupal.org one of its top priorities. We felt that we had outgrown the old design of the site. We were eager for a visual refresh, in need of more effective tools for collaboration, as well as a better way to promote Drupal and to share our story.
In late 2008, the Drupal Association initiated the Drupal.org redesign effort and hired Mark Boulton and Leisa Reichelt. Mark and Leisa led an open redesign process. With the help of many people in the community, they uncovered problems with the old design and determined a new layout, an improved information architecture, new functionality and style guidelines for revamping the Drupal.org site.
Of course, we still had to implement the new design and the recommended changes. We started off by organizing various Drupal.org redesign sprints around the world. We took time from our other activities, met in person and remotely, and began the work. Along the way we had to upgrade the site from Drupal 5 to Drupal 6, as well as add new functionality in preparation of the new design. This included rolling out Apache Solr and adding an underlying staging environment to enable dozens of people to contribute to the Drupal.org redesign. Since this was a massive project, one year in the Drupal Association decided to pay a small team of Drupal developers to complement the volunteers and to drive the redesign to completion.
The new Drupal.org site is the result of many years of hard work. It's marvelous when that work finally reaches completion, and when people are excited by what is produced. But it is more than that. The result is not just a better Drupal.org site, but a better way of working together and a stronger, more dedicated team. It's an excellent foundation on which to build.
It is truly a special moment in the history of Drupal. Not only did we complete collectively a monumental project, we also decided to get better at promoting Drupal. And for the first time, the Drupal Association hired a staff to augment the work of many volunteers. These were non-trivial decisions to make for us.
For all of this, I'd like to thank everyone who has contributed to the Drupal.org site redesign project. I'd like to thank everyone for listening, for being open to change, for contributing money and resources, and for doing what it takes to get the redesign launched. We have more work to do, of course. You can see a list of issues with which we need help. If you want to be part of the excitement — it's not too late. Still, I couldn't be more pleased with what we've done. Go team!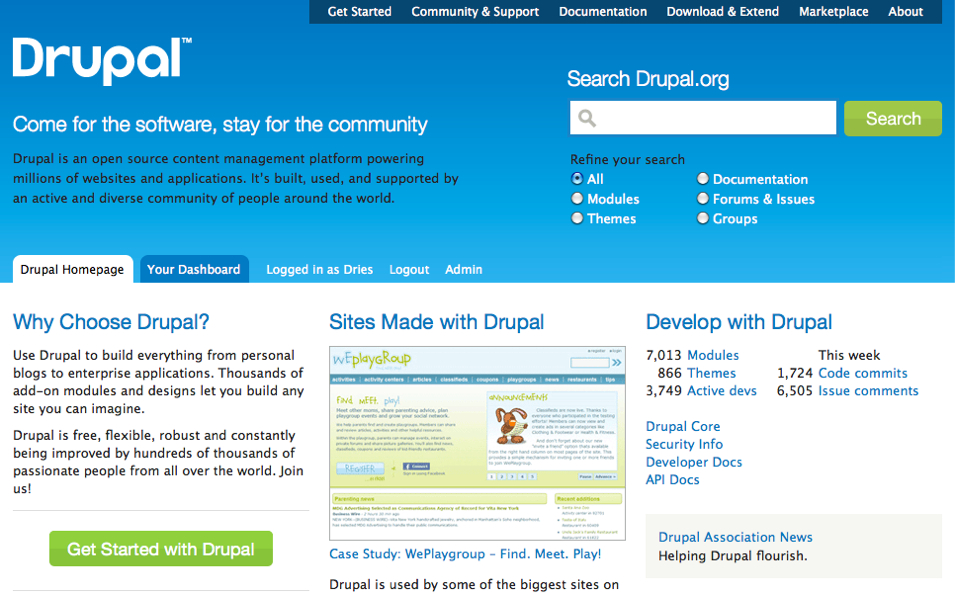 — Dries Buytaert