It has been only 18 months since we launched Acquia Hosting. Today, Acquia Hosting is serving 2.2 billion page views a month for several hundred customers and growing rapidly. In those 18 months, we also built a lot of tools to help organizations manage their entire Drupal workflow process from development to staging and production. The combined result is that we've built one of the world's best managed cloud environments for Drupal, and have proven that we can scale any Drupal site to meet the needs of the largest enterprises.
During this time, we received a lot of demand for a lower-priced single-server version of Acquia Hosting that developers could use to build sites that didn't require multi-server high-availability. We held off offering a single-server version of our offering so we could focus on solving the largest Drupal scalability issues for the most demanding enterprises. We're proud to announce that we're ready, and that we will offer a developer-focused solution in the next few weeks. We're ready to show you at DrupalCon Chicago and will launch it shortly thereafter.
Like Acquia Hosting, the new single-server offering will come with an optimized stack for Drupal, including Varnish, Nginx, APC and Memcache, as well as all the tools to manage the lifecycle of your website. This new hosting offering will be called Acquia Dev Cloud. It will be great for people that want to build Drupal sites without the need for high-availability or help from Acquia to help scale and maintain their site. In many ways, Dev Cloud is the logical next step for Acquia Hosting, and helps us close the chasm between Drupal Gardens and Acquia Hosting.
One of the key features of Dev Cloud is the ability to run multiple separate sites on a single server. This has been the most common request from our partners since we launched Acquia Hosting. Because many of the sites our partners build are small, it's more cost effective to run multiple sites on a single server and partners wanted this option on our hosting platform.
It was also clear that 'Acquia Hosting' was no longer the best name — or maybe it never was. The more features we added, the more we grew to dislike it as the less it reflected what we had build. The amount of developer tools and the level of service and support we provide to help customers scale their Drupal sites is unheard of. None of that is reflected in the name 'Acquia Hosting'. Too many people had preconceived notions of what 'hosting' meant, and what we offer goes well beyond traditional hosting. It is really Platform-as-a-Service (or PaaS). Hence, we decided to rename 'Acquia Hosting' to 'Acquia Managed Cloud' to better reflect that fact.
Acquia Managed Cloud is for business-critical sites that require a fully redundant, highly available environment that is managed 24x7 by Acquia staff. Acquia Dev Cloud is for developers that want all the great features of Acquia Managed Cloud, without the support and guarantees provided by our team of Drupal experts.
We're very excited about these changes as they get us a step closer to completing our vision for Acquia. It will be easy to migrate from Drupal Gardens to Dev Cloud, or from Dev Cloud to Managed Cloud.
Dev Cloud will be available for purchase as part of an Acquia Network subscription. We are introducing a new Developer Subscription package that includes access to Dev Cloud, self-service support tools, our new Acquia Library knowledge base and Acquia Network services including Acquia Search, Mobify, and New Relic. This will start at a developer friendly price of less than $200 / month including a Dev Cloud server. If you are looking for support ticket access to Acquia's support team, you can also use Dev Cloud with our Professional Subscription.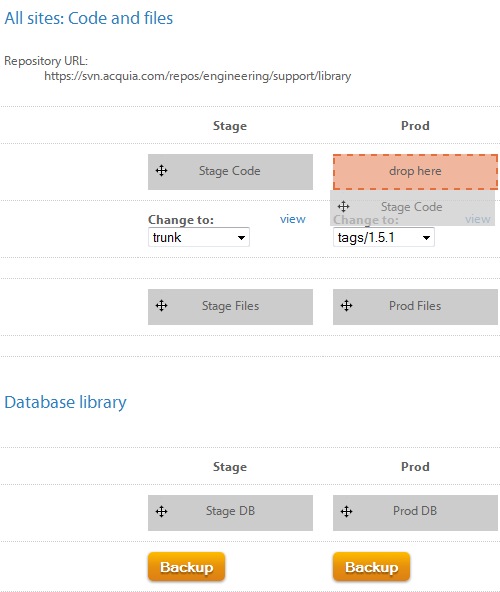 — Dries Buytaert