Mass.gov moved a 15-year-old site from a legacy CMS to Acquia and Drupal
This year at Acquia Engage, the Commonwealth of Massachusetts launched Mass.gov on Drupal 8. Holly St. Clair, the Chief Digital Officer of the Commonwealth of Massachusetts, joined me during my keynote to share how Mass.gov is making constituents' interactions with the state fast, easy, meaningful, and "wicked awesome".
Since its founding, Acquia has been headquartered in Massachusetts, so it was very exciting to celebrate this milestone with the Mass.gov team.
Constituents at the center
Today, 76% of constituents prefer to interact with their government online. Before Mass.gov switched to Drupal it struggled to provide a constituent-centric experience. For example, a student looking for information on tuition assistance on Mass.gov would have to sort through 7 different government websites before finding relevant information.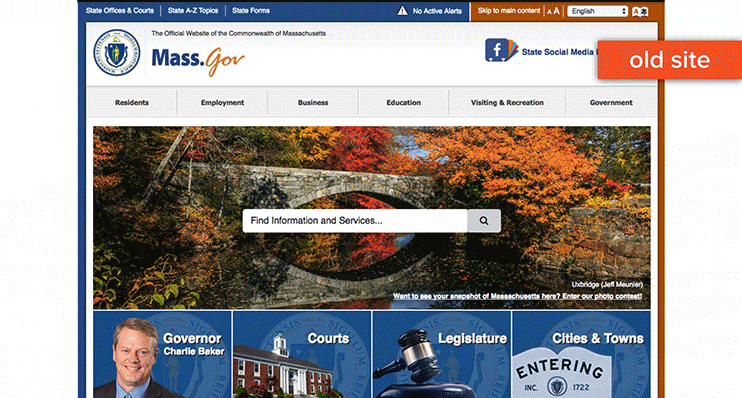 To better serve residents, businesses and visitors, the Mass.gov team took a data-driven approach. After analyzing site data, they discovered that 10% of the content serviced 89% of site traffic. This means that up to 90% of the content on Mass.gov was either redundant, out-of-date or distracting. The digital services team used this insight to develop a site architecture and content strategy that prioritized the needs and interests of citizens. In one year, the team at Mass.gov moved a 15-year-old site from a legacy CMS to Acquia and Drupal.
The team at Mass.gov also incorporated user testing into every step of the redesign process, including usability, information architecture and accessibility. In addition to inviting over 330,000 users to provide feedback on the pilot site, the Mass.gov team partnered with the Perkins School for the Blind to deliver meaningful accessibility that surpasses compliance requirements. This approach has earned Mass.gov a score of 80.7 on the System Usability Scale; 12 percent higher than the reported average.
Open from the start
As an early adopter of Drupal 8, the Commonwealth of Massachusetts decided to open source the code that powers Mass.gov. Everyone can see the code that make Mass.gov work, point out problems, suggest improvements, or use the code for their own state. It's inspiring to see the Commonwealth of Massachusetts fully embrace the unique innovation and collaboration model inherent to open source. I wish more governments would do the same!
Congratulations Mass.gov
The new Mass.gov is engaging, intuitive and above all else, wicked awesome. Congratulations Mass.gov!
— Dries Buytaert