DrupalCon Vienna Driesnote presentation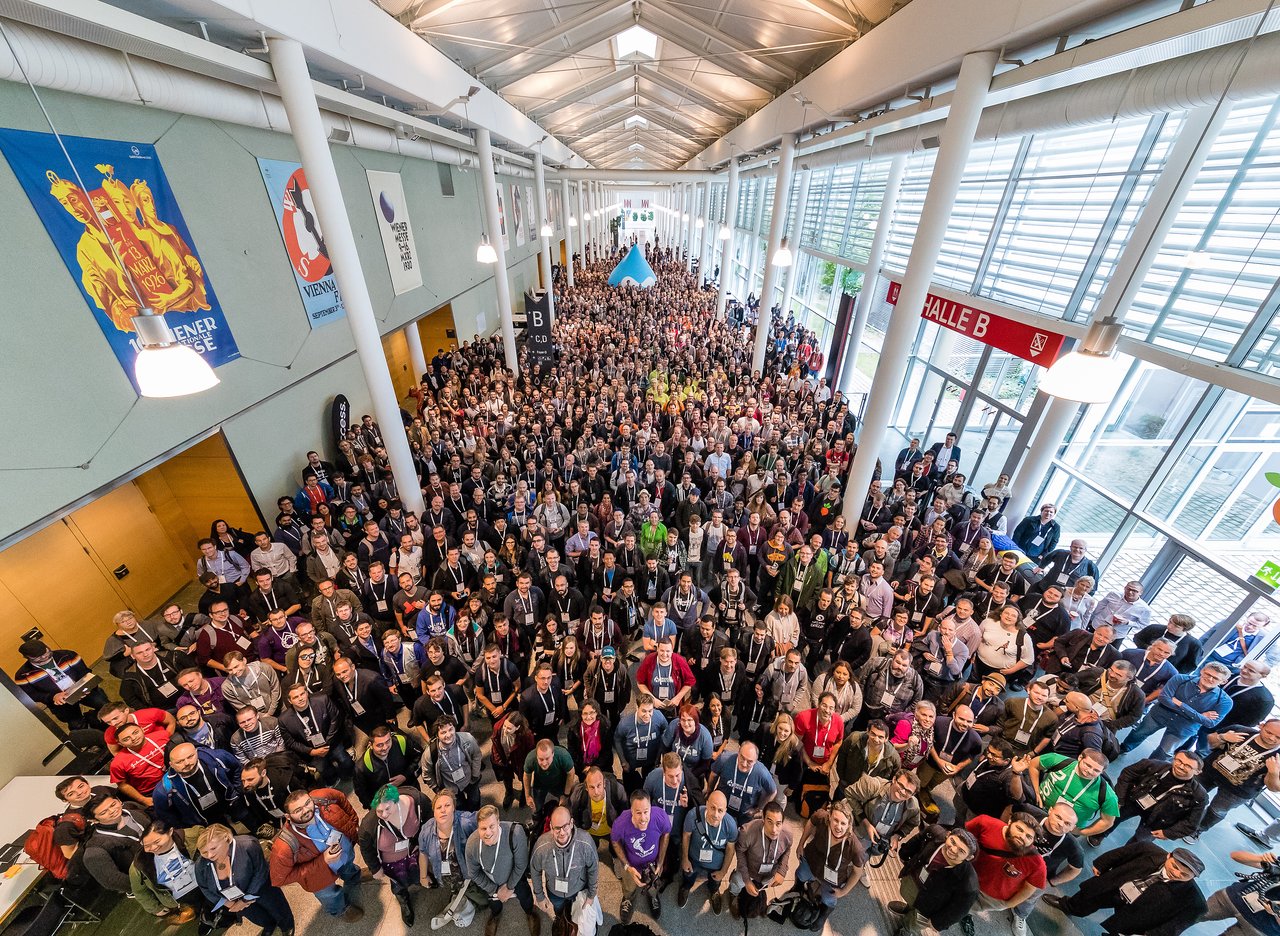 Yesterday, I shared my State of Drupal presentation at DrupalCon Vienna. In addition to sharing my slides, I wanted to provide some more detail on how Drupal is evolving, who Drupal is for, and what I believe we should focus on.
Drupal is growing and changing
I started my keynote by explaining that Drupal is growing. Over the past year, we've witnessed a rise in community engagement, which has strengthened Drupal 8 adoption.
This is supported by the 2017 Drupal Business Survey; after surveying 239 executives from Drupal agencies, we can see that Drupal 8 has become the defacto release for them and that most of the Drupal businesses report to be growing.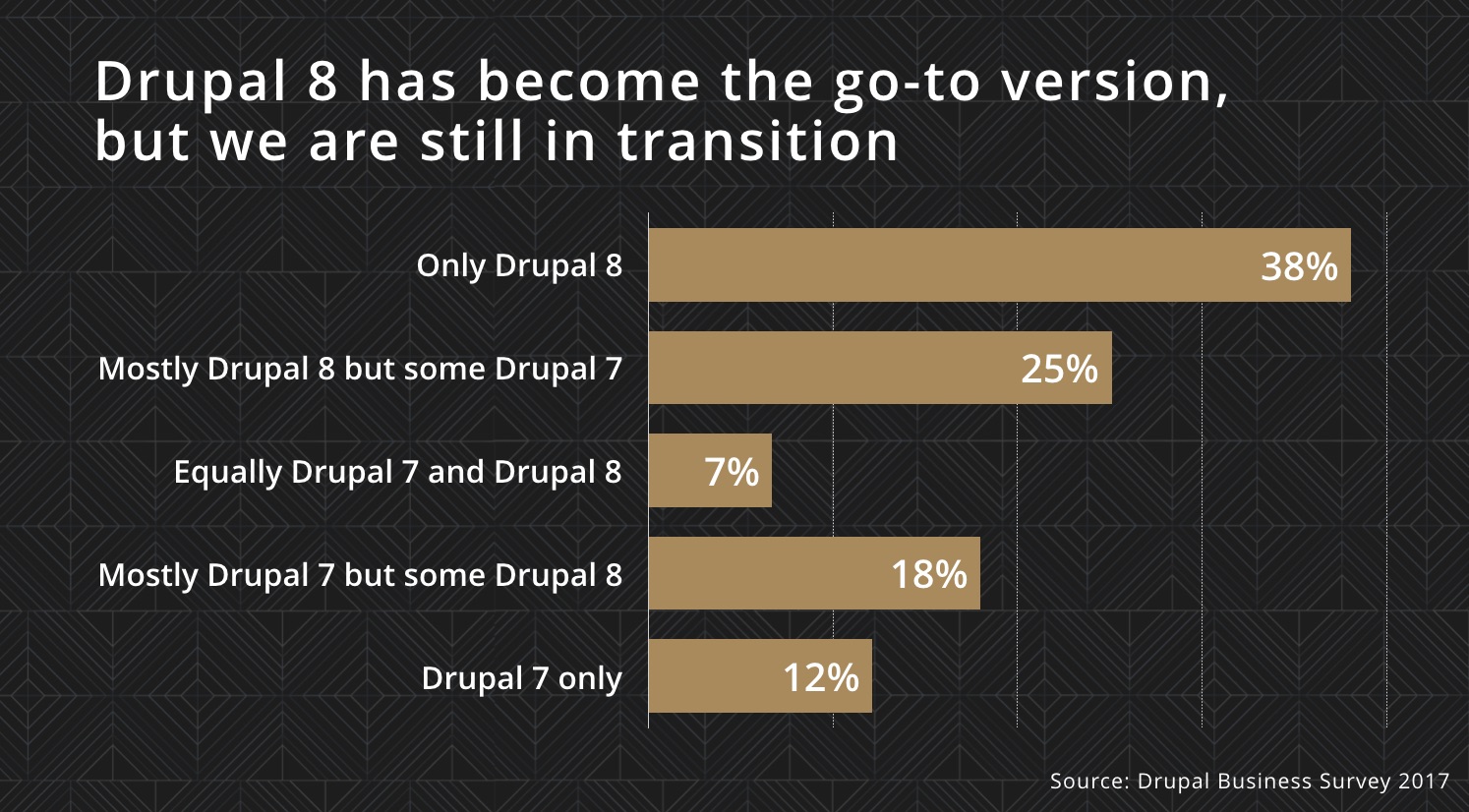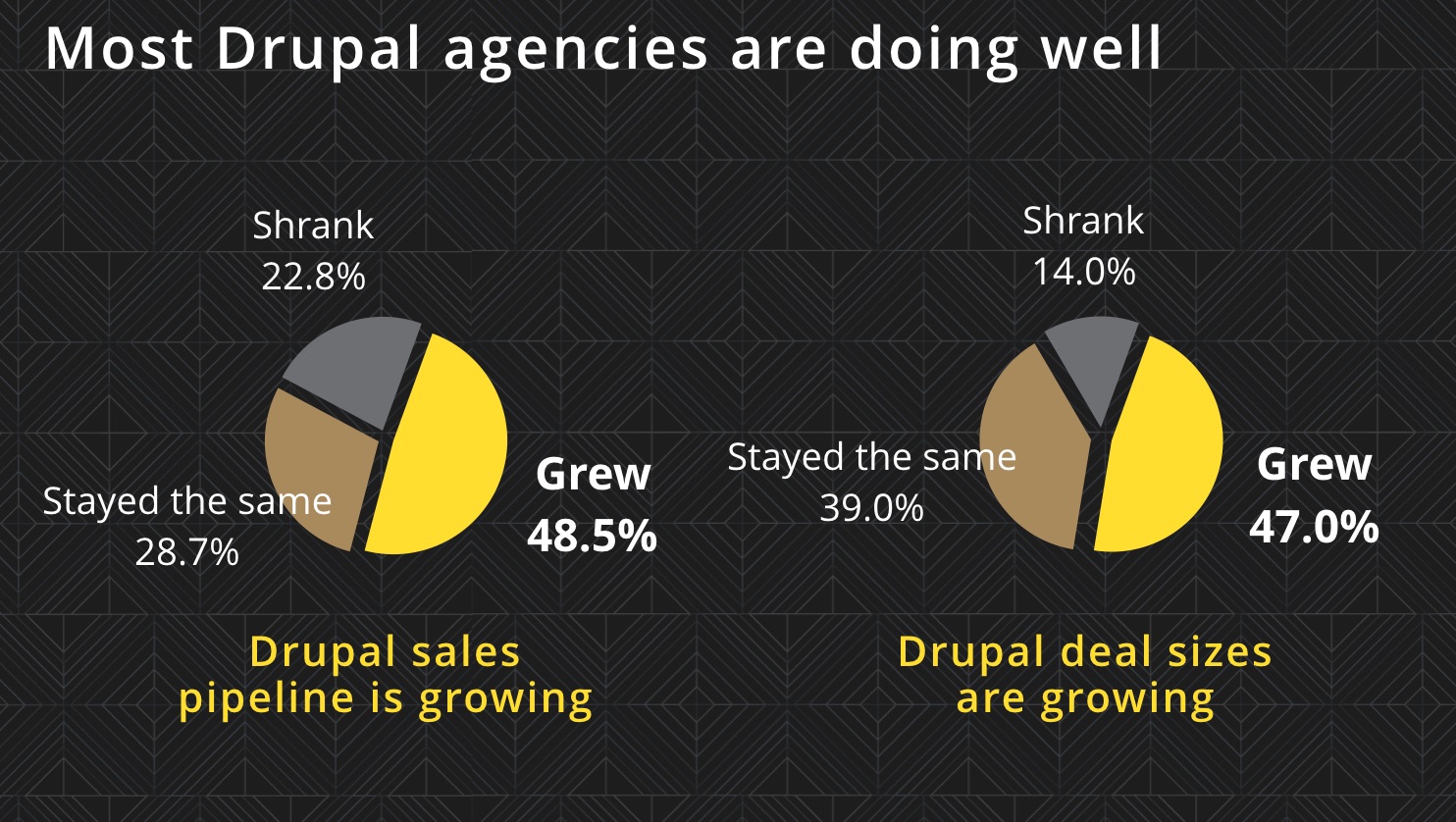 While the transition from Drupal 7 to Drupal 8 is not complete, Drupal 8's innovation continues to accelerate. We've seen the contributed modules ecosystem mature; in the past year, the number of stable modules has more than doubled. Additionally, there are over 4,000 modules in development.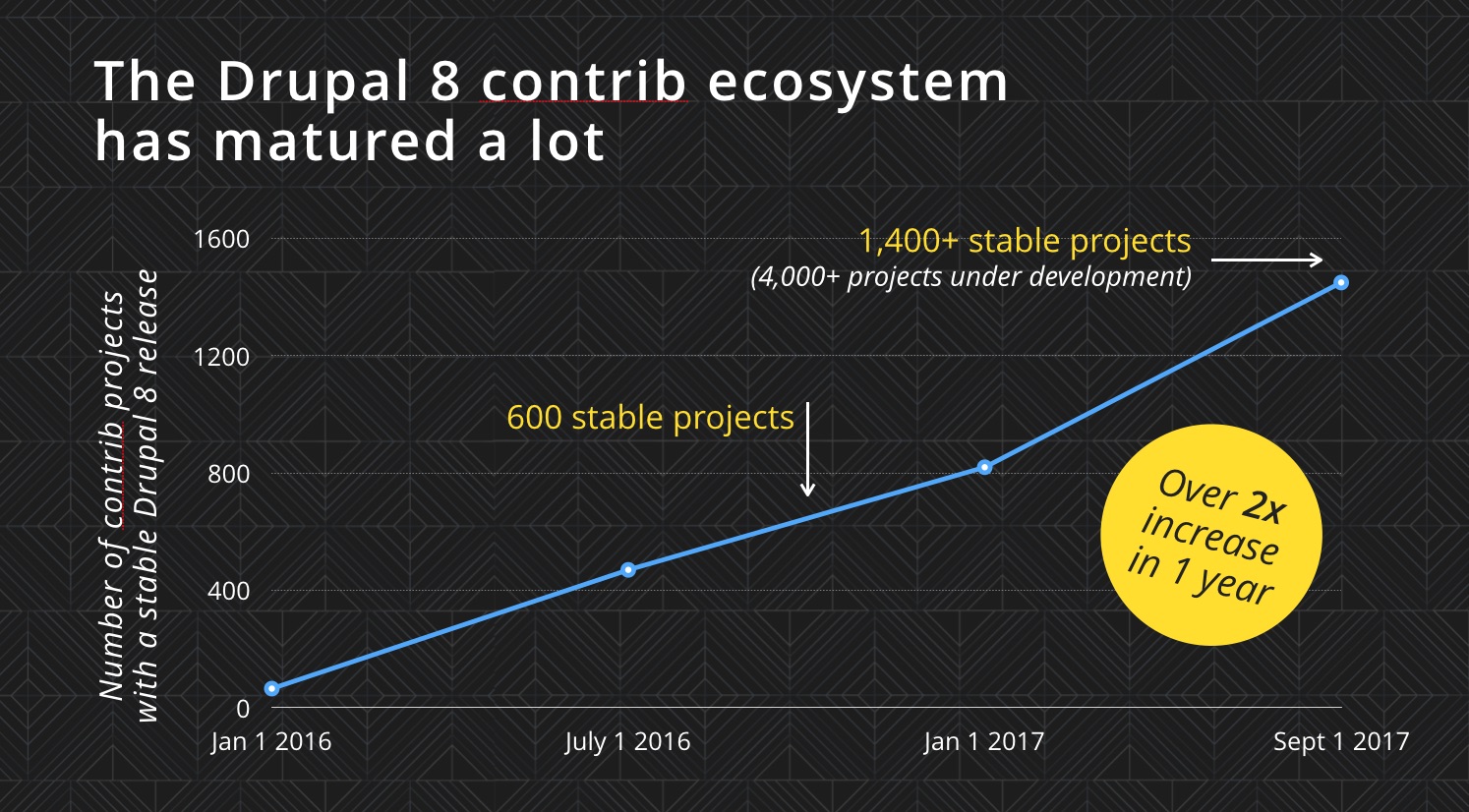 In addition to growth, both the vendor and technology landscapes around Drupal are changing. In my keynote, I noted three primary shifts in the vendor landscape. Single blogs, portfolio sites and brochure sites, which represent the low end of the market, are best served by SaaS tools. On the other side of the spectrum, a majority of enterprise vendors are moving beyond content management into larger marketing suites. Finally, the headless CMS market segment is growing rapidly, with some vendors growing at a rate of 500% year over year.
There are also significant changes in the technology landscape surrounding Drupal, as a rising number of Drupal agencies have also started using modern JavaScript technologies. For example, more than 50% of Drupal agencies are also using Node.js to support the needs of their customers.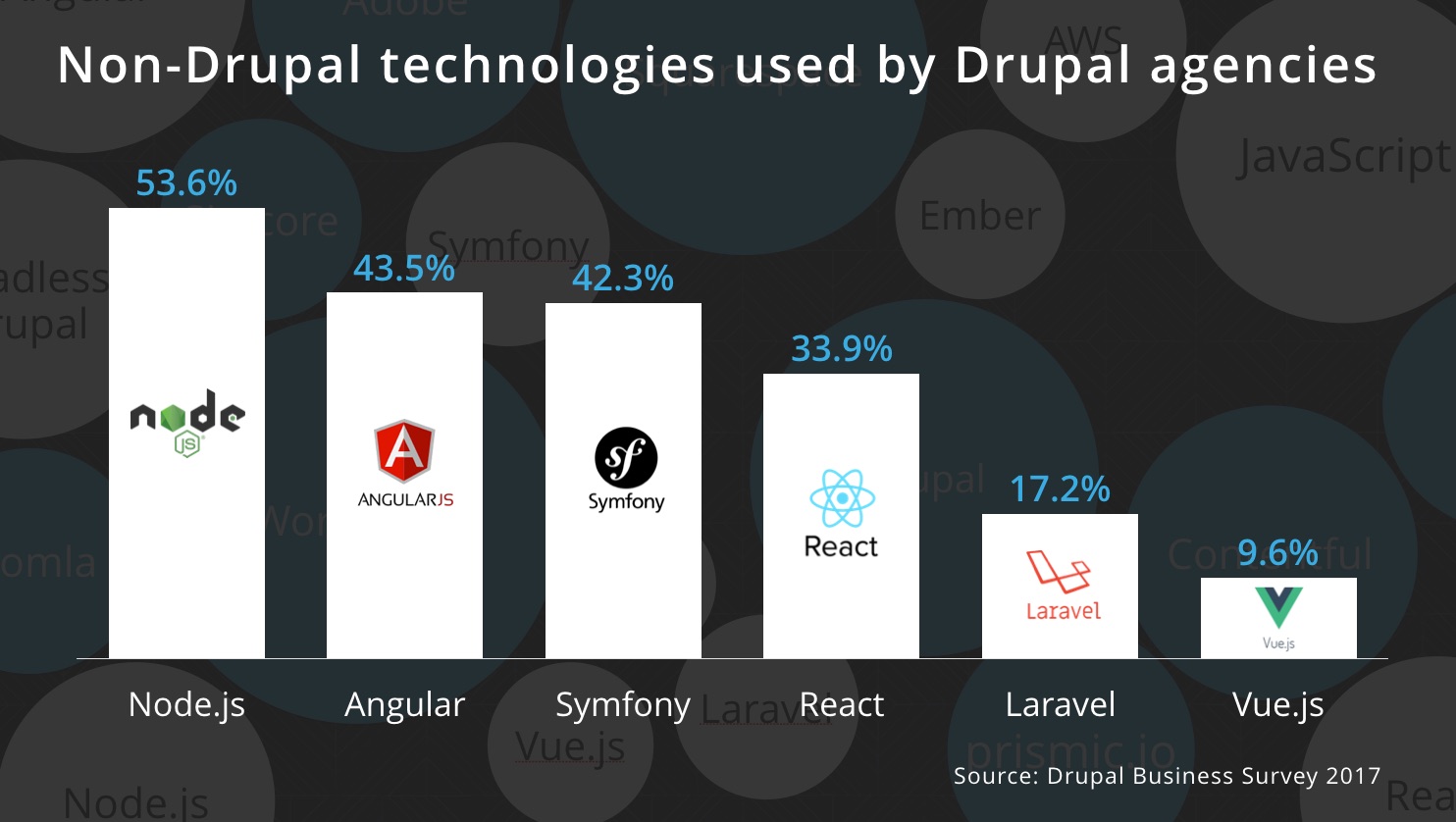 While evolving vendor and technology landscapes present many opportunities for Drupal, it can also introduce uncertainty. After listening to many people in the Drupal community, it's clear that all these market and technology trends, combined with the long development and adoption cycle of Drupal 8, has left some wondering what this all means for Drupal, and by extension also for them.
Drupal is no longer for simple sites
Over the past year, I've explained why I believe Drupal is for ambitious digital experiences, in both my DrupalCon Baltimore keynote and on my blog. However, I think it would be valuable to provide more detail on what I mean by "ambitious digital experiences". It's important that we all understand who Drupal is for, because it drives our strategy, which in turn allows us to focus our efforts.
Today, I believe that Drupal is no longer for simple sites. Instead, Drupal's sweetspot is sites or digital experiences that require a certain level of customization or flexibility — something I refer to as "richness".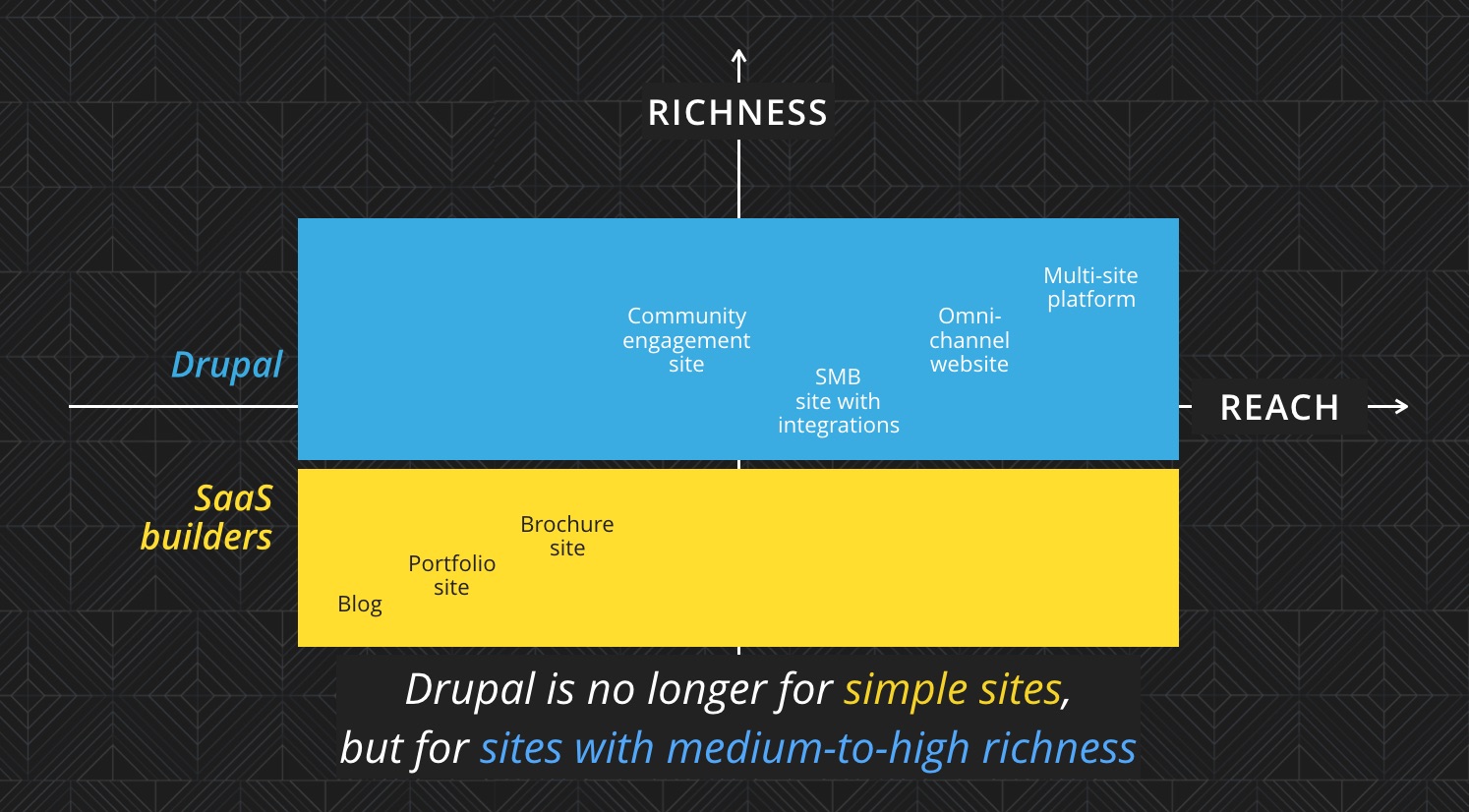 Ambitious is much more than just enterprise
This distinction is important because I often find that the term "ambitious" becomes conflated with "enterprise". While I agree that Drupal is a great fit for the enterprise, I personally never loved that categorization. It's not just large organizations that use Drupal. Individuals, small startups, universities, museums and nonprofits can be equally ambitious in what they'd like to accomplish and Drupal can be an incredible solution for them.
An example of this could be a small business that manages 50 rental properties. While they don't have a lot of traffic (reach), they require integrations with an e-commerce system, a booking system, and a customer support tool to support their business. Their allotted budget is $50,000 or less. This company would not be considered an enterprise business; however, Drupal would be a great fit for this use case. In many ways, the "non-enterprise ambitious digital experiences" represent the majority of the Drupal ecosystem. As I made clear in my presentation, we don't want to leave those behind.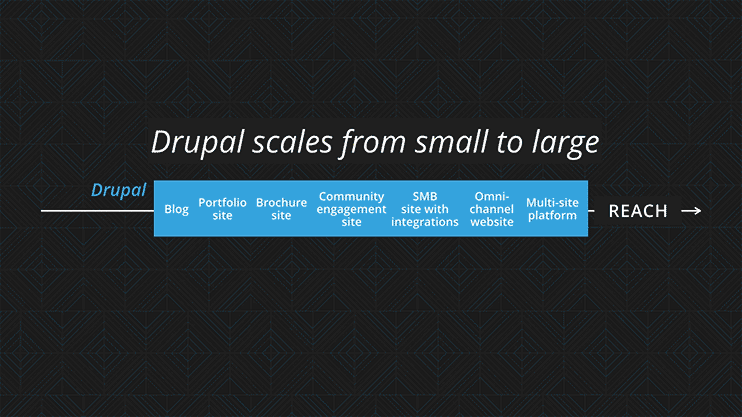 Addressing the needs of smaller organizations
The Drupal ecosystem majority are organizations with sites that require medium-to-high richness, which SaaS builders cannot support. However, they also don't need to scale at the level of enterprise companies. As the Drupal community continues to consider how we can best support this majority, a lot of smaller Drupal agencies and end-users have pointed out that they would benefit from the following two things:
Powerful site building tools. They want easy-to-use site building tools that are simple to learn, and don't require dozens of contributed modules to be installed and configured. They would also prefer to avoid writing a lot of custom code because their clients have smaller budgets. Great examples of tools that would improve site building are Drupal's upcoming layout builder, workspaces and media library. To make some of Drupal's own administrative UIs more powerful and easier to use, I proposed that we add a modern JavaScript to core.
Easier updates and maintenance. While each Drupal 8 site benefits from continuous innovation, it also needs to be updated more often. The new Drupal 8 release cycle has monthly patch releases and 6-month minor releases. In addition, organizations have to juggle ad-hoc updates from contributed modules. In addition, site updates has often become more complex because our dependency on third-party libraries and because not everyone can use Composer. Many smaller users and agencies would benefit tremendously from auto-updates because maintaining and updating their Drupal 8 sites can be too manual, too complex and too expensive.
The good news is that we have made progress in both improving site builder tools and simplifying updates and maintenance. Keep an eye on future blog posts about these topics. In the meantime, you can watch a recording of my keynote (starting at 22:10), or you can download a copy of my slides (56 MB).
— Dries Buytaert