There are only three cloud infrastructure companies that are really growing: Amazon, Google and Microsoft
The title of this blog post comes from a recent Platformonomics article that analyzes how much Amazon, Google, Microsoft, IBM and Oracle are investing in their cloud infrastructure. It does that analysis based on these companies' publicly reported CAPEX numbers.
Capital expenditures, or CAPEX, is money used to purchase, upgrade, improve, or extend the life of long-term assets. Capital expenditures generally takes two forms: maintenance expenditure (money spent for normal upkeep and maintenance) and expansion expenditures (money used to buy assets to grow the business, or money used to buy assets to actually sell). This could include buying a building, upgrading computers, acquiring a business, or in the case of cloud infrastructure vendors, buying the hardware needed to invest in the growth of their cloud infrastructure.
Building this analysis on CAPEX spending is far from perfect, as it includes investments that are not directly related to scaling cloud infrastructure. For example, Google is building subsea cables to improve their internet speed, and Amazon is investing a lot in its package and shipping operations, including the build-out of its own cargo airline. These investments don't advance their cloud services businesses. Despite these inaccuracies, CAPEX is still a useful indicator for measuring the growth of their cloud infrastructure businesses, simply because these investments dwarf others.
The Platformonomics analysis prompted me to do a bit of research on my own.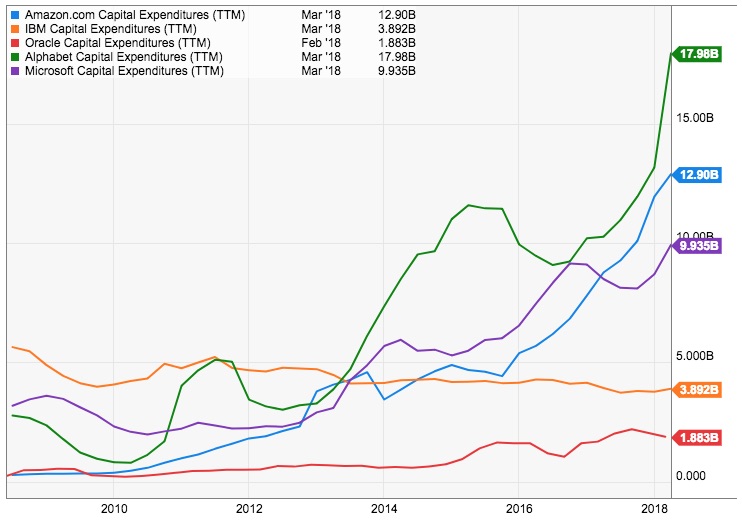 The graph above shows the trailing twelve months (TTM) CAPEX spending for each of the five cloud vendors. CAPEX don't lie: cloud infrastructure services is clearly a three-player race. There are only three cloud infrastructure companies that are really growing: Amazon, Google (Alphabet) and Microsoft. Oracle and IBM are far behind and their spending is not enough to keep pace with Amazon, Microsoft or Google.
Amazon's growth in CAPEX is the most impressive. This becomes really clear when you look at the percentage growth: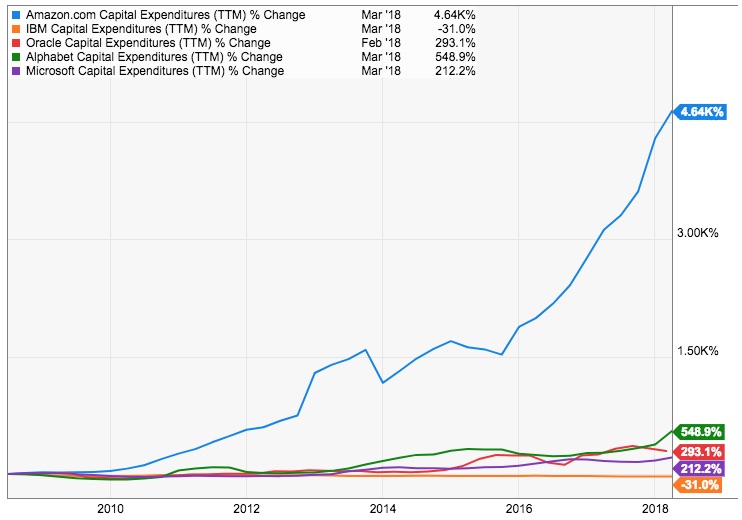 Amazon's CAPEX has exploded over the past 10 years. In relative terms, it has grown more than all other companies' CAPEX combined.
The scale is hard to grasp
To put the significance of these investments in cloud services in perspective, in the last 12 months, Amazon and Alphabet's CAPEX is almost 10x the size of Coca-Cola's, a company whose products are available in every grocery store, gas station, and vending machine in every town and country in the world. More than 3% of all beverages consumed around the world are Coca-Cola products. In contrast, the amount of money cloud infrastructure vendors are investing in CAPEX is hard to grasp.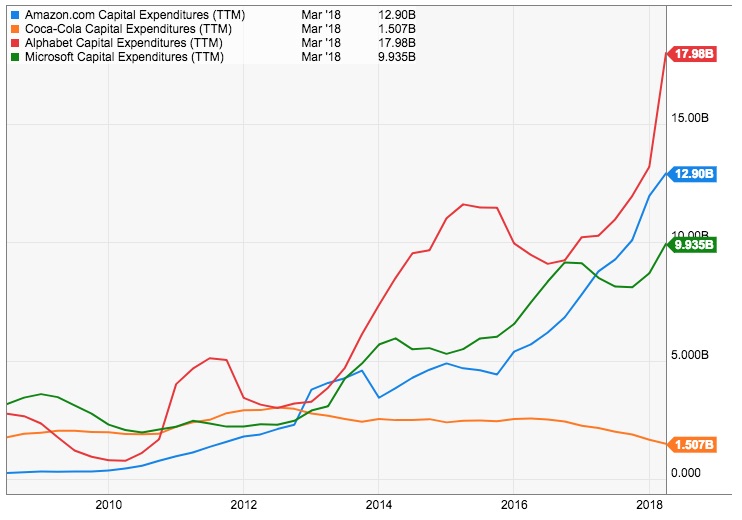 Disclaimers: As a public market investor, I'm long Amazon, Google and Microsoft. Also, Amazon is an investor in my company, Acquia.
— Dries Buytaert