For the fourth year in a row, Acquia has been recognized as a leader in the Gartner MQ for WCM, next to Adobe and Sitecore.
I'm on vacation this week, and I've been trying to disconnect and soak up time with my family. However, I had to make an exception to write a quick but exciting blog post, as Acquia was named a leader in the 2017 Gartner Magic Quadrant for Web Content Management. This marks Acquia's placement as a leader for the fourth year in a row, solidifying our position as one of the top three vendors in Gartner's report.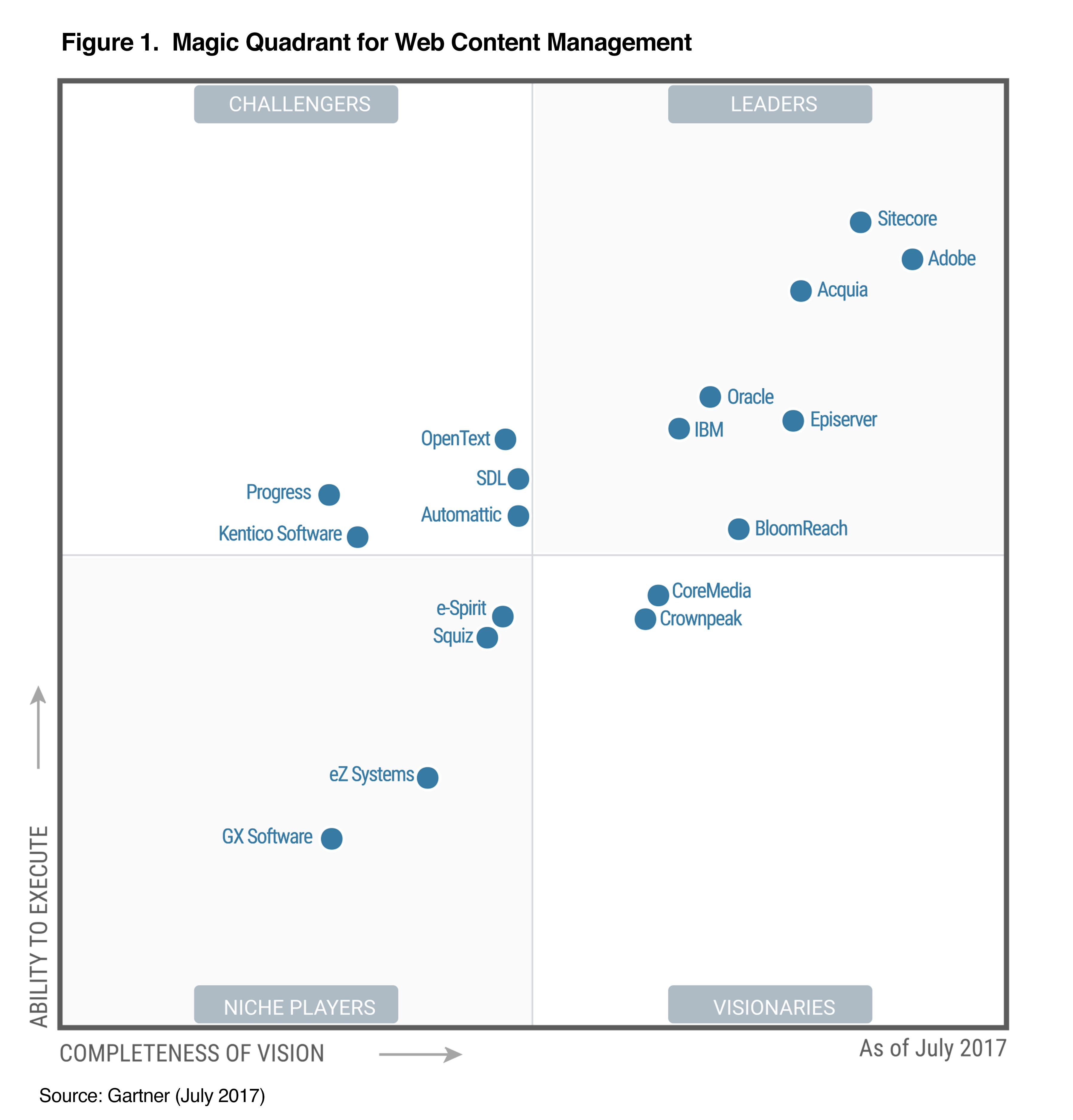 Early in my career I didn't fully understand or value the role of industry analysts like Gartner. Experience has taught me that strong analyst reports provide credibility and expose vendors to new markets and customers. It's easy to underestimate the importance of this kind of recognition for Acquia, and by extension for Drupal. If you're not familiar with the role of analyst firms, you can think of it this way: if you want to find a good coffee place, you use Yelp. If you want to find a nice hotel in New York, you use TripAdvisor. Similarly, if a CIO or CMO wants to spend $250,000 or more on enterprise software, they often consult an analyst firm like Gartner.
This year's report further cements Acquia's position as an industry leader as we received the highest marks for "Cloud Capability and Architecture". The report further highlights how Acquia enables our customers to use Drupal to the fullest extent. We enhance Drupal with services like Acquia Lift that empower organizations to not only meet the needs of their customers, but to be ambitious with digital. Today, a variety of organizations, ranging from DocuSign to the Tennessee Department of Tourism are using Acquia Lift to create significant value for their businesses.
In addition to tools like Acquia Lift, Gartner also highlighted the flexibility inherent to Acquia's platform. Acquia's emphasis on Open APIs, ranging from Drupal 8's API-first initiative to APIs for Acquia Cloud, Acquia Site Factory, and Acquia Lift, allows organizations to deliver critical capabilities faster and better integrated in their existing environments. For example, Wilson Sporting Goods delivers experiential commerce by marrying the abilities of Drupal and Magento, while Acquia supports Motorola's partnership with Demandware.
Our tenure as a leader in the Gartner Magic Quadrant for Web Content Management has enabled organizations across every industry to take a closer look at Acquia and Drupal. Organizations like Nasdaq, Pfizer, The City of Boston, and the YMCA continue to demonstrate the advantages of evolving their operating models with Drupal in comparison to our proprietary counterparts. Everyday, I get to witness firsthand how incredible and influential brands are shaping the world with Acquia and Drupal, and our standing in the Gartner Magic Quadrant reinforces that.
— Dries Buytaert