In my 2021 Acquia retrospective, I reflect on our business momentum, the evolution of the Acquia Digital Experience Platform (DXP) and my personal growth.
At the beginning of every year, I like to publish a retrospective that looks back at the last 12 months at Acquia. I write these retrospectives because I like to keep a record of the changes that happen at the company. It also helps me to reflect.
If you'd like to read my previous retrospectives, you can find them here: 2020, 2019, 2018, 2017, 2016, 2015, 2014, 2013, 2012, 2011, 2010, 2009. This year marks the thirteenth retrospective. All combined, it would be an 85-page document that provides a comprehensive overview of Acquia's trajectory.
Our momentum continued in 2021
We continued our unbroken, 15-year revenue growth streak.
We now have around 1,500 employees, up from around 1,100 a year earlier. Acquia was named a "Best Place to Work" in both the UK and Boston, where our headquarters is located. Interesting tidbit: almost 60,000 people applied for a job at Acquia last year.
Acquia's product adoption continued to grow as well:
Our Drupal Cloud platform served nearly 600 billion HTTP requests in 2021 (1.6 billion requests a day).
Our Customer Data Platform delivered over 1 trillion Machine Learning predictions in 2021 (2.9 billion predictions a day). This is an almost 200% increase compared to last year, driven by both customer growth and Acquia releasing additional machine learning capabilities.
Acquia's Campaign Studio saw a 166% increase in emails sent.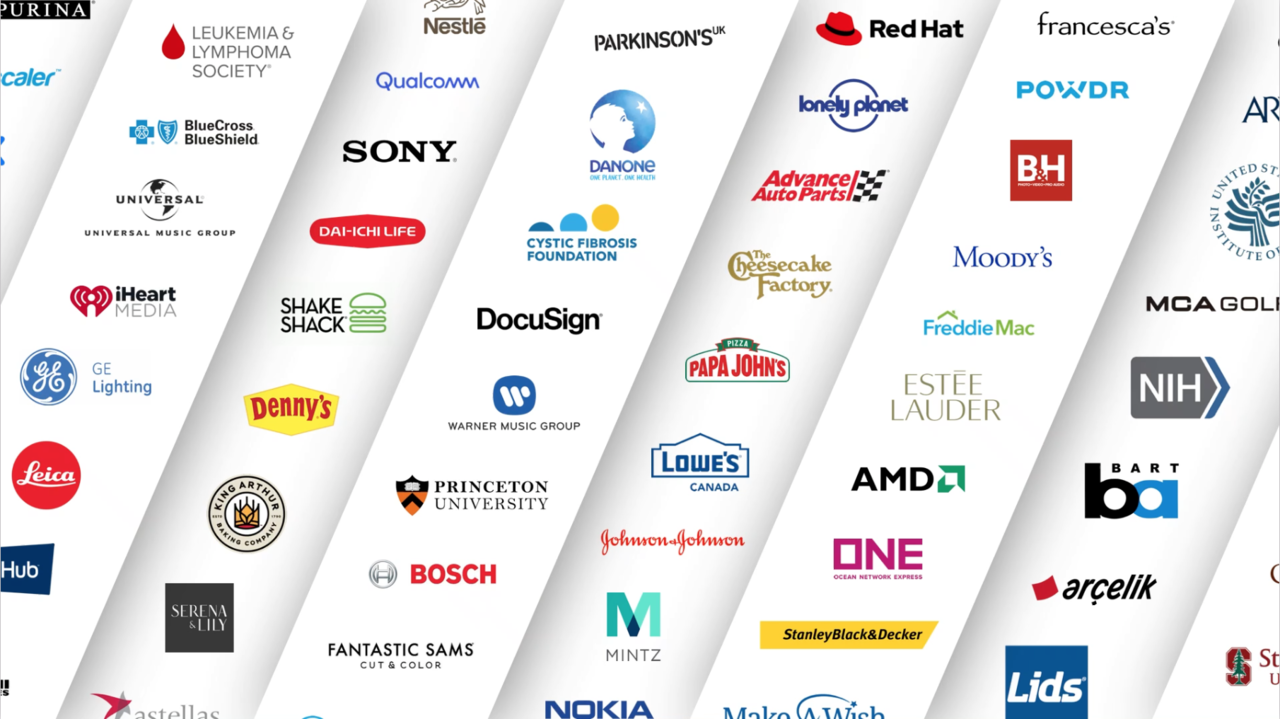 We continued to support nearly a quarter of the Fortune 100 organizations. Some customer highlights from last year include:
J. Crew: The iconic retailer uses Acquia CDP to improve its marketing campaigns. They saw double-digit lifts on order value, conversion rates, open rates, and click rates.
Fannie Mae: With wildfires wreaking havoc in the U.S., Fannie Mae wanted to provide wildfire relief information to homeowners and renters living in some of the most impacted areas. With Acquia DXP, 38% of visitors clicked on personalized content, helping them stay informed about critical resources.
Bayer: In the midst of the pandemic, pharmaceutical company Bayer needed to nurture its relationships with healthcare professionals. Bayer launched a new training website with 320+ training activities, with key performance indicators exceeding targets.
Last but not least, we continued to champion diversity and inclusion efforts. We organized opportunities for education and discussion around important observances like Black History Month and Asian American and Pacific Islander Heritage Month. We celebrated Pride, like we always do. We have added both Juneteenth and Indigenous People's Day as official Acquia-observed holidays in the U.S.
Executing on our product vision
The best way to learn about all the 2021 innovations is to watch my Acquia Engage 2021 keynote:
There are too many innovations to write about, but there are two product highlights I'd like to call out.
First, we released "Acquia Cloud Next" in Q1, a rewrite of our existing cloud platform. We support some of the highest-trafficked sites in the world, including coverage of the Olympics, the World Cup and the Australian Open. Our platform scales to hundreds of millions of page views and has the best security of any platform in the world (e.g. ISO-27001, PCI-DSS, SOC1, SOC2, IRAP, CSA STAR, etc).
Why rewrite our platform, you may ask? Because we found a way to deliver faster dynamic auto-scaling, further improve site isolation, deliver 5x faster database throughput, and make our infrastructure more self-healing.
Twelve years ago when we first launched Acquia Cloud, my personal site was its first production user. Once again, my site was the first production website to run on our new Acquia Cloud Next platform. It's been a happy website.
We have been migrating existing customers to Acquia Cloud Next throughout the year. As we exit 2021, the pace of migrations continues to accelerate. It's a major accomplishment for our team.
The second highlight is our acquisition of Widen, Acquia's largest acquisition to date. Widen is an integrated Digital Asset Management (DAM) and Product Information Management (PIM) platform. Content is at the heart of any digital experience. We acquired Widen, so our customers can create better content, more easily. Widen is off to an incredible start, beating our expectations.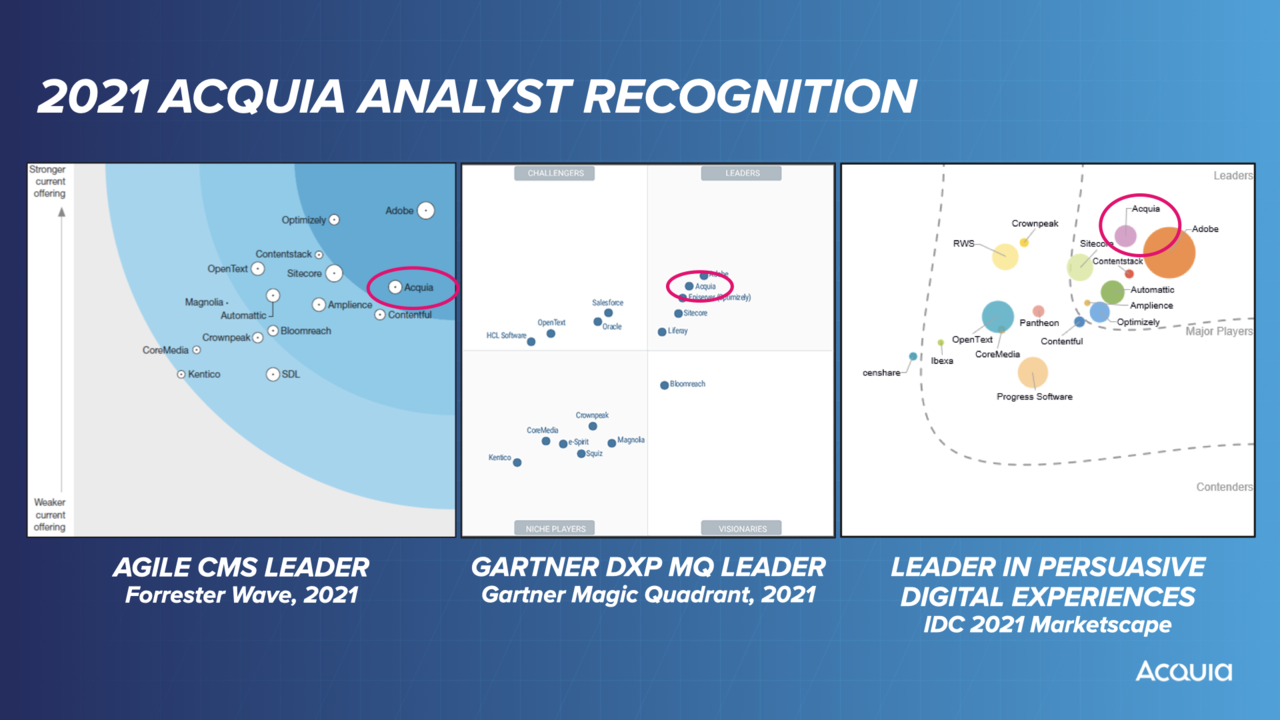 We received validation on our product strategy from some of the industry's best analyst firms. We received "Leader" placements in IDC MarketScape: Worldwide Content Management Systems for Persuasive Digital Experiences, Gartner Magic Quadrant for Digital Experience Platforms, and the Forrester Agile CMS Wave. Acquia was also placed on the Constellation ShortList for Digital Experience Platforms and was named a midsize enterprise customers' choice by Gartner Peer Insights for Digital Experience Platforms.
I'm proud of these analyst results because their opinions are based on both customer interviews and a deep understanding of the competitive landscape. It means our customers love the open, composable Digital Experience Platform (DXP) platform that we are building for them.
Giving back to Open Source
Drupal celebrated its 20th birthday in 2021. The Drupal community continues to march toward a Drupal 10 launch in 2022, while bringing important improvements to Drupal 9.
In 2021, Drupal received contributions from almost 7,500 individuals and over 1,000 organizations. You can read more about these trends in my 2021 "Who sponsors Drupal development?" report.
Acquia also continued to invest in Mautic, the Open Source marketing automation company that we acquired in 2019. Contributions to Open Source Mautic are up more than 40% compared to 2020. While Mautic is still a lot smaller than Drupal, it's great to see its steady growth.
I'm proud that Acquia is the top contributor to both Drupal and Mautic in 2021. I started Acquia to help grow Drupal. Fifteen years later, we are still very committed to that.
Acquia also became one of the founding members of the PHP Foundation, supporting its launch with a $25,000 donation. Both Drupal and Mautic are PHP applications. It's important to support the projects that we depend on.
Personal growth and development
Last year was another busy year for me. We grew the R&D team at Acquia by nearly 30%. By the end of 2021, the R&D team was over 450 individuals strong.
To help us scale our operations, we decided to organize the company into three internal business units, each with its own General Manager. The business units are Drupal Cloud, Marketing Cloud and Content Cloud (Widen).
We eased into this new organizational structure in the second half of the year.
Our VP of Product for Marketing Cloud left Acquia early in the year, so I stepped in and ran the Marketing Cloud team. In July, we hired Mark Picone as our first General Manager, responsible for Marketing Cloud.
The acquisition of Widen helped us establish the second business unit. Matthew Gonnering, the former CEO of Widen, became its General Manager.
With two General Managers in place, we were missing one for Drupal Cloud. In Q4, Jim Shaw, a 10+ year Acquia veteran, transitioned into the role of General Manager of Drupal Cloud.
By December of 2021, the business unit structure had more or less settled in: Mark and Matthew were ramped up, and Jim started in his new role as well. The General Managers report to Mike Sullivan (Acquia's CEO) and myself, and some of the teams that reported to me now report to the General Managers.
I'm excited about this change because for the past few years, 90% of my time has been internally focused and very operational. With the new business unit structure, I can be more externally facing again.
While it's early days, the General Managers have already taken some operational work off my plate – from driving weekly program meetings, to approving expenses and budgets, to tracking progress on hiring, and more.
I start 2022 with the ability to focus a bit more on strategic work including vision, product portfolio management, thought-leadership, acquisitions, and more. And if we can get past COVID, I'm excited to start traveling again. I can't wait to attend conferences, meet customers, spend time with the Drupal and Mautic community, and visit our offices around the world.
Thank you
Looking back at 2021, I'm reminded of how lucky I am to work with an amazing team. While it's hard not to be frustrated by the pandemic's ongoing disruption, I feel fortunate for the position both Acquia and Drupal are in today. Here is to good health and continued prosperity in 2022.
— Dries Buytaert