In my 2018 Acquia retrospective, I reflect on our business momentum, the evolution of the Acquia Platform, and why the market continues to move in Acquia's direction.
Every year, I sit down to write my annual Acquia retrospective. It's a rewarding exercise, because it allows me to reflect on how much progress Acquia has made in the past 12 months.
Overall, Acquia had an excellent 2018. I believe we are a much stronger company than we were a year ago; not only because of our financial results, but because of our commitment to strengthen our product and engineering teams.
If you'd like to read my previous retrospectives, they can be found here: 2017, 2016, 2015, 2014, 2013, 2012, 2011, 2010, 2009. This year marks the publishing of my tenth retrospective. When read together, these posts provide a comprehensive overview of Acquia's growth and trajectory.
Updating our brand
Exiting 2017, we doubled down on our transition from website management to digital experience management. In 2018, we updated our product positioning and brand narrative to reflect this change. This included a new Acquia Experience Platform diagram: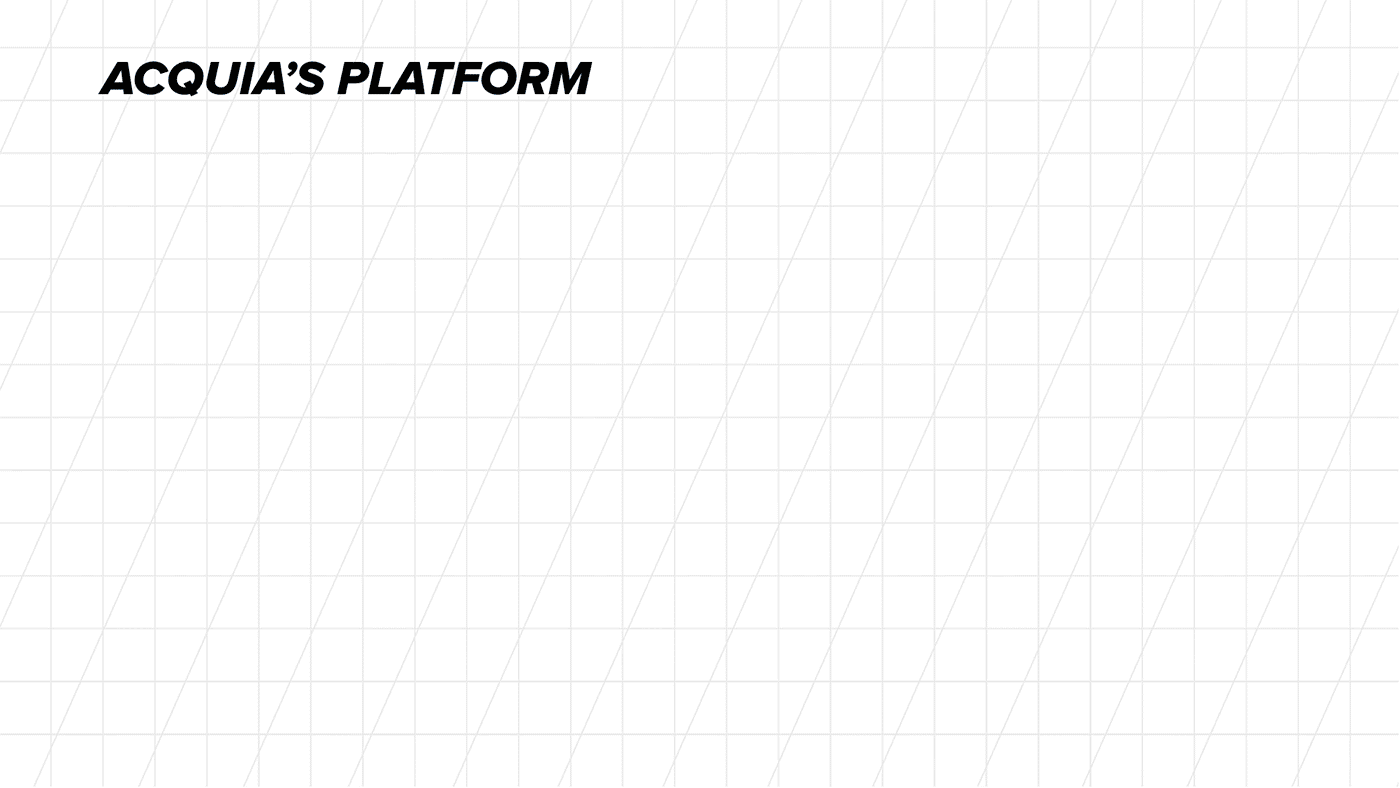 In 2018, the Acquia marketing team also worked hard to update Acquia's brand. The result is a refreshed look and updated brand positioning that better reflects our vision, culture, and the value we offer our customers. This included updating our tagline to read: Experience Digital Freedom.
I think Acquia's updated brand looks great, and it's been exciting to see it come to life. From highway billboards to Acquia Engage in Austin, our updated brand has been very well received.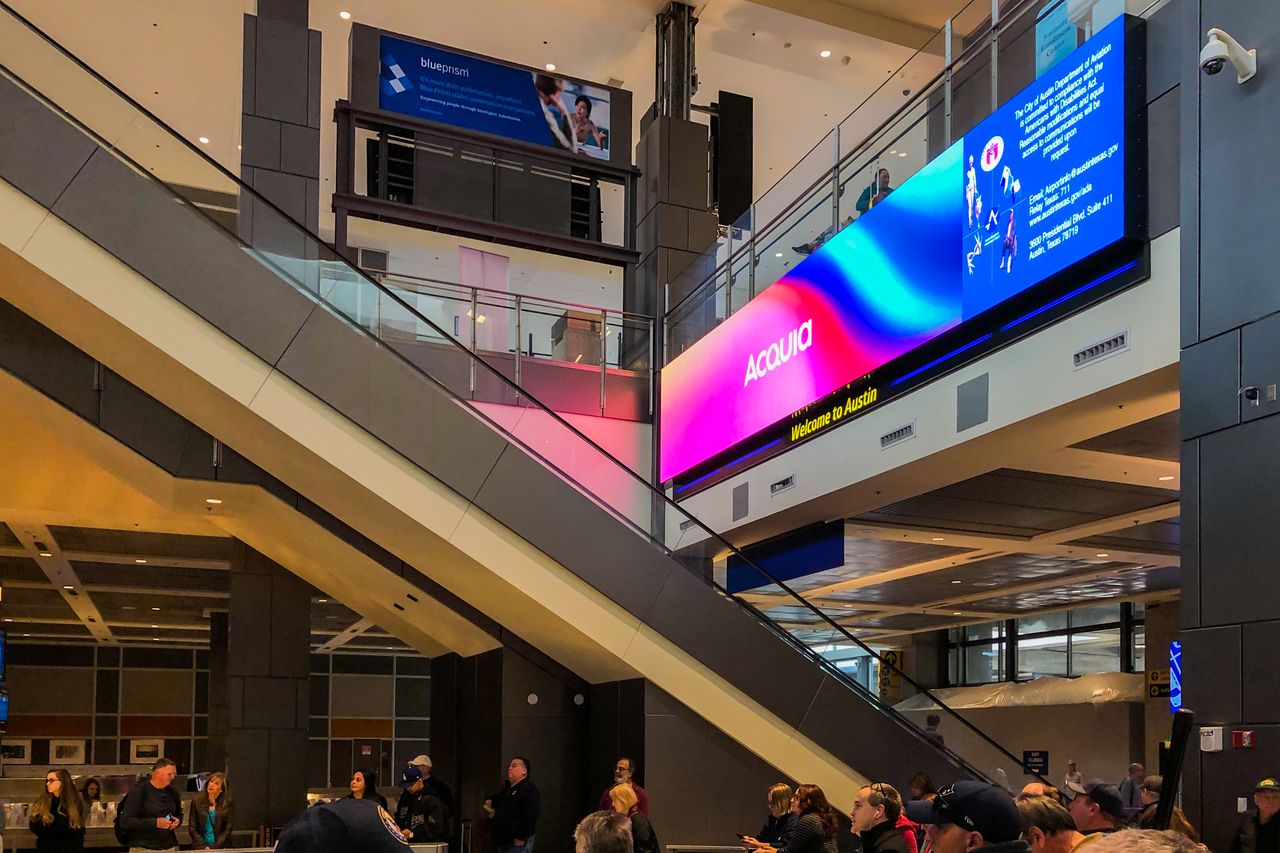 Business momentum
This year, Acquia surpassed $200 million in annualized revenue. Overall new subscription bookings grew 33 percent year over year, and we ended the year with nearly 900 employees.
Mike Sullivan completed his first year as Acquia's CEO, and demonstrated a strong focus on improving Acquia's business fundamentals across operational efficiency, gross margins and cost optimization. The results have been tangible, as Acquia has realized unprecedented financial growth in 2018:
Channel-partner bookings grew 52 percent
EMEA-based bookings grew 103 percent
Gross profit grew 39 percent
Adjusted EBITDA grew 78 percent
Free cash flow grew 84 percent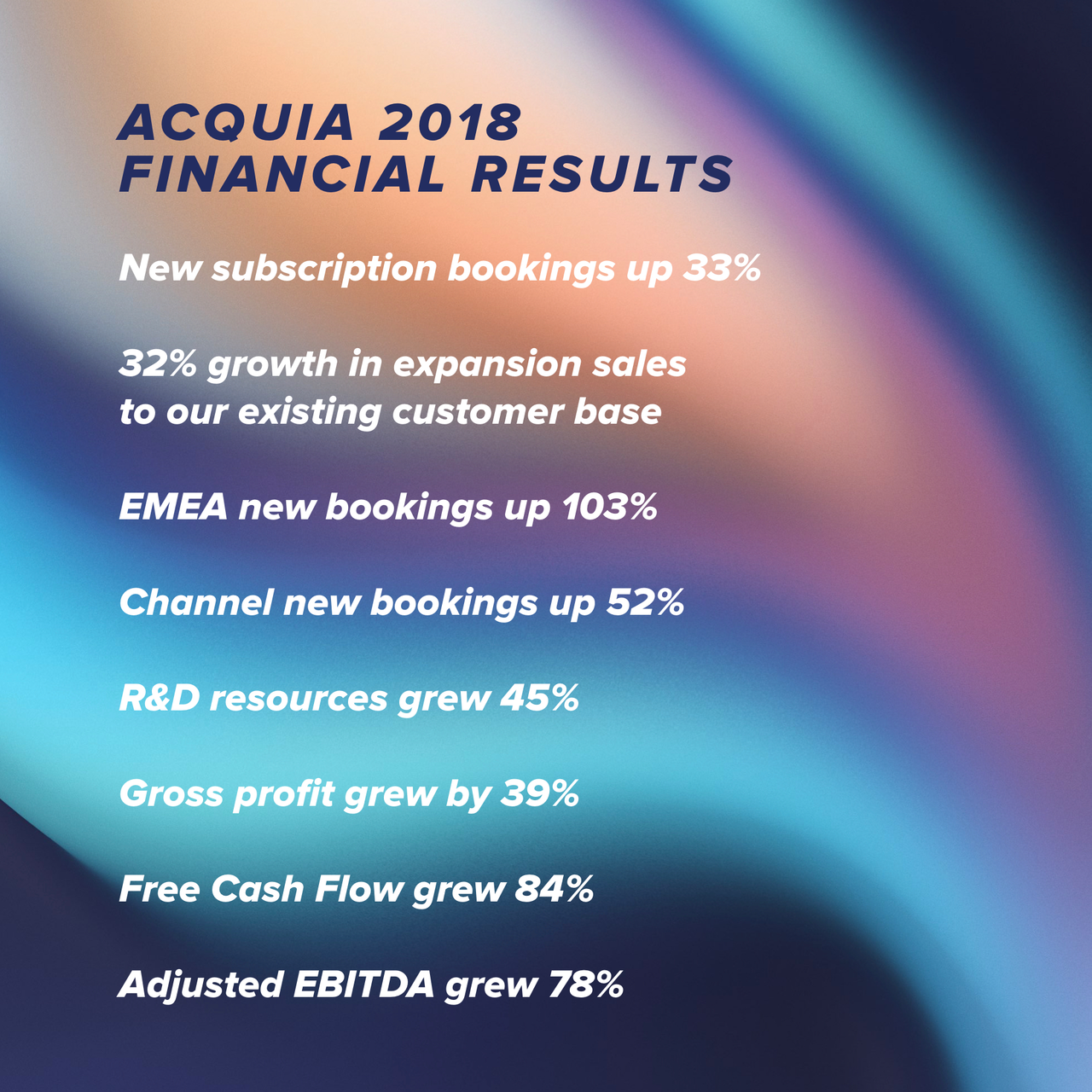 International growth and expansion
In 2018, Acquia also witnessed unprecedented success in Europe and Asia, as new bookings in EMEA were up more than 100 percent. This included expanding our European headquarters to a new and larger space with a ribbon-cutting ceremony with the mayor of Reading in the U.K.
Acquia also expanded its presence in Asia, and opened Tokyo-based operations in 2018. Over the past few years I visited Japan twice, and I'm excited for the opportunities that doing business in Japan offers.
We selected Pune as the location for our new India office, and we are in the process of hiring our first Pune-based engineers.
Acquia now has four offices in the Asia Pacific region serving customers like Astellas Pharmaceuticals, Muji, Mediacorp, and Brisbane City Council.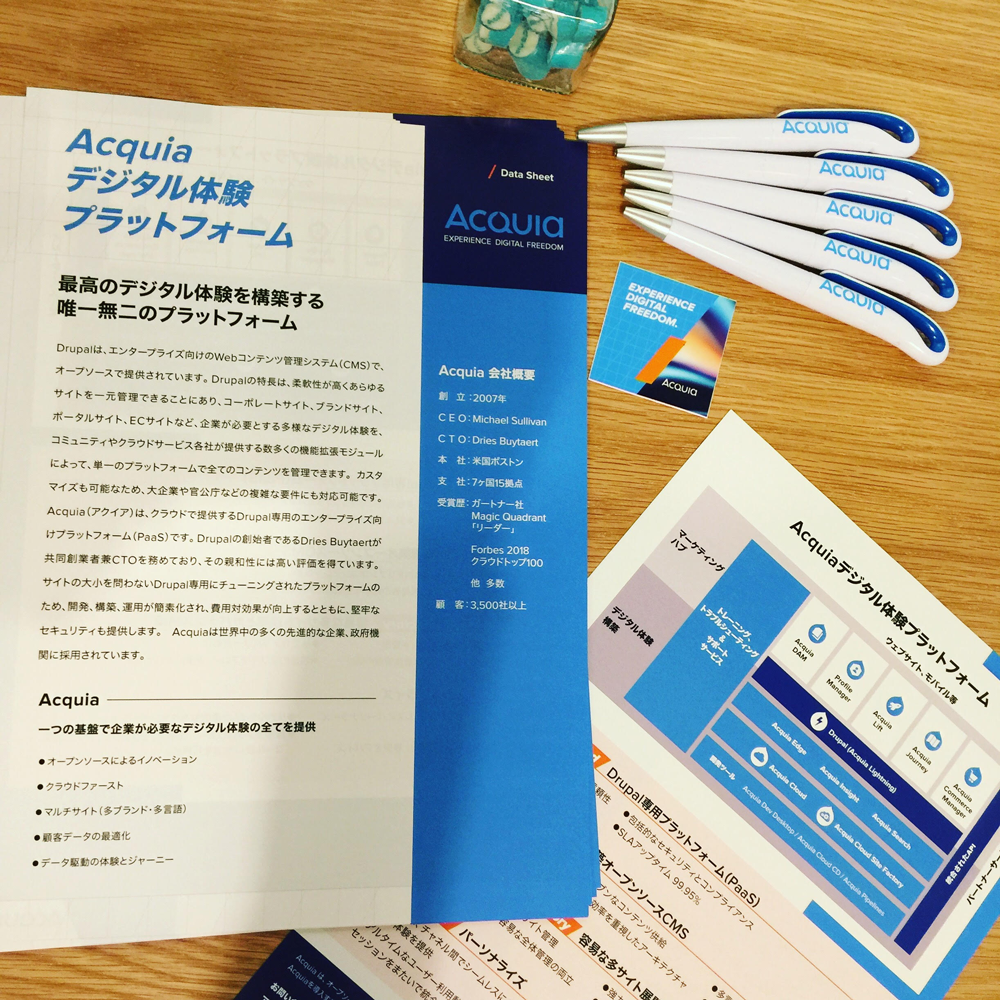 Acquia Engage
In 2018, we welcomed more than 650 attendees to Austin, Texas, for our annual customer conference, Acquia Engage. In June, we also held our first Acquia Engage Europe and welcomed 300 attendees.
Our Engage conferences included presentations from customers like Paychex, NBC Sports, Wendy's, West Corporation, General Electric, Charles Schwab, Pac-12 Networks, Blue Cross Blue Shield, Bayer, Virgin Sport, and more. We also featured keynote presentations from our partner network, including VMLY&R, Accenture Interactive, IBM iX and MRM//McCann.
Both customers and partners continue to be the most important driver of Acquia's product strategy, and it's always rewarding to hear about this success first hand. In fact, 2018 customer satisfaction levels remain extremely high at 94 percent.
Partner program
Finally, Acquia's partner network continues to become more sophisticated. In the second half of 2018, we right sized our partner community from 2,270 firms to 226. This was a bold move, but our goal was to place a renewed focus on the partners who were both committed to Acquia and highly capable. As a result, we saw almost 52 percent year-over-year growth in partner-sourced ACV bookings. This is meaningful because for every $1 Acquia books in collaboration with a partner, our partner makes about $5 in services revenue.
Analyst recognition
In 2018, the top industry analysts published very positive reviews about Acquia. I'm proud that Acquia was recognized by Forrester Research as the leader for strategy and vision in The Forrester Wave: Web Content Management Systems, Q4 2018. Acquia was also named a leader in the 2018 Gartner Magic Quadrant for Web Content Management, marking our placement as a leader for the fifth year in a row.
Product milestones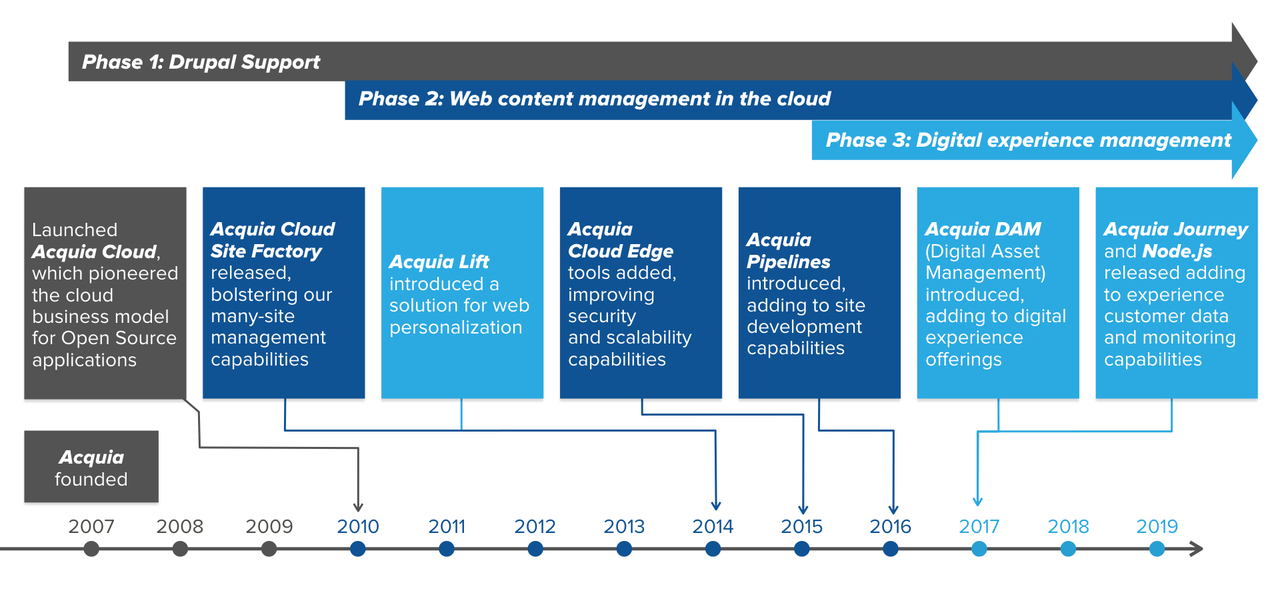 2018 was one of the busiest years I have experienced; it was full of non-stop action every day. My biggest focus was working with Acquia's product and engineering team. We focused on growing and improving our R&D organization, modernizing Acquia Cloud, becoming user-experience first, redesigning the Acquia Lift user experience, working on headless Drupal, making Drupal easier to use, and expanding our commerce strategy.
Hiring, hiring, hiring
In partnership with Mike, we decided to increase the capacity of our research and development team by 60 percent. At the close of 2018, we were able to increase the capacity of our research and development team by 45 percent percent. We will continue to invest in growing our our R&D team in 2019.
I spent a lot of time restructuring, improving and scaling the product organization to make sure we could handle the increased capacity and build out a world-class R&D organization.
As the year progressed, R&D capacity came online and our ability to innovate not only improved but accelerated significantly. We entered 2019 in a much better position as we now have a lot more capacity to innovate.
Acquia Cloud
Acquia Cloud and Acquia Cloud Site Factory support some of the largest and most mission-critical websites in the world. The scope and complexity that Acquia Cloud and Acquia Cloud Site Factory manages is enormous. We easily deliver more than 30 billion page views a month (excluding CDN).
Over the course of 10 years, the Acquia Cloud codebase had grown very large. Updating, testing and launching new releases took a long time because we had one large, monolithic codebase. This was something we needed to change in order to add new features faster.
Over the course of 2018, the engineering team broke the monolithic codebase down into discrete components that can be tested and released independently. We launched our component-based architecture in June. Since then, the engineering team has released changes to production 650 times, compared to our historic pace of doing one release per quarter.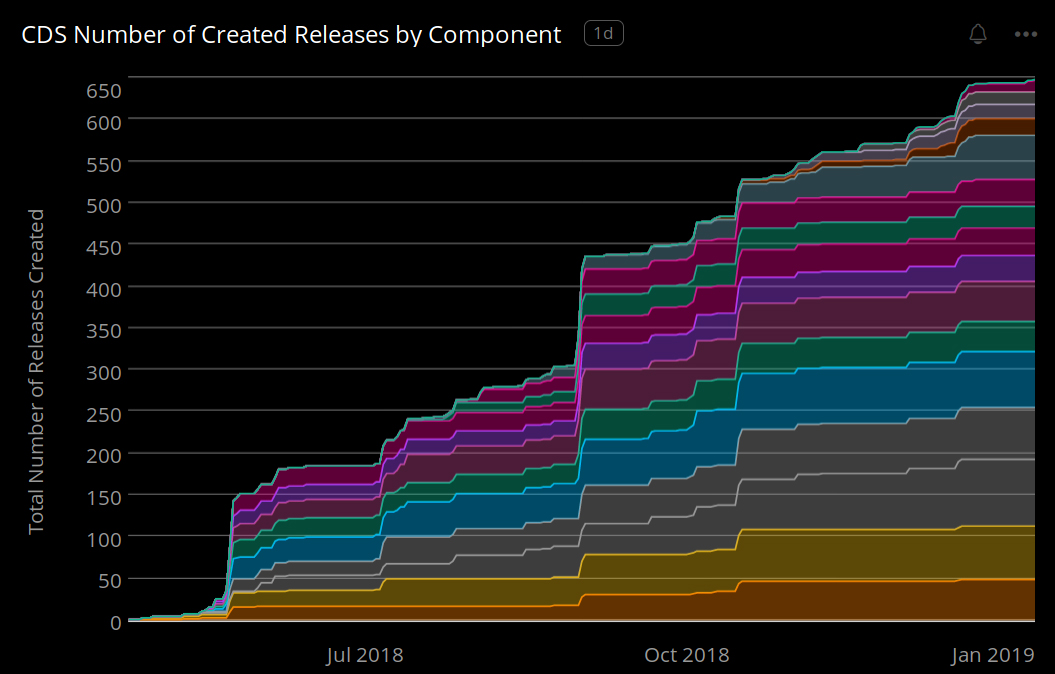 Planning and designing for all of these services took a lot of time and focus, and was a large priority for the entire engineering team (including me).
Acquia Cloud also remains the most secure and compliant cloud for Drupal. As we were componentizing the Acquia Cloud platform, the requirements to maintain our FedRAMP compliance became much more stringent. In April, the GDPR deadline was also nearing. Executing on hundreds of FedRAMP- and GDPR-related tasks emerged as another critical priority for many of our product and engineering teams. I'm proud that the team succeeded in accomplishing this amid all the other changes we were making.
Customer experience first
Over the years, I've felt Acquia lacked a focus on user experience (UX) for both developers and marketers. As a result, increasing the capacity of our R&D team included doubling the size of the UX team.
We've stepped up our UX research to better understand the needs and challenges of those who use Acquia products. We've begun to employ design-first methodologies, such as design sprints and a lean-UX approach. We've also created roles for customer experience designers, so that we're looking at the full customer journey rather than just our product interfaces.
With the extra capacity and data-driven changes in place, we've been working hard on updating the user experience for the entire Acquia Experience Platform. For example, you can see a preview of our new Acquia Lift product in this video, which has an increased focus on UX:
Drupal
In 2018, Drupal 8 adoption kept growing and Drupal also saw an increase in the number of community contributions and contributors, both from individuals and from organizations.
Acquia remains very committed to Drupal, and was the largest contributor to the project in 2018. We now have more than 15 employees who contribute to Drupal full-time, in addition to many others that contribute periodically. In 2018, the Drupal team's main areas of focus have been Layout Builder and the API-first initiative:
Layout Builder: Layout Builder offers content authors an easy-to-use page building experience. It's shaping up to be one of the most useful and pervasive features ever added to Drupal because it redefines the how editors control the appearance of their content without having to rely on a developer.
API First: This initiative has given Drupal a true best-in-class web services API for using Drupal as a headless content management system. Headless Drupal is one of the fastest growing segments of Drupal implementations.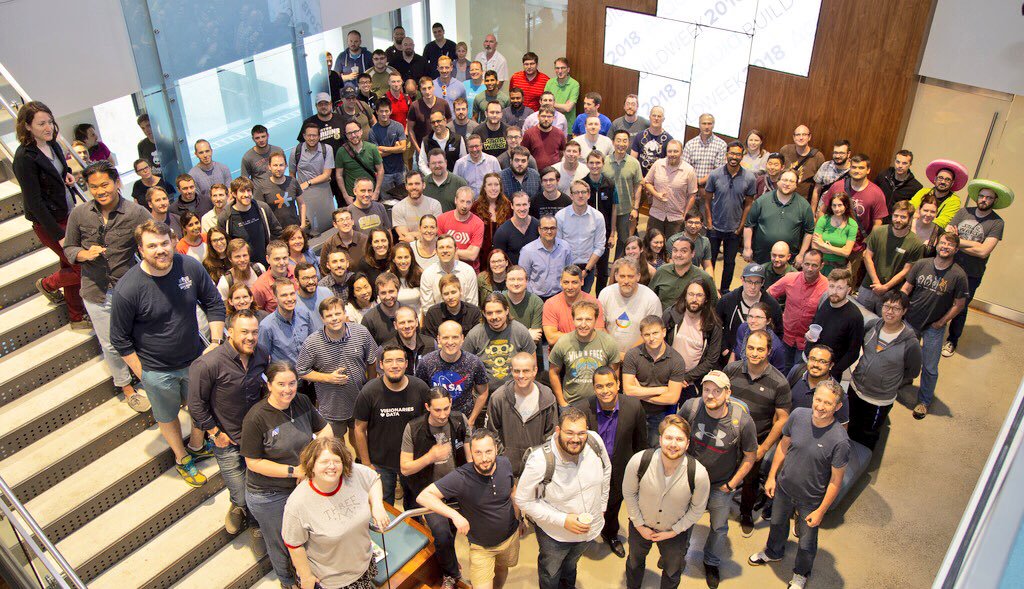 Content and Commerce
Adobe's acquisition of Magento has been very positive for us; we're now the largest commerce-agnostic content management company to partner with. As a result, we decided to extend our investments in headless commerce and set up partnerships with Elastic Path and BigCommerce. The momentum we've seen from these partnerships in a short amount of time is promising for 2019.
The market continues to move in Acquia's direction
In 2019, I believe Acquia will continue to be positioned for long-term growth. Here are a few reasons why:
The current markets for content and digital experience management continues to grow rapidly, at approximately 20 percent per year.
Digital transformation is top-of-mind for all organizations, and impacts all elements of their business and value chain.
Open source adoption continues to grow at a furious pace and has seen tremendous business success in 2018.
Cloud adoption continues to grow. Unlike most of our CMS competitors, Acquia was born in the cloud.
Drupal and Acquia are leaders in headless and decoupled content management, which is a fast growing segment of our market.
Conversational interfaces and augmented reality continues to grow, and we embraced these channels a few years ago. Acquia Labs, our research and innovation lab, explored how organizations can use conversational UIs to develop beyond-the-browser experiences, like cooking with Alexa, and voice-enabled search for customers like Purina.
Although we hold a leadership position in our market, our relative market share is small. These trends mean that we should have plenty of opportunity to grow in 2019 and beyond.
Thank you
While 2018 was an incredibly busy year, it was also very rewarding. I have a strong sense of gratitude, and admire every Acquian's relentless determination and commitment to improve. As always, none of these results and milestones would be possible without the hard work of the Acquia team, our customers, partners, the Drupal community, and our many friends.
I've always been pretty transparent about our trajectory (e.g. Acquia 2009 roadmap and Acquia 2017 strategy) and will continue to do so in 2019. We have some big plans for 2019, and I'm excited to share them with you. If you want to get notified about what we have in store, you can subscribe to my blog at https://dri.es/subscribe.
Thank you for your support in 2018!
— Dries Buytaert