In my 2022 Acquia retrospective, I reflect on our business momentum and the evolution of the Acquia Experience Platform.
At the beginning of each year, I publish a retrospective that looks back on the prior year at Acquia. I write these both to reflect on the year, and to keep a record of things that happen at the company. I've been doing this for the past 14 years.
If you'd like to read my previous retrospectives, you can find them here: 2021, 2020, 2019, 2018, 2017, 2016, 2015, 2014, 2013, 2012, 2011, 2010, 2009.
Reflecting on my retrospectives
As Acquia has grown, it has become increasingly challenging for me to share updates on the company's progress in a way that feels authentic and meaningful.
First, I sometimes feel there are fewer exciting milestones to report on. When a company is small and in startup mode, each year tends to bring significant changes and important milestones. As a company transitions to steady growth and stability, the rate of change tends to slow down, or at least, feel less newsworthy. I believe this to be a natural evolution in the lifecycle of a company and not a negative development.
Second, while it was once exciting to share revenue and headcount milestones, it now feels somewhat self-indulgent and potentially off-putting. In light of the current global challenges, I want to be more mindful of the difficulties that others may be experiencing.
I've also been surprised and humbled by the thorough reading of my retrospectives by a wide range of audiences, including customers, partners, investors, bankers, competitors, former Acquians, and industry analysts.
Because of that I have come to realize that my retrospectives have gradually transformed from a celebration of rapid business milestones to something more akin to a shareholder letter — a way for a company to provide insight into its operations, progress, and future plans. As a business student, I have always enjoyed reading the annual shareholder letters of great companies. Some of my favorite shareholder letters offer a glimpse into the leadership's thinking and priorities.
As I continue to share my thoughts and progress through these annual retrospectives, I aim to strike a balance between transparency, enthusiasm, and sensitivity to the current environment. It is my hope that my updates provide valuable insights and serve as historical markers on the state of Acquia each year. Thank you for taking the time to read them.
Acquia business momentum
When writing my 2022 update, it's impossible to ignore the macroeconomic situation.
The year 2022 was marked by inflation, tighter monetary conditions, and conflict in Europe. This caused asset price bubbles to deflate. While this led to lower valuations and earnings multiples for technology companies, corporate earnings generally held up relatively well in comparison.
Looking ahead to 2023, Jerome Powell and the Federal Reserve are expected to keep their foot on the brake. They will keep interest rates high to tame inflation. Higher interest rates translate to slower growth and margin compression.
In anticipation of lower growth and margin compression, many companies reduced their forecasts for 2023 and adjusted their spending. This has resulted in layoffs across the technology sector.
I have great empathy for those who have lost their jobs or businesses as a result. It is a difficult and unsettling time, and my thoughts are with those affected.
I share these basic macroeconomic trends because they played out at Acquia as well. Like many companies, we adjusted our spending throughout the year. This allowed us to exit 2022 with the highest gross margins and EBITDA margins in our history. If the economy slows down in 2023, Acquia is well-positioned to weather the storm.
That said, we did continue our 16-year, unbroken revenue growth streak in 2022. We saw a healthy increase in our annual recurring revenue (ARR). We signed up many new customers, but also renewed existing customers at record-high rates.
I attribute Acquia's growth to the fact that demand for our products hasn't slowed. Digital is an essential part of most organizations' business strategies. Acquia's products are a "must have" investment even in a tough economy, rather than a "nice to have".
In short, we ended the year in our strongest financial position yet – both at the top line and the bottom line. It feels good to be a growing, profitable company in the current economic climate. I'm grateful that Acquia is thriving.
Can you clarify exactly what Acquia does?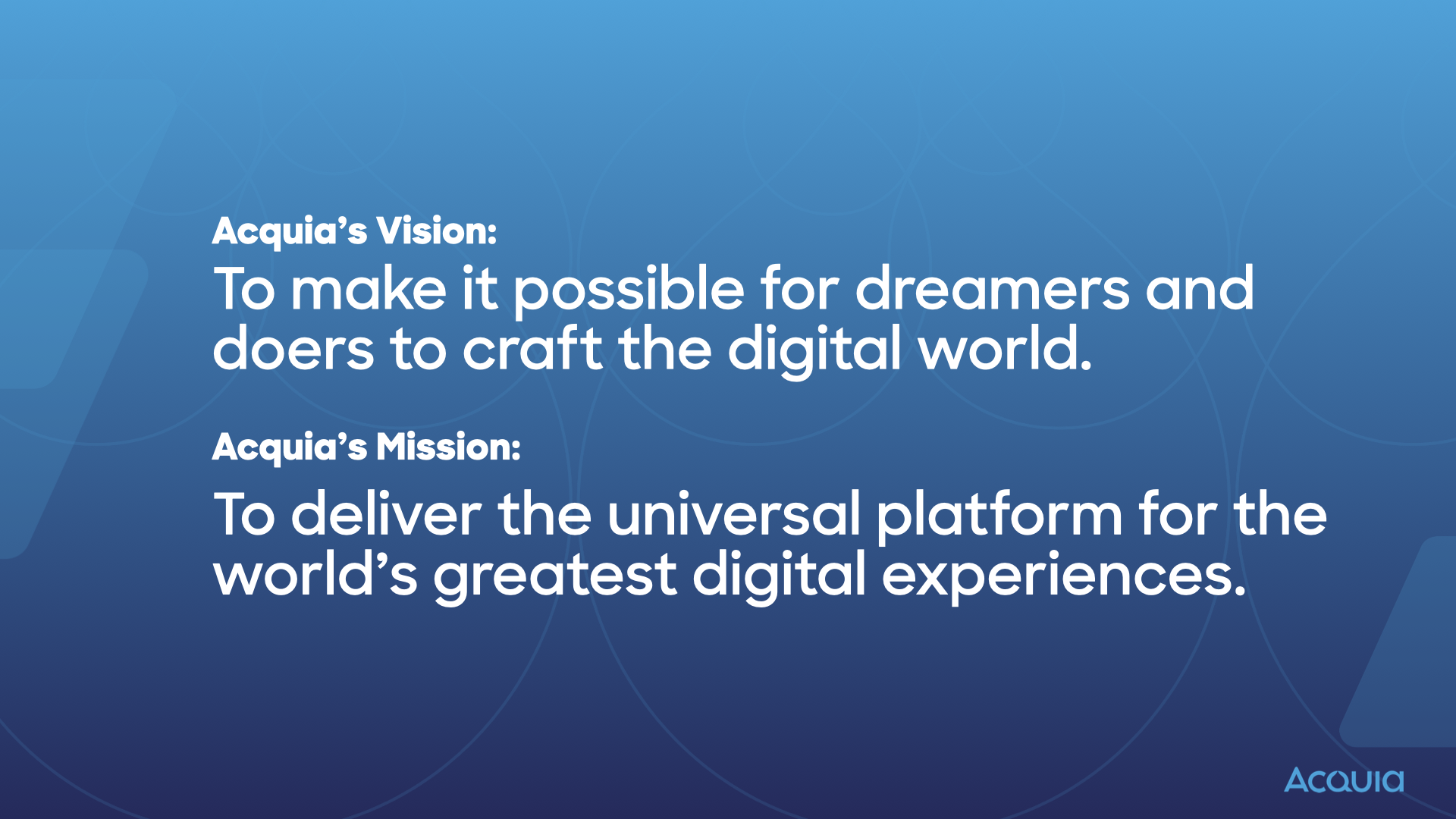 Frequently, I am asked: Can you clarify exactly what Acquia does?. Often, people only have a general understanding of our business. They vaguely know it has something to do with Drupal.
In this retrospective, I thought it would be helpful to illustrate what we do through examples of our work with customers in 2022.
Our core business is assisting organizations in building, designing, and maintaining their online presence. We specialize in serving customers with high-traffic websites, many websites, or demanding security and compliance requirements. Our platform scales to hundreds of millions of page views and has the best security of any Drupal hosting platform in the world (e.g. ISO-27001, PCI-DSS, SOC1, SOC2, IRAP, CSA STAR, FedRAMP, etc).
For example, we worked closely with Bayer throughout 2022. Bayer Consumer Health had 400+ sites on a proprietary platform coming to the end of its life, and needed to replatform those sites in a very tight timeframe. Bayer rebuilt these sites in Drupal and migrated its operations to Acquia Cloud in the span of 1.5 years. At the peak of the project, Bayer migrated 100 sites a month. Bayer reduced time to market by 40%, with new sites taking two to three weeks to launch. Organic traffic increased from 4% to 57%. Visit durations have increased 13% and the bounce rate has dropped 19%. As a result of the replatform, Bayer has realized a $15 million efficiency in IT and third-party costs over three years.
For many organizations, the true challenge in 2023 is not redesigning or replatforming their websites (using the latest JavaScript framework), or even maintaining their websites. The more impactful business challenge is to create better, more personalized customer experiences. Organizations want to deliver highly relevant customer experiences not only on their websites, but across other channels such as mobile, email, and social.
The issue that organizations face is that they don't have a deep enough understanding of their customers to make experiences highly relevant. While they may collect a large amount of data, they struggle to use it. Customer data is often scattered across various systems: websites, commerce platforms, email marketing tools, in-store point of sale systems, call center software, and more. These systems are often siloed and do not allow for a comprehensive understanding of the customer.
This is a second area of focus for Acquia, and one that has been growing in importance. Acquia helps these organizations integrate all of these systems and create a unified profile for each customer. By breaking down the data silos and establishing a single, reliable source of information about each customer, we can better understand a customer's unique needs and preferences, leading to significantly improved customer experiences.
In 2022, outdoor retailer Sun & Ski Sports used Acquia's Customer Data Platform (CDP) to drive personalized customer experiences across a variety of digital channels. Acquia CDP unified their customer data into a single source of truth, and helped Sun & Ski Sports recognize subtle but impactful trends in their customer data that they couldn't identify before. The result is a 1,500% increase in response rate for direct mail efforts, a 1,100% improvement in incremental net profit on direct mail pieces, a 200% increase in paid social clickthrough rates, and a 25% reduction in cost per click for paid social efforts.
A third area of focus for Acquia is helping our customers manage their digital content more broadly, beyond just their website content. For example, Autodesk undertook a global rebrand. Their goal was to go from a house of brands to a branded house. This meant Autodesk had to update many digital assets such as images and videos across websites, newsletters, presentations, and even printed materials. Using Acquia DAM, Autodesk redesigned the process of packaging, uploading, and releasing their digital assets to their 14,000 global employees, partners, and the public.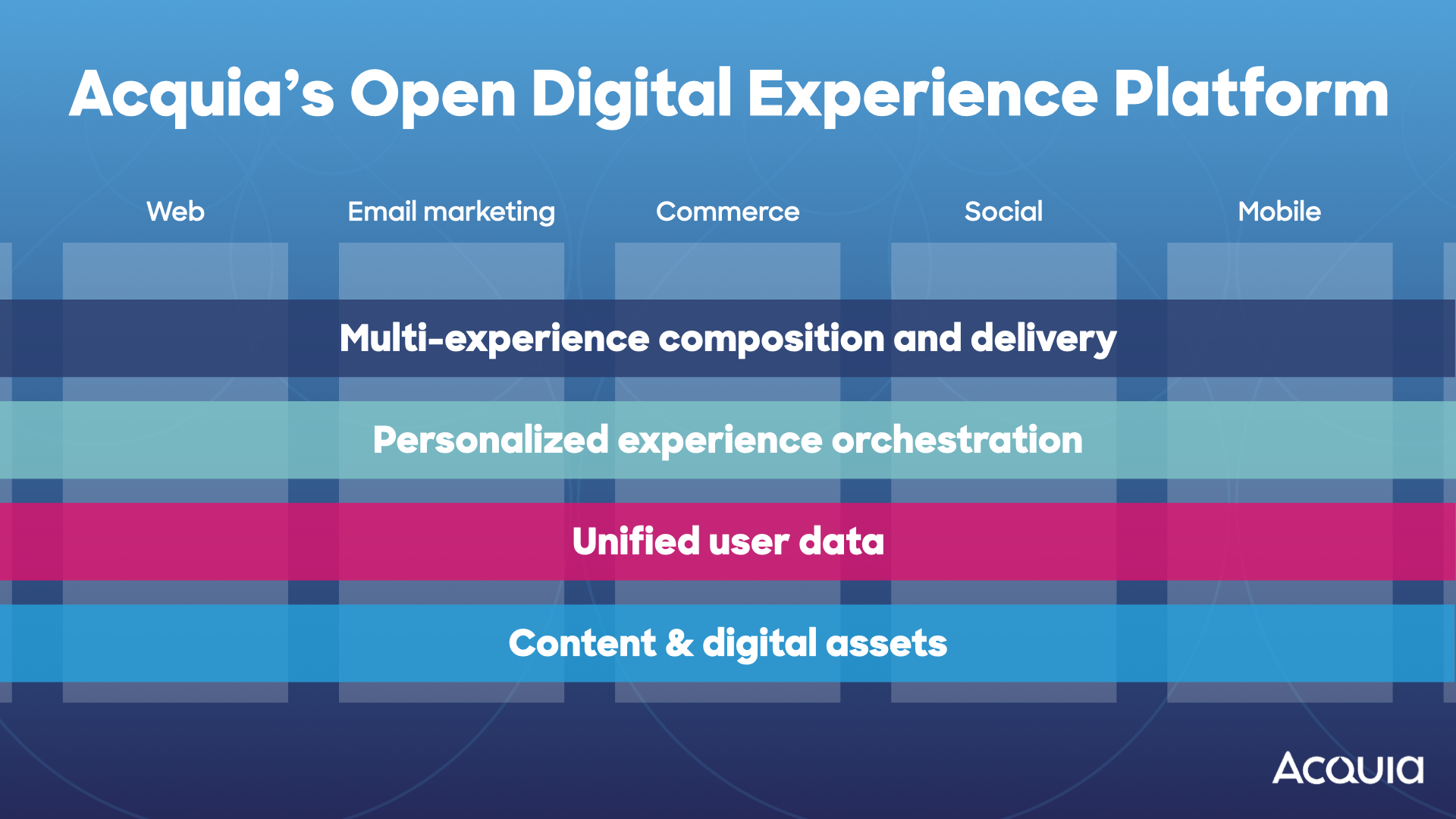 When people ask me what Acquia does, they usually know we do something with Drupal. But they often don't realize how much more we do. Initially known exclusively for our Drupal-in-the-cloud offering, we have since expanded to provide a comprehensive Open Digital Experience Platform. This shift has allowed us to offer a more comprehensive solution to help our customers be digital winners.
Customer validation
At our customer and partner conference, Acquia Engage, we shared the stage with some of our customers, including ABInBev, Academy Mortgage, the American Medical Association, Autodesk, Bayer, Burn Boot Camp, Japan Airlines, Johnson Outdoors, MARS, McCormick, Novavax, Omron, Pearl Musical Instruments, Phillips 66, Sony Pictures, Stanley Black & Decker, and Sun & Ski Sports. Listening to their success stories was a highlight of the year for me.
I'm also particularly proud of the fact that in 2022, our customers recognized us across two of the most popular B2B software review sites, TrustRadius and G2. Acquia earned Top Rated designation on TrustRadius four times over, and was named a Leader by G2 users in 20 areas.
The results prove that customers want what we're building, which is a great feeling. I'm proud of what our team has accomplished.
Analyst validation
We also received validation on our product strategy from some of the industry's top analyst firms, including "Leader" placements in The Forrester Wave: Digital Asset Management For Customer Experience, Q1 2022 Report, as well as in the 2022 Gartner Magic Quadrant for Digital Experience Platforms.
In addition, Acquia advanced to become a "Leader" in the Omdia Digital Experience Management Universe Report, was named an "Outperformer" in the GigaOm Radar Report for DXPs, and was included on Constellation Shortlists across seven categories, including DXP, CMS, CDP, and DAM.
Analyst reports are important to our customers and prospects because these firms take into account customer feedback, a deep understanding of the market, and each vendor's product strategy and roadmap.
Executing on our product vision
In October, I published a Composable Digital Experience Manifesto, a comprehensive 3,500-word update on Acquia's product strategy.
In this manifesto, I outline the growing demand for agility, flexibility, and speed in the enterprise sector and propose a solution in the form of Composable Digital Experience Platforms (DXPs).
Composable DXPs allow organizations to quickly assemble solutions from pre-existing building blocks, often using low-code or no-code interfaces. This enables organizations to adapt to changing business needs.
In my manifesto, I outline six principles that are essential for a DXP to be considered "composable", and I explain how Acquia is actively investing in research and development in alignment with these principles.
A summary of Acquia's current R&D investments in relation to these principles includes:
Component discovery and management tools. This includes tools to bundle components in pre-packaged business capabilities, CI/CD pipelines for continuous integration of components, and more.
Low-code / no-code tooling to speed up experience building. No-code tools also enable all business stakeholders to participate in experience creation and delivery.
Headless and hybrid content management so content can be delivered across many channels.
A unified data layer on which content personalization and journey orchestration tools operate.
Machine learning-based automation tools to tailor and orchestrate experiences to people's preferences.
Services that streamline the management and sharing of content across an organization.
Services to manage a global portfolio of diverse sites and deliver experiences at scale.
For a more detailed explanation of these concepts, I encourage you to read my manifesto at https://dri.es/a-composable-digital-experience-manifesto.
While there are six principles, there are four fundamental blocks to creating and delivering exceptional digital customer experiences: (1) managing content and digital assets, (2) managing user data, (3) personalized experience orchestration using machine learning, and (4) multi-experience composition and delivery across digital touchpoints. In the next sections, I'll talk a bit more about each of these four.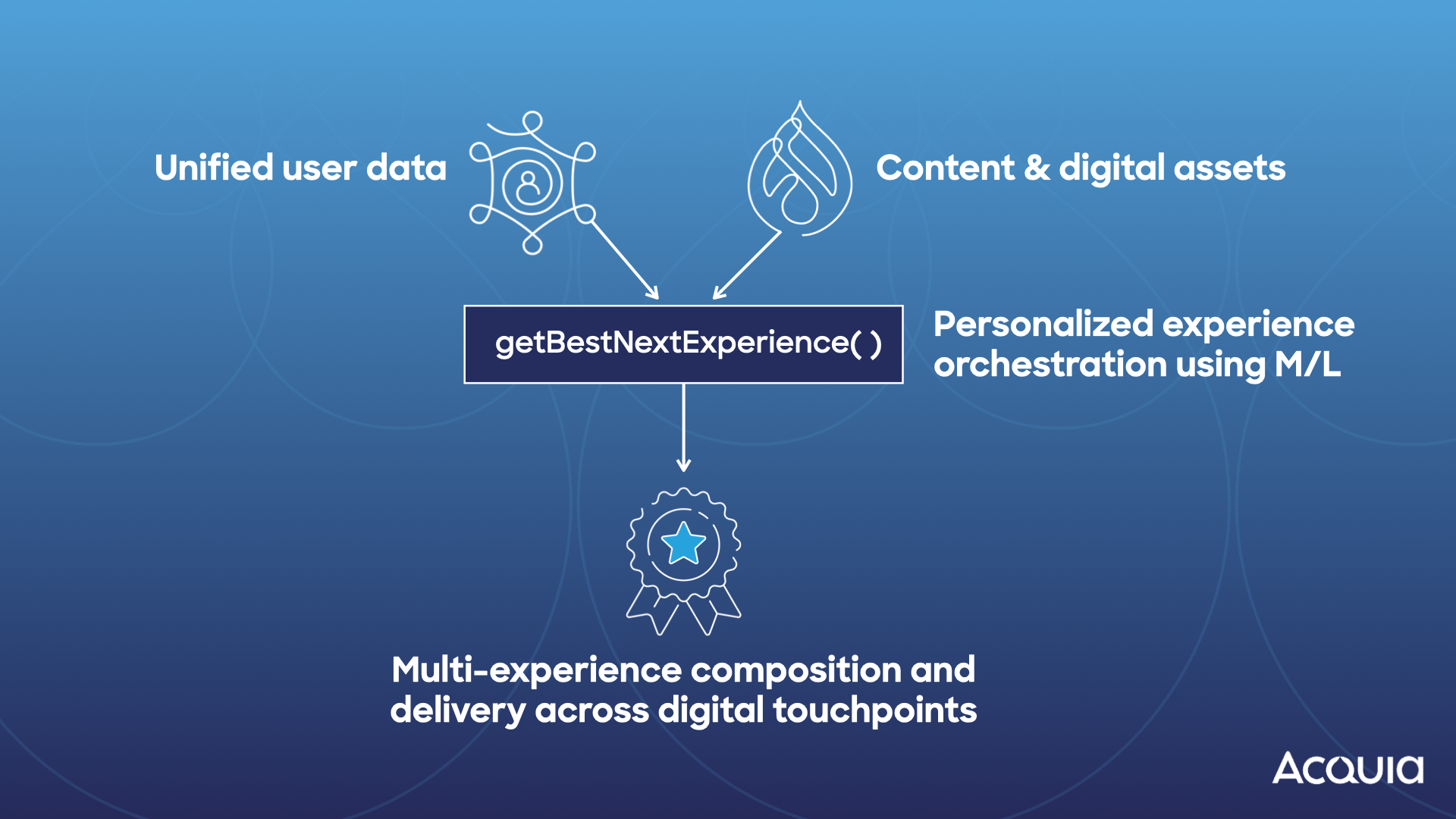 Managing content and digital assets
Given the central role of content in any digital experience, content management is a core capability of any DXP. Our content management capabilities are centered around Drupal and Acquia DAM.
Drupal has long been known for its ability to effectively manage and deliver content across various channels and customer touchpoints. In 2022, Drupal made significant strides with the release of Drupal 10, a major milestone that has taken 22 years to achieve.
The Drupal 10 release was covered by numerous articles on the web so I won't repeat the main Drupal 10 advancements or features in my retrospective. I do want to highlight Acquia's contributions to its success. Acquia was founded with the goal of supporting Drupal and, 16 years later, we continue to fulfill that mission as the largest corporate contributor to Drupal 10. I am proud of the work we have done to support the Drupal community and the release of Drupal 10.
I also wanted to provide an update on Acquia DAM. In 2021, Acquia acquired Widen, a digital asset management platform (DAM), and rebranded it as Acquia DAM. In 2022, we integrated it into both Drupal and Acquia's products.
Providing our customers with strong content management capabilities is essential to help them create great digital experiences. The integration of Widen marks an important step towards achieving our vision and implementing our strategy.
The combination of Drupal and Acquia DAM allows us to assist our customers in managing a wide range of digital content, including website content, images, videos, PDFs, and product information.
Managing user data
We have been investing in experience personalization since 2013, and over the past eight years, the market has continued to move toward data-driven, personalized experiences. IDC predicts that the Customer Data Platform (CDP) market will grow about 20% per year, reaching $3.2 billion by 2025.
This growth is driven by significant market changes, such the end of browser support for third-party cookies and the necessity for marketers to create personal customer experiences that are compliant with privacy regulations. The use of first-party data has become increasingly crucial. Acquia CDP is helping our customers with exactly this, and it's the perfect tool for this moment in time.
In order to deliver great customer experiences, it is essential that our customers have a single, accurate source of truth for customer data and complete user profiles. To achieve this, we made the decision to replatform our marketing products on Snowflake throughout 2022, a major architectural undertaking.
With Snowflake serving as our shared data layer, our customers now have easy and direct access to all of their customer data. This allows them to leverage that data across multiple applications within the Acquia product portfolio and connect to other relevant applications as part of their complete digital experience platform (DXP) solutions. I believe that our shared data layer sets us apart in the market and gives us a competitive advantage.
Personalized experience orchestration using machine learning
In 2022, we also focused on establishing integrations between Acquia CDP and other systems, and we added to the extensive set of machine learning models available for use with Acquia CDP. These improvements provide non-technical marketers, or "citizen data scientists", with more options for understanding and leveraging their customer data.
Our machine learning models allow our customers to use predictive marketing to improve and automate their marketing and customer engagement efforts. In 2022, we delivered over 1 trillion machine learning predictions. These predictions help our customers identify the best time and channel for engagement, as well as the most effective content to use, and more.
One of the primary reasons that companies purchase CDPs is to respect their customers' privacy preferences. A major benefit of a CDP is that it helps customers comply with regulations such as GDPR and CCPA. In June, we enhanced Acquia CDP to make it even easier for our customers to comply with subject data requests and privacy laws.
Multi-experience composition and delivery across digital touchpoints
According to a Gartner report from Q4 2022, global end-user spending on public cloud services is expected to increase by 20.7% in 2023, reaching a total of $591.8 billion.
The growth of Open Source software has paralleled the adoption of cloud technology. In 2022, developers initiated 52 million new Open Source projects on GitHub and made over 413 million contributions to existing Open Source projects. 90% of companies report using Open Source code in some manner.
Drupal is one of the most widely used Open Source projects globally and Acquia operates a large cloud platform. Acquia has been a pioneer in promoting both Open Source software and cloud technology. The combination of Open Source and cloud has proven to be particularly powerful in enabling innovation and digital transformation.
At Acquia, we strongly believe that experience creation and delivery will continue to move to Open Source and the cloud for many more years. The three largest public cloud vendors — Amazon, Microsoft, and Google — all reported annual growth between 25% and 40% in Q3 of 2022 (Q4 results are not public yet).
The past few years, our cloud platform has undergone a major technical upgrade called Acquia Cloud Next, modernizing Acquia Cloud using a cloud-native, Kubernetes-based architecture. In 2022, we made significant progress on Acquia Cloud Next, with many customers transitioning to the platform. They have experienced exceptional levels of performance, self-healing, and dynamic scaling for their large websites thanks to Acquia Cloud Next.
In 2022, we also introduced a new product called Acquia Code Studio. In partnership with GitLab, we offer a fully managed continuous integration/continuous delivery (CI/CD) pipeline optimized for Drupal. I have been using Acquia Code Studio myself and have documented my experience in deploying Drupal sites with Acquia Code Studio. In my more than 20 years of working with Drupal, I believe that Acquia Code Studio offers the best Drupal development and deployment workflow I have encountered.
Acquisitions
A key part of delivering on our vision is acquisitions. One disappointment for me was that we were unable to complete any acquisitions in 2022, despite our eagerness to do so. We looked at various potential acquisition targets, but ultimately didn't move forward with any. We remain open to and enthusiastic about acquiring other companies to become part of the Acquia family. This will continue to be a key focus for me in 2023.
The number one trend to watch: AI tools
The ever-growing amount of content on the internet shows no signs of slowing down. With the advent of "AI creation tools" like ChatGPT (for text creation) and DALL·E 2 (for image creation), the volume of content will only increase at an accelerated rate.
It is clear that generative AI will be increasingly adopted by marketers, developers, and other creative professionals. It will transform the way we work, conduct research, and create content and code. The impact of this technology on various industries and fields is likely to be significant.
Initially, AI tools like ChatGPT and DALL·E may present opportunities for Drupal and Acquia DAM. As the volume of content continues to increase, the ability to effectively manage and leverage that content becomes even more important. Drupal and Acquia DAM specialize in the management of content after it has been created, rather than in the creation process itself. As such, these tools may complement our offerings and help our customers better handle the growing volume of content. Those in the business of creating content, rather than managing content, are likely to face some disruption in the years ahead.
In the future, ChatGPT and similar AI tools may pose a threat to traditional websites as they are able to summarize information from various websites, rather than directing users to those websites. This shift could alter the relative importance of search engines, websites, SEO optimization, and more.
At Acquia, we will need to consider how these AI tools fit into our product strategy and be mindful of the ethical implications of their use. I will be closely monitoring this trend and plan to write more about it in the future.
Give back more
In the spirit of our "Give Back More" values, the Acquia team sponsored 200 kids in the annual Wonderfund Gift Drive, contributing gifts both in person and online. We also donated to The Pedigree Foundation and UNICEF. Acquians also participated in collective volunteerism such as the Urmi Project (India), Camp Mohawk (UK), and at Cradles to Crayons (Boston).
Acquia also launched its own Environmental, Social, and Governance (ESG) stewardship as a company and joined the Vista Climate Pledge. This is important, not just for me personally, but also for many of our customers, as it aligns with their values and expectations for socially responsible companies.
Conclusion
In some respects, 2022 was more "normal" than the previous few years, as I had the opportunity to reconnect with colleagues, Open Source contributors, and customers at various in-person events and meetings.
However, in other ways, 2022 was difficult due to the state of the economy and global conflict.
While 2022 was not without its challenges, Acquia had a very successful year. I'm grateful to be in the position that we are in.
Of course, none of our results would be possible without the hard work of the Acquia team, our customers, our partners, the Drupal and Mautic communities, and more. Thank you!
I am not sure what 2023 will bring but I wish you success and happiness in the new year.
— Dries Buytaert